With Clearing and Adjustment underway, CONNECTED speaks to one Reading graduate who joined the University through Clearing and couldn't be happier at the opportunities the process provided her with.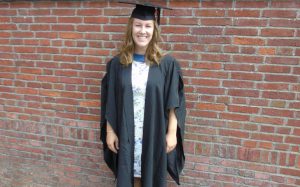 Unsure she'd chosen the right degree course in physiotherapy, Alice Nield took a gap year to consider her options before starting university. Following a period of work experience, Alice applied to the University of Reading through Clearing and secured a place on the BSc Food Science with Industrial Training degree.
Alice shares with CONNECTED why she feels Clearing and Adjustment is a beneficial process and how it helped her make the right decision for her future.
The Clearing journey
Alice explains why she decided to go into Clearing and how she navigated the process.
She said: "During my gap year I worked in the food hall at Marks & Spencer. I've always loved food, and after seeing all these innovative new products entering the shelves in Marks & Spencer, I decided I wanted to be a part of the food industry. I also gained further work experience where I got to see the Domino's garlic and herb dip pot being produced on a large scale. It was really fun and reassured me that food science was the right degree course for me.
"I decided to decline my physiotherapy degree offers and enter Clearing and Adjustment instead to secure a place studying food science. Prior to entering the Clearing process, I had some email conversations with the Admissions Team at Reading and they were very helpful and calm which helped me to stay relaxed.
"I researched online the different food science courses and I had heard great things about Reading's Department of Food and Nutritional Sciences through my school.
"When Clearing opened, I saw that Reading had spaces available on their food science degree, so I rang them up and secured my place.
"Clearing gave me the opportunity to change my mind about my degree course, giving me more time to think through my options and make the right decision for my future."
Looking back
Alice has no regrets about her decision to study food science at Reading, and now enjoys her role as an Outreach Officer for the University's Department of Food and Nutritional Sciences.
"I have loved every minute of being at Reading and am so, so glad that I made the decision to study food science here," Alice enthused.
"I've loved getting involved in outreach activities and Open Days, and I have made some great like-minded friends here.
"I had so much fun conducting experiments in the pilot plant at the University, which enables students to experience a small scale production environment and even make their own food and drink products. We did lots of practical work in here during the degree, making everything from sausages and bread to ice cream.
"I now work for Reading's Department of Food and Nutritional Sciences, working with the NCBE [National Centre for Biotechnology Education] who sell science kits to schools.
I train up final year food science students to go into schools and teach practical lessons, and I help out with Open Days, Visit Days and career fairs. It's really fun and I've been involved in lots of exciting projects since graduation."
Top tips
Whether students find themselves in Clearing and Adjustment unexpectedly, or by choice, it can seem stressful on the day. Alice emphasises that there are benefits to going through the process.
Alice explained: "Going through Clearing was a definite benefit for me – by the time I'd worked out what degree course I wanted to study, I would have had to wait another year before attending university if it wasn't for Clearing.
"On results day itself my advice is don't worry. It may seem stressful, but take it as it comes and you will find the right course and university for you. Don't feel like you have to share your results with friends if you don't want to.
"If you do find yourself in Clearing and Adjustment, have an open mind and keep your options open."
Find out more about Clearing and Adjustment at Reading.