In June, the University of Reading launched a fundraising and volunteering campaign to support research, led by Dr Al Edwards, into developing accurate and safe COVID-19 antibody tests that can be conducted at home.
Through this research, Dr Edwards – a biomedical technology expert and researcher at Reading – aims to help inform the global effort to ensure the most effective and accurate way to conduct home antibody tests as part of the efforts to fight the virus.
Over the last few months, we have been overwhelmed by the generosity of those of you who have stepped up to support this vital work, both with your time and donations.
Over 300 people volunteered their time to help us with this research, with almost 150 people also contributing donations to support the project. Your support has allowed several research staff to dedicate their time and expertise to this critical research. 
Reading graduate, Marian Wernham, tells CONNECTED why she chose to donate to this research project:
"I think an antibody test is going to be really important in the fight against COVID-19. We need to know whether people are likely to get the virus or not, and what the risk factor is in that, and to achieve that we need a reliable antibody test; no ifs or buts."
The research team brings together expertise from three different academic disciplines at Reading: Biological Sciences, Pharmacy, and Typography & Graphic Communication. This multidisciplinary approach has allowed us to take a holistic look at the effectiveness of home testing.
Just a few weeks after the fundraising project was launched, the team published their first academic paper outlining their initial findings from a pilot study of 22 volunteers. This pilot study is the first phase of data collection that will shape and inform the next stages of the project. You can read the paper here.       
Surveying the situation
Researcher and PhD student, Gemma Little, was able to join the team thanks to the generosity of University donors. Gemma has been lending her expertise to the creation of a survey, with the aim to find out more about people's experiences of using home tests.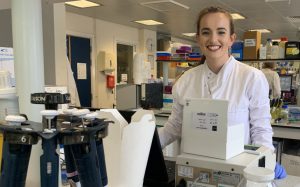 Gemma explains: "The survey is intended to capture people's experiences and views of using home testing kits for a variety of medical needs. Being able to conduct home tests is crucial at the moment due to the need to reduce face-to-face contact. However, it's important to understand how the public feel about this."
Antibody testing involves taking a blood sample, which isn't easy to do at home or on yourself. Errors can occur when drawing the blood, adding it to a test device, or storing it ready for analysis in a lab at a later date, leading to an inaccurate result.
Gemma adds: "Once the survey results have been collected, they will be used to inform the development of instructions for home testing.
"The team will also use these results to understand what testing methods work well in a home environment, and how people feel about testing procedures."
Gemma is enormously grateful for the donations to the project which have enabled her to work on this research, and for the volunteers who have given their time to complete the survey.
A dedicated design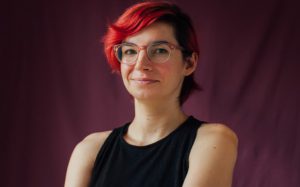 The donations to this project have also enabled Dr Josephina Bravo, an information design researcher at the University, to begin work on the second phase of research, which will involve volunteers using carefully designed written instructions to draw blood samples and add blood into a model test kit.
Using information from the pilot study and the survey, Dr Bravo will be designing instructions to accompany the model test kits which will be sent to volunteers. Her aim is to ensure accuracy and understanding at every stage of the process. By fine tuning the design, Dr Bravo and the team hope to determine which testing format is most effective for the general public.
Thank you
The generosity of the University's supporters has enabled this research to begin immediately, giving the team at Reading a valuable opportunity to research how best to implement at-home antibody testing locally, nationally and globally.
All of the work we do is part of the national and international efforts in the fight against the virus. Your support has played a vital part in helping reduce the uncertainties surrounding COVID-19, and move us all a step closer to loosening COVID-19's grip on our lives and livelihoods.
Find out more about this research project through the IMAGINE campaign.