Reading graduate and Manager of ReadiFood, Alison Peyton, tells CONNECTED how the food bank has provided an essential lifeline to local residents throughout lockdown.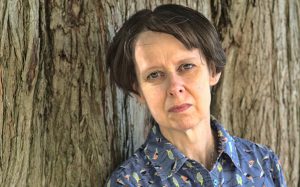 Alison has always been interested in people, so felt it was a natural step to study psychology at the University of Reading. Since then, her career has focused on working with people and psychology is a constant thread that runs through her work, particularly in her role as Manager of ReadiFood, a food bank run by the Faith Christian Group charity based in Reading.
The food bank aims to help anyone in financial need and not able to purchase their own food, with clients being referred through local agencies such as the job centre, probation office, Reading Borough Council services and the University of Reading. Alison has run ReadiFood for ten years, in which time their deliveries of food parcels has increased from 25 to around 160 a week, demonstrating the increased reliance on food banks.
Lockdown led to a marked rise in the number of people depending on ReadiFood to put food on the table. Alison talks to CONNECTED about the challenges they faced as they endeavoured to help those in need during the crisis.
Locking the doors
Alison locked the doors to ReadiFood on the evening of 20 March as lockdown began, not knowing when she would be able to reopen them.
She said: "In the week leading up to lockdown there was a lot of uncertainty and people were panic-buying food. We went the extra mile that week to deliver food to people who were expecting help that week and the next.
"We doubled parcels to provide them with a small cushion of supplies, providing a total of 430 food parcels that week. Our volunteers were determined to get these deliveries out, worried as to how our clients would cope if we couldn't."
However, within 48 hours of locking the door, foodbanks were deemed essential services. Alison explains how the town came together to provide streamlined support to those in need:
"ReadiFood was called upon along with many other local charities, to help Reading Borough Council form their local COVID-19 response, and we became part of the One Reading Community Hub to assist people facing hardship due to the pandemic.
"Referrals to the One Reading Community Hub call centre were triaged, and those with food and financial needs were referred onto ReadiFood. We saw a clear increase in people needing our help during lockdown: March was up by 60%, April by 30%, May by 53% and June by 30.5%. It's worth noting that we'd already begun seeing an increase in February, before the lockdown, however the factors leading to that increase were now compounded by lockdown restrictions, for example, families not being able to access school meals for their children."
Scaling up
Food banks, as crisis organisations, have to always be prepared for the unknown. Alison shares the challenges ReadiFood had to overcome to keep delivering to those relying on them.
She said: "We still had a good stock at the beginning of lockdown left from Christmas donations, and Reading Borough Council helped initially by carrying out bulk purchasing to enable us to scale up to cope with the additional demand.
"One of the major challenges was reorganising how we worked in the warehouse. We used to have an informal volunteering structure, but we had to overhaul that so we know exactly how many people are on site to ensure social distancing.
"Because I had to shield, I have to thank one volunteer in particular, who took on the organisation of the rota; in fact that volunteer was my good friend from the University of Reading, Alison Halliday (nee Buchanan), who also studied psychology with me. My manager would also stay on site much later than usual to enable extra parcel packing to take place in the warehouse, as well as support staff who were on site to give practical, hands-on assistance throughout lockdown.
"I also had to reorganise our delivery teams. I could no longer put two unrelated volunteers in one van, so I split teams up and some individuals brought family members with them who weren't working or couldn't go to school. Some of our existing volunteers came in more than once a week, furloughed workers volunteered with us, and we've also welcomed completely new volunteers to the charity."
Demand is now slowly returning to more normal levels, however, Alison is fully aware that fallout from the economy could send more people than ever to the food bank.
Alison said: "It's the biggest unknown how the economy will recover, and that will have a knock-on effect on services like food banks. So we are trying to prepare for a potential second wave of increased need.
"The important thing is that we can support those who need our help – we've only survived the past 15 years because we find solutions and responses, and because we don't know the word 'no.'"
The power of food
Alison's motivation for running the food bank stems from her faith and her church's active work in social justice, but also from her own experience of crisis.
She explained:
"Ten years ago I was in a middle-class professional family and I went through a personal crisis, giving me lived experience of some of the issues that people I'm now helping are going through. People often stereotype those who use food banks, but in reality, we get all sorts of people for all sorts of reasons.
"I'm always amazed by the power of food. One lady who relied on us for a short while due to mental health problems told me that she used to dread her children asking what was for dinner. But once we started delivering food parcels every Friday, some of that stress was removed and they were always excited to see what had been delivered.
"We don't provide anything thrilling, just items such as tinned food, cereal and long-life milk, but she told me that every delivery was a gift to them. And that's why we do what we do.
"I'm so relieved food banks were able to remain open during lockdown. We have to step up as a society and support each other. It's like clapping for the NHS. It's wonderful to feel that you can help someone in need during this unprecedented time."
Discover how more of our inspiring alumni are keeping people fed during the pandemic.