CONNECTED brings you the latest opportunities to learn virtually at Reading from a Meteorological Masterclass Series, to a new food labelling online course.
Weathering the storm
The Royal Meteorological Society (RMetS) has joined forces with the University of Reading to offer a brand new online Meteorological Masterclass Series on 'Winter Storms in European Weather and Climate', to provide additional training for professionals who work in meteorology and climate science.
Coordinated by Professor Andrew Charlton-Perez from the Department of Meteorology, the webinars will see leading experts present the latest science for understanding and predicting storm track behaviour across three timescales: from the synoptic-scale meteorology of storms and blocking, to weather-regimes and their consequences for extended-range forecasting, and the impacts of climate change and its simulation.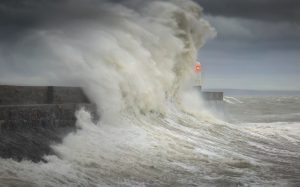 The webinars will benefit any practitioner working in the field and offer an opportunity to refresh and deepen knowledge and awareness of the latest science, research and its applications. The webinars are free to attend and will be held from 3.00 to 4:30pm each week where speakers will present and provide opportunities for questions and discussion.
Each session will cover the following topics:
Wednesday 16 September: Synoptic storms in the North Atlantic. Professor Helen Dacre: Lecturer in Dynamical Meteorology
Wednesday 30 September: The impact of climate change on winter storms. Professor Len Shaffrey: NCAS Professor of Climate Science
Wednesday 14 October: Sub seasonal predictions for European winter. Robert Lee: NCAS Research Scientist
Find out more about the series and how to get involved.
Interpreting food labels
As well as the Meteorological Masterclass Series, Reading's School of Agriculture, Policy and Development is also collaborating with EIT Food and European partners to produce a free three-week online course on 'Understanding Food Labels'.
On this course, you will learn how to interpret food labels to make informed food choices and buy food that supports your health and wellbeing. By understanding how to make sense of the claims and logos on packaging, you will be able to make better food choices and become more aware of what food you are buying. You will also gain a better understanding of food labelling regulations, as well as the claims food producers are allowed to make.
Led by Dr Simona Grasso and Natalia Mansilla from the University of Reading, and Violeta Stancu from Aarhus University in Denmark, the course will cover the following topics:
How to navigate a typical food label – become familiar with the categories of information labels contain and why they are important
The limitations of food labels – what they don't tell you
Decoding ingredients lists and discovering your recommended daily allowances
Differentiating between trustworthy health claims and those inspired by marketeers
How to resist the power of branding and gather reliable information to base your buying decisions on
The complexities of labelling food according to production values such as sustainability and animal welfare.
Find out more about this course and how to sign up to start on Monday 7 September.
Learning online
The University has extensive experience of designing, developing and producing successful Open Online Courses (OOCs), with a dedicated team that has created more than 20 courses for the FutureLearn Virtual Learning Environment (VLE).
Since starting with a handful of courses in 2013, Reading have attracted more than one million learners from 190 different countries. Developed and supported by expert staff in our research-intensive departments, you can explore accessible, thought-provoking courses on a diverse range of topics from Heart Health, to People Management and Ancient Rome.
Don't forget that as a graduate of the University, you can also access this 'Understanding Food Labels' OOC and many others run by FutureLearn for free.