Frances Verrinder – Reading graduate and California-based psychotherapist – discusses student hardship, how university can provide a lifeline for those that need it, and the inspiration behind her support of students in 'digital poverty'.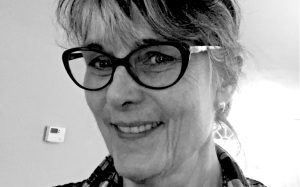 Now a successful psychotherapist with her own practice in San Francisco, Frances started at the University of Reading in 1963 on rocky ground. Suffering with depression and juggling a complex adjustment from family life to her first year at university, Frances experienced difficulties settling in.
Thanks to the support of her tutor, Dr Young, and the warden of Wessex Hall, Miss Power Steele, Frances looks back on her years at Reading with appreciation and gratitude – describing the support she received as a lifeline that gave her a solid foundation for her two successful careers. She has since found her own way of becoming a part of the support system for students at Reading today.
A different time
Despite the personal difficulties she faced, Frances recognises the stark difference in circumstances between students starting university in 1963 and students attending today.
This has inspired Frances to become a regular donor to the University of Reading and one of the first donors to support the Digital Support Fund. This fund aims to supply equipment to students in digital poverty, who don't have access to essential equipment such as a laptop or Wi-Fi thus preventing them from studying remotely.
She explained: "When I went to university it was almost free. The government paid our fees and our maintenance grants covered our food, accommodation and utilities.
"It was brilliant – people like me wouldn't have been able to go to university without that support as we just couldn't afford it. Students today aren't in the same situation.
"Today's students are paying up to £9,250 a year to attend university, and maintenance loans no longer cover accommodation and other bills like they did. Life is just more expensive for them.
"One area in particular where students need our support is getting the equipment to complete their studies. When I was at university all we needed was the Library, but now students need access to a laptop and the internet, and they need our help to get it."
An essential item
The sudden switch to online learning at the start of the COVID-19 pandemic highlighted just how essential access to a laptop and the internet really is, and the scale of the digital divide in the UK.
In some cases, students were reliant on library computers because they were simply unable to afford their own, but when the Library closed during lockdown these students were left without any equipment. Other students were trying to access lectures and complete coursework on their phones, or vying for time on a shared computer with younger siblings. In households with multiple members, internet access became a precious commodity, pushing students to complete their studies at increasingly absurd times to try and make the most of the limited bandwidth.
It was a problem Frances had already considered:
"What else could students possibly need more right now? Everything is online. A laptop is an essential item."
The inspiration behind her gift to buy a laptop for a student in need stemmed from her own situation.
Frances explained: "We shut down really quickly here in San Francisco. One week we were in the office and the next Monday San Francisco's mayor ordered us to stay at home. So on 15 March my whole practice moved online and I now do all my sessions online. The adjustment was difficult at first and it hit me that we are completely reliant on computers and the internet to do our work now – students are no different.
"It's really important to me that students have access to fundamental essential equipment to continue their studies."
Giving back
Frances has contributed to the University a number of times over recent years and recognises the incredible difference donors can make to a student's life.
She said: "It is now a collective responsibility. The support we used to have isn't coming back, leaving a gap where government funding used to be.
"Although we donors can never fill it, if we can each make a difference to just one student then we have done our bit.
"University changed my life. I still have friends today that I went to Reading with 50 years ago. We all benefitted from something students today will never have, so if we have the means to give back, then we should.
"It brings me enormous pleasure to know that my support could be the difference between a student having to drop out or being able to stay at Reading and complete their degree."
Find out more about the Digital Support Fund.