The Rackliff family has a long-standing history with the University of Reading. CONNECTED speaks to Lucy Rackliff, a graduate of the University and her daughter Victoria – who is a new student at Reading – about starting university during a pandemic, and why supporting students is so important. 
Lucy studied economics at the University of Reading, and now works as a senior lecturer at Aston University in transport and logistics. Her jump from economics to transport was unexpected, but one which transformed her career; enabling her to help students discover their passions, whilst fulfilling her own passions for transport and economics.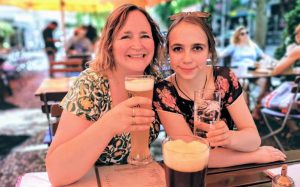 Lucy tells CONNECTED that she was attracted to the University of Reading by the beautiful green spaces, but she found more than just a degree here – she also met her future husband:
"Toby was studying German and French, following in his mother's footsteps who had also studied here. Despite initially not liking each other, we fortunately had a second chance to get to know each other.
"Now, one of our three daughters – Victoria – is about to become the third generation of Rackliffs to attend the University of Reading and we're thrilled for her to follow in our footsteps as she begins her own journey."
Getting the grades during COVID-19
Victoria was one of thousands of A-level students whose exams were cancelled due to COVID-19, and whose grades were to be determined by an algorithm. Victoria tells CONNECTED about the impact the pandemic had on her grades, and how she is focusing on her next chapter – studying a BSc Nutrition with Food Consumer Sciences at Reading.
Victoria said: "I knew I wanted to study something food-related. As soon as I mentioned food, my parents advised me to look at Reading because their food department is well-established, with a great reputation and incredible facilities.
"I did a summer school there last year and had a really good time, plus the campus is beautiful and all the staff are amazingly supportive. I knew Reading was the place for me.
"To get into Reading for this course I needed to achieve BBC with a B in Biology. My school were due to publish my A-level results online at 8am – however they put them up a few minutes early and my results were BCD, with D for Biology.
"I couldn't log onto UCAS or ring Reading until 8am to see whether I still had my place, and those four minutes were the longest of my life.
"Luckily I still got my place at Reading. I was disappointed with the grades the algorithm had given me, but was ecstatic to still be going to Reading as many people had lost their university places. However, I was overjoyed when the algorithm was removed and I achieved my BBC grades after all."
Victoria feels disappointed with the way school ended, but is focusing on the positives: that she got her place at Reading.
She said: "I didn't get to go to my leaver's ball, I wasn't able to go on holiday with friends, and all 18th birthday celebrations had to be cancelled. Then to not be able to collect my results with my friends was disheartening.
"But I got my place at Reading and that is the important thing. I am so excited to start at Reading, to settle into halls and experience university life – albeit a socially-distanced version."
Reopening campus
As Reading welcomes students back onto campus for the autumn term, CONNECTED asks Lucy and Victoria how they are feeling about returning to and embarking upon university life.
Lucy said: "Personally, I'm desperate to get back to my office at Aston University. I found adapting to virtual teaching in a short space of time really tricky, and I miss the joys of face-to-face teaching. I also miss the decompression that a commute brings – keeping work-life boundaries without leaving the house is really hard.
"I have no concerns about my daughters returning to university, particularly with Victoria going to Reading. The communications we've received from Reading have been excellent.
"I'd like to highlight a webinar chaired by the Vice-Chancellor of the University, which included people from the Accommodation team, the Students' Union and the Student Finance team, with a Q&A at the end. This was a wonderful way to put both students' and parents' minds at ease, and we feel confident that Victoria is joining a safe environment."
Victoria is feeling equally confident about starting at Reading during the pandemic:
"I feel that I will be safe there and I am excited to go. All communications from the University have helped me to feel prepared and know what to expect.
"Once I move in I will form a bubble with my flatmates, and I will be taught through a blended learning approach of online and face-to-face teaching which I think will be beneficial.
"There will also still be a version of Welcome Week, through a mixture of online taster sessions with societies and in-person events with social distancing. We will have to pre-book events and attend in maximum groups of six people, but it's good to know that we will still have some experience of Welcome Week, in a safe way."
Lucy agrees: "It would have been so easy for Reading to just say we're not running any Welcome Week activities. I'm really impressed that they're still trying to give students a good experience as they start university life, whilst doing so safely."
Supporting students
Lucy is a strong advocate of supporting students throughout their university journeys, and the Rackliff family's love of Reading has inspired her to become a donor.
Lucy explained: "I think that university is a transformational experience for most people who go there, and that experience should not depend on your ability to pay – but increasingly it does.
"In my job, I see young people not getting the outcome they deserve because of their financial situation, and that's not fair. I choose to donate to the University of Reading to do my bit to ensure that no student misses out."
Lucy believes that students are in need of support now more than ever due to COVID-19:
"The global pandemic has impacted students greatly. Their chances of getting part-time work are vastly reduced, due to fewer jobs being available but also because those with health conditions cannot risk exposure to the virus through typical student-type jobs such as bar work. Students have also faced increased costs, for example, those who could not return home during lockdown spent an entire summer in rented accommodation.
"The pandemic is placing much greater demands on students and their families, and they need help to ensure they don't miss out on completing their university education due to financial troubles."
Find out more about what university life will look like as Reading welcomes more staff and students back to its campuses.