After graduating from Reading, Douglas Lloyd set out around the world in pursuit of career and life satisfaction. Now a donor to the University, Doug hopes that his support will help provide current students with the same opportunities.
Doug, who studied in the Department of Mathematics and Statistics at Reading, speaks to CONNECTED from San Francisco, sharing the importance of knowing yourself and finding what makes you happy, and the value of offering that opportunity to others as a donor.
An overwhelming start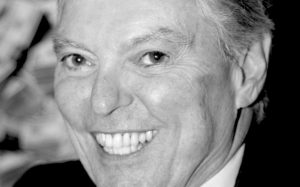 When Doug arrived at Reading as the first member of his family to attend university, he remembers feeling out of his depth and overwhelmed by the demands of university life.
He said: "I was quite immature. I didn't realise back then how much university would demand of me. Instead of focusing on my work, I put a lot of time into sports; I was on several University teams, including tennis, football and squash.
"Despite this rocky start, I finished at Reading with more life experience than I started with. When I graduated, though, I was no clearer on what I wanted to do with my career – but I knew that I would keep searching until I found the right thing for me."
A global quest
Doug's mission has taken him around the globe, searching for career satisfaction and the right lifestyle for himself.
He explained: "People think you have to dedicate yourself to one thing or to one place, but that isn't what life is about. We are complex beings and the world has a lot to offer – it is important to experience it.
"When I graduated from Reading I wanted to explore, so I moved to Nigeria on a two-year contract in the oil industry. Recently married, this was my first solo trip away from home. Despite being an incredible opportunity, I recognised that the lifestyle wasn't for me and returned home after my first year.
"I wasn't sure what I wanted to do next, but just knew that it wasn't working for me. I am a strong believer in finding the right situation for yourself. If something isn't working for you, or you're not being valued properly, then you should try to find a better opportunity."
Following his return from Nigeria, Doug entered the computer industry as a programmer with Rolls Royce Aero Engine Division in Derby, before packing his bags and hopping on a flight to a new life in Sydney. Working first for the Australian government and later moving to IBM, Doug enjoyed the Sydney lifestyle of sun and sea, but couldn't escape from the isolation he felt there in the 1960s.
Speaking with colleagues in a similar situation, Doug then set his sights on the USA, still searching for his ideal lifestyle. Following his heart, he approached IBM head-on about the move.
He said: "I simply told them, I want to work in the Bay Area. They offered to station me there for a couple of years, but I said no, I want to build a life there. So they agreed – it was easier to get visas in those days and I immigrated to the States."
Supporting students
Doug found the life he had been searching for and has been happily living in Sausalito – just across the Golden Gate Bridge from San Francisco – for the past 52 years. A philanthropic man at heart, Doug now donates to the University of Reading to ensure that students get the support they need – the type of support that Doug himself needed when he started at Reading.
He said: "I am passionate about the importance of education from early years to university; I believe that education is the cornerstone to success.
"I want to help students make it through their education, but I also want them to enjoy it while they are there. Mental health and education are both important to me, as is ensuring equal access to quality education.
"Education begins early, but it's so important to nurture that spark. From there I hope that every student has the opportunities to find the right career and lifestyle as I have done."
Doug is a supporter of the University of Reading's Student Hardship Fund, which aims to help those in desperate and unforeseen financial need.
He explained: "I want to ensure those suffering with the same overwhelming feelings I experienced when I first started university are helped as soon as possible and in the most effective way.
"I encourage everyone who can to support Reading's students. By helping current students we can increase their opportunities for success and improve their experience at Reading. Everyone deserves to graduate with a strong sense of self."
Find out more about our Student Hardship Appeal, or how you can get involved, through the IMAGINE campaign.