British artist, Alex Roberts, shares with CONNECTED her journey since graduating from Reading including what inspires her, how she feels about being shortlisted for the prestigious Wells Art Contemporary competition, and the impact the pandemic has had on her work. 
Alex attests that the two main things she took away from Reading were the deep-rooted friendships she made, and the sense of "a community of practice" that was encouraged within the Reading School of Art which Alex and her peers still call on today.
She said: "I met some of my closest and dearest friends at Reading, and we're all still really close. They're almost like extended family, really. We're all godparents to each other's kids, and I feel very lucky as it doesn't always work out like that. Even throughout the pandemic, we've been having virtual Saturday night Reading get-togethers.
"I always really appreciated the open tutor-student relationship and the lack of hierarchy within the Fine Art Department, along with the open studio access and a sense of a community of practice.
"There was a real hub on the corner of Earley Gate where we used to go – of making, creating and critiquing, and building creative networks. Even today, we still support each other's exhibitions and work."
From Reading to Berlin
Having access to a studio and practising art has remained an important part of Alex's journey since graduating from Reading. From graphic design to tutoring, mentoring and now lecturing, Alex has worked really hard to keep her studio alive – from her first studio on Earley Gate to her current studio based in Berlin.
She said:
"All these different strands since I left Reading have been part of a learning curve and now form part of my wider practice, but are also part of my financial sustainability to keep the studio going – I'm an artist and I need that studio space."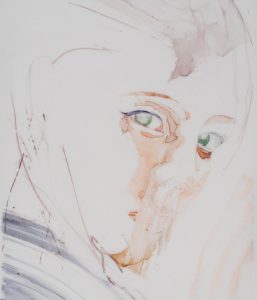 Alex spent 16 years working and practising art in London which she loved, but as rent for studio space increased Alex found that she spent a lot of time working to keep the studio going and not enough time practising, which didn't give her the art-work balance she was yearning for. And at that point, Alex felt she needed a change of scenery.
She said: "About seven or eight years ago I applied for a residency; I applied to lots and one in Berlin came up. I was really pleased to get it – it gave me a great sense of perspective. I'd been working really hard on a lot of jobs that were really rewarding but not paying very much, and I just needed a break and some uninterrupted time for the studio again.
"I had an opportunity to pause time and think about my work a bit more, which is something I realised I had been missing. I really loved it, and I actually got more than I bargained for – I also met my husband!"
A full circle
Now working as a full-time lecturer between the UK and Germany, Alex was excited to discover that Reading graduates are enrolling on the courses she is teaching on at Bauhaus Summer School, Bauhaus-Universität in Weimar.
She explained: "Tim Renshaw – one of the lecturers in the School of Art – spread the word I was a guest lecturer at Bauhaus Summer School and students were interested. It's really nice to know that someone from Earley Gate is coming across to the middle of Germany.
"I get really excited talking to students about their work – it gives me ideas and feeds my studio, and hopefully what I do in my studio inspires students too.
"There seems to be a full circle of things you go and do beyond when you leave university that filter back into what you do as a creator, or in your career – it's that wider community of practice."
A curious creator
Alex told CONNECTED that the inspiration for her art comes from people, experiences and observations. She said: "Not just what you see with your eyes, but what you feel, and the questioning of those perceptions.
"I'm very curious about who we all are, and how we all keep changing, and I'm really interested in what we reveal and what we don't reveal about ourselves. There's lots of layers – within relationships and when painting – and it's those relationships that inspire me."
Wells Art Contemporary 
Wells Art Contemporary (WAC) was established in 2012 by a group of artists in Wells. It is an international open competition for contemporary visual arts. The competition is open to artists working in painting, sculpture, drawing, printmaking, photography, installation or video – and aims to stimulate debate, challenge and provoke, pushing the boundaries of the visual arts scene both nationally and internationally.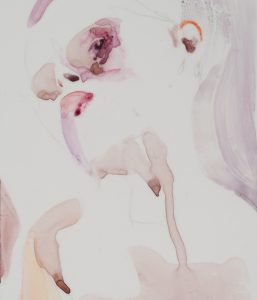 This year, Alex entered the competition and her work has been shortlisted for the WAC Awards. Alex explained: "The painting that got selected is called Midpoint II. It's from a series of work – the Midpoint Series – that investigates poised moments of being 'on the brink', hovering, suspended, tensions in transit.
"They are paintings that confront revisited 'encounters' that have emerged from my commuting experiences; where the urgency and immediacy of mark making, and my relationships between drawing through painting, and painting through drawing, explore human fragments of empathy, hints of narrative, spectacle and the non-reveal of identity."
When CONNECTED asked Alex how she felt about her work being shortlisted for the WAC Awards, Alex said:
"I was really chuffed to be selected, to test your work in an international, open competition is always energising and it's really important. In my job as a lecturer I give critique to students, but it's important that we critique ourselves too. I'm really excited to be part of the competition this year and to be showing artwork in such strong company."
Find out more about Wells Art Contemporary, or view the online exhibition.
The impact of COVID-19
Alex told CONNECTED that although the pandemic has been difficult – particularly for those in creative industries – she has learnt how to adapt, and discovered different ways to share her work. She explained:
"Creative subjects teach you to be problem-solvers and how to be resilient. At the moment, my lockdown studio is a tiny space in the corner of my kitchen next to the freezer. I've also created some new works on paper that have seen me readdress my use of scale, which has been a really good challenge for me.
"During the pandemic, new initiatives have also emerged like the #artistsupportpledge, setup by Matthew Burrows MBE, which is a movement designed to keep artists sustained financially. But also with WAC, the digital sharing of work in a really considered and cleverly curated way has brought in a wider audience to my work. Things have opened up in a different way that might not have happened otherwise.
"I'm not saying those channels weren't already there, but they have been harnessed in a really positive way and have adapted for the situation we now find ourselves in.
"There's no denying it, though, I am craving to get back to throwing paint around in a more expansive manner than I can do in my lockdown studio, and I'm confident that those times will come again."
Go with your gut
Turning her thoughts to today's aspiring artists, Alex's advice is simple: "Don't give up – you'll find your way and your time will come.
"Be patient. Don't compare yourself to others, everyone's journey starts at different points and levels – some people flourish really quickly, and for others it takes a long time to have your work recognised.
"Keep practising, so that when that moment comes you'll be ready to share your work. And go with your gut – you'll be ready for the exposure and the critique if you've followed your instincts."
Find out more about studying Fine Art at Reading.
All artworks © Alex Roberts 2020, and photo credits included within this article are acknowledged to Laurin Gutwin.
Alex's recent, smaller works created during lockdown are viewable @torncontemporary.  TORN Contemporary specialises in works of art on paper.