In October, 190 people from across Berkshire slept in their gardens to raise money for Reading's leading homelessness prevention charity, Launchpad. This week CONNECTED speaks to Agnes Gibson, Head of Campaign and Supporter Engagement at the University of Reading, about why she supported the charity and the importance of fundraising – especially during a pandemic. 
Instead of cancelling the Big Sleep Out due to COVID-19, Launchpad adapted the annual event to ensure it was COVID-safe and asked the people of Berkshire to swap their comfortable beds for a sleeping bag in their garden – all to help raise £25,000 to enable the charity to continue ensuring vulnerable people in Reading don't lose their home and spend night-after-night on the streets.
The event, which took place on World Homeless Day, was a huge success and thanks to the charity's generous supporters raised a total of £50,000 – double the event's fundraising target.  
Agnes Gibson, Head of Campaign and Supporter Engagement at the University, told CONNECTED that she has huge admiration for the great work Launchpad do to help homeless people in Reading.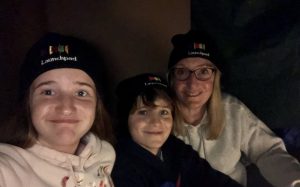 She said: "A few months ago, I found out that Launchpad was founded by students at the University back in the 1970s so the charity was very much on my radar. Not long after, I heard about the Big Sleep Out at home and I thought it would be a great opportunity for myself and my children – Emma and Henry – to get involved in the event and to raise money for such a worthwhile cause."
Agnes said the experience of sleeping in her garden for the night was unexpectedly challenging and made her feel vulnerable:
"Ahead of the event, we were perhaps a little flippant about spending the night in a makeshift shelter of cardboard and borrowed tarpaulin: it wouldn't be that difficult, surely?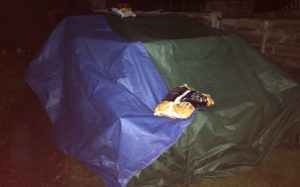 "It turned out to be so much tougher than I could ever have imagined. It was cold and damp, and even though we were in our own garden with the gate locked, I felt very vulnerable.
"It made me realise just how much worse all this must be for people who have to live like that day-to-day; it was a really humbling experience for us all."
Agnes and her children raised just over £1,321 for Launchpad. Agnes said:
"We're so grateful for all the support that we received from friends, family and colleagues in helping us achieve such a fantastic amount of financial support for the charity."
Vice-Chancellor of the University of Reading, Professor Robert Van de Noort, who was recently appointed as one of the charity's patrons, also took part in the Big Sleep Out along with Adrian Storrier, an Associate Professor in the School of Law, and the Launchpad student society at the University. Through their efforts a further £3,172 was raised.
On behalf of the University, thank you to everyone who supported Launchpad with this event – from our staff and students who swapped their comfy beds for a sleeping bag in the garden for the night, to those who generously donated to this incredible cause.
Supporting fundraisers virtually
On the night, those sleeping in their gardens enjoyed a packed programme of information and entertainment via Facebook Live from 6pm, including videos from Launchpad's clients who were at risk of losing their home; a cardboard den building segment with one of Launchpad's patrons, Matt Allwright; a quiz with BBC radio broadcaster, Michelle 'Babs' Jordan; a cook-a-long with Caversham's Vegivores restaurant; and a bedtime story read by broadcaster, Chris Tarrant. Participants then bedded down for the night before tuning back in at 7am for a morning message from the fundraising team at Launchpad.
Those taking part also had access to downloadable fundraising resources on the charity's website – such as printable posters, social media images and instructions on how to set up a JustGiving page.
Over the past 15 years, the Big Sleep Out has raised a total of £300,000 to support the charity's work – providing vital information and support for individuals, couples and families who are at risk of losing their home.
Kirsti Wilson, Reading graduate and Head of Marketing and Fundraising at Launchpad, said: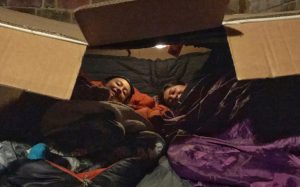 "We didn't want COVID-19 to put a stop to the Big Sleep Out, but it was a risk hosting the event entirely online after we had such success at the Reading Abbey Ruins in 2019. But once again, our supporters across Berkshire got behind Launchpad. We were bowled over by just how many people took part and by the incredible fundraising total, which exceeded our expectations.
"It is truly humbling to see our community continuing to support vulnerable people at a time that is so difficult for everyone.
"Despite the physical distance, there was a real feeling of togetherness on the night of the Big Sleep Out – with participants discussing their experiences and sharing photos from their back gardens on social media.
"While the event doesn't aim to replicate homelessness, it does give a brief insight into some of the things you might experience if you were sleeping rough, and many people taking part were shocked at the cold temperatures and uncomfortable bed – they came away with a greater understanding of what many of our clients may face." 
The importance of fundraising
Fundraising matters now more than ever. The pandemic has had an impact on all aspects of our lives and those who are vulnerable are the ones who will feel the impact the hardest.
As Head of Campaign and Supporter Engagement at Reading, Agnes explained that: "The pandemic has exacerbated the already challenging financial and personal situations that people may have found themselves in. In order to continue to provide support as effectively as they can during the pandemic, charities are therefore even more dependent on the generosity of their supporters than ever before. 
"Fundraising is incredibly important to provide support for individuals at times of need, and to enable organisations to deliver vital activities, which wouldn't happen without donations from their supporters. This is as true for us here at the University as it is for charities like Launchpad.
"I was thrilled that Launchpad was able to achieve double its fundraising target for the Big Sleep Out at home, and I feel privileged that my children and I contributed to that."
Discover more about Launchpad or find out about the University of Reading's fundraising and volunteering campaign, IMAGINE.