Matt Tebbit, Reading graduate and Head of Casual Dining and Bars at the University, tells CONNECTED how his team has been providing students with emergency food support during the pandemic.
In a term like no other, students have faced a multitude of challenges returning to – or starting at – university in the middle of a pandemic. The University of Reading is committed to supporting our students through these unprecedented times, including providing food to students who are quarantining or self-isolating.
Called a "remarkable kitchen at a remarkable university" by the BBC Radio 4 Food Programme, Matt shares with CONNECTED how the University has been supporting students through this initiative.
Matt said: "We are delivering meals to catered students in halls who are either isolating [because they've had contact with a positive COVID-19 case], or who are quarantining [because they've travelled from another country].
"We provide packages of food or they can order a meal from one of our food outlets, which we drop off at their block of flats. We also deliver breakfasts and homemade packed lunches – free of charge – to those in isolation or in quarantine.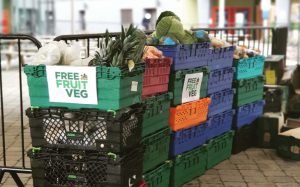 "Self-catered students can order a bag of store cupboard ingredients for free. This contains items such as tinned tomatoes, pasta and rice, and is supplemented by deliveries of fresh fruit and vegetables. We regularly deliver these packages to the halls' receptions, so students who have requested one can receive it almost immediately.
"We had offered takeaway as a walk-in-and-collect service before the pandemic, but we'd never done anything on this scale before.
"We started by offering hot meals in September and have gradually built up and expanded our remote offering. This scaling up also enabled us to offer free hot meals to 1,000 local children during the October half-term."
A team effort
Matt explains the motivation driving the provision of emergency food support to students during the pandemic, and how this has only been made possible due to collaboration across the University.
He said:
"We genuinely care about our students, it's as simple as that. My area of catering is particularly student-centric with about 95% of transactions coming from students rather than staff and we have about 350 students working for us at any one time.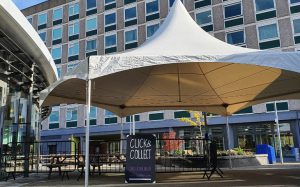 "We're very close to the people we're helping and can see for ourselves the challenges they're facing during the pandemic.
"This initiative is a big team effort across the University. We work with UPP – who manage Reading's halls of residences – to get this food to the students who need it, and IT have been instrumental in setting up the systems required to operate this service.
"The University also stepped up to fund this, paying for the meals and ingredients that we're providing free of charge so that no student has to go hungry whilst in quarantine or in isolation.
"Students have been really grateful for the help, especially during this latest lockdown, and we've had no complaints about the quality of food or service."
A new food ethos
Receiving zero complaints from students about the quality of the food is no doubt down to Matt's overhaul of the University's catering offering. His team took full advantage of the slowdown in custom during the first lockdown to create a new way of feeding students.
He said:
"We're revolutionising university catering. A lot of hot food came out of boxes last year, but now we're focusing on nutrition and sustainability.
"This was in the pipeline before the pandemic and we took the opportunity to create and refine our recipes during the first lockdown.
"Our catering staff are now given a recipe and the ingredients needed to make a homemade meal from scratch. We follow the Menus of Change initiative – from The Culinary Institute of America – which focuses on transparency, cutting salt from diets, building the flavour from the bottom up and sustainability.
"Now the only items in our freezer are meals our staff have pre-prepared such as bolognaise; the most processed item in our kitchen is bread; and we source fresh ingredients from sustainable producers, including beef and fruit from the University's farms.
"This has been the single largest change that most of our catering staff have seen in their entire working lives – it was a massive overhaul, but the staff have coped really well."
Another element of the new approach is to form better partnerships within the University, working with academics at Reading to put food and health at the heart of our University.
Matt said: "Long-term it's about matching Reading's academic standing in and around food. We hope to work more collaboratively across the University to improve our food offering through research from the classroom, and to benefit students and academics with the research happening in catering spaces."
Find out more about Menus of Change.
A positive outlook
While Matt's team are currently focused on keeping students fed during the pandemic, he is also looking to the future with a hopeful eye.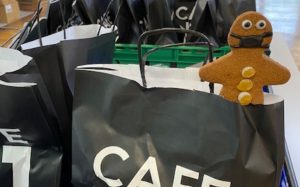 He explained: "As a past student myself – who spent time eating in the various food outlets on campus – I care very much about the University, the students, and our catering offering.
"I hope to keep pushing forward the agenda of healthy, high-quality, fresh food that students want to eat. While the pandemic has caused many challenges, we strive to maintain a positive outlook.
"I believe the University's catering service will come out of the pandemic stronger than we went in, and I'm really proud of how we're helping our students through these challenging times."
Supporting students
Access to food during the pandemic is just one of the ways our students are struggling right now. They are also facing urgent financial difficulties amongst other challenges COVID-19 has created.
The Student Support Fund provides emergency grants to students in unexpected financial crisis; when they have run out of other options and dropping out of university is a very real possibility for them.
Find out more about our Student Hardship Appeal, or how you can get involved, through the IMAGINE campaign.