Inspirational psychologist and Reading graduate, Dr Janet Carr OBE, passed away at the age of 92 in March 2020. Her study on people with Down's Syndrome was the world's longest-running research project on this subject – spanning 50 years – and changing attitudes forever.
CONNECTED speaks to Janet's daughter, Sally Carr, about her mother's inspirational work, and how her commitment and passion dispelled some of the negative myths surrounding having a child with Down's Syndrome.
A passion for psychology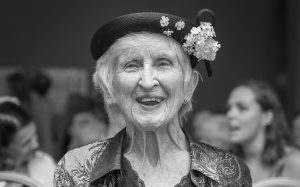 Born in China in 1927, before moving to England in 1931, Janet experienced an early foray into psychology. Her father once beat the family's dog when he ran away and didn't return immediately when called. Janet felt sorry for the dog, telling Sally that the dormant psychologist in her recognised that this was not a good way to teach him to come back.
Sally tells us more about her mother's introduction to psychology: "I recall Mum talking about becoming a doctor, but when she was evacuated during the war there were no science facilities in her new school.
"I remember her loftily saying, 'if I can't heal the body, I'll heal the mind' and so her passion for psychology was born."
Janet studied psychology at the University of Reading from 1945 to 1948. Sally said: "It turned out to be an excellent choice for her. She made lifelong friends at Reading and obtained a 2:1 before undertaking a master's degree in clinical psychology at the Maudsley Hospital, where she was part of the second intake for this new profession."
Janet's career proved to be a remarkable one, spanning working as a consultant psychologist in the newly-formed unit of Bethlem Royal Hospital, Hilda Lewis House – a centre providing treatment for intellectually-disabled children with severely challenging behaviours; to embarking on the world's longest-running research project into people with Down's Syndrome and their development, as well as the impact on their families.
A lifelong commitment
Janet's research project began with 54 six-week-old babies born with Down's Syndrome in 1964; a time when many families were still being advised to place these infants in institutional care. Sally tells us how her mother's research was instrumental in changing attitudes towards these children.
She said: "My mother's work on Down's Syndrome provided important insights right from the early years of the research. One aspect she looked at was when and how parents were given the news about their baby's condition.
"Her research showed how important it was for parents to be informed about their child's condition in an appropriate and timely manner. It made a big impact on how the mothers felt. She was determined to change the misperception that these children belonged in institutions."
Janet continued to see the families regularly until the babies were four years old when she completed her PhD. She then returned to visit these families when the children were aged 11, 21, 30, 35, 45, 47 and finally at 50 years of age, turning this project into a lifelong commitment.
Janet did so much to change attitudes towards individuals and families living with Down's Syndrome. As well as studying how families were informed and advised about their child's condition, she also studied the ways families were impacted by having a child with Down's. She was aware of strong myths that said having a Down's child would either be a disaster for your marriage, or a disaster for siblings; her research found neither of these myths to be true.
Sally said:
"Her findings enhanced knowledge about Down's Syndrome and, in particular, highlighted the very positive attitudes and experiences of many families.
"Her work also emphasised the variability of individual trajectories: whilst some individuals with Down's were profoundly disabled, others were able to find work and live at least partly independently.
"During the 50 years of her research there were significant improvements in services for those with Down's Syndrome. Most young children with Down's now attend mainstream schools, and many adults live partly independently instead of being sent away to institutions."
The personal touch
Janet's 50-year project is a testament to her dedication to research, but what made her work even more special was the personal relationships she developed with each family along the way.
Sally explained: "The special element of Mum's research is that she followed these children through their later lives.
"She was originally only meant to work with them until age four but she kept in touch through sending Christmas cards, and she developed a personal and long-lasting relationship with each of the families."
In 2014, Janet – then aged 87 – decided to do one last round of visits with her families to complete her study, helped out by her son, Nick, who returned from Australia to act as her chauffeur.
Sally said: "Mum was delighted to complete this final round of visits. To mark the end of such a tremendous body of work, Mum's ex-colleague and neighbour, Baroness Sheila Hollins, hosted a party at the House of Lords to celebrate.
"It was a wonderful evening, attended by a number of those who had participated in the study as well as their families, and Janet's friends, colleagues and family."
An incredible life
Sally tells CONNECTED that Janet considered her Down's Syndrome study to be her greatest professional achievement: "Mum's research was recognised as being unique in its longevity.
"Even after she retired from the NHS – in her mid-60s – she kept going with her research until she completed it, and she was incredibly proud to have done so. She also spent 20 years of her retirement volunteering as a counsellor for the Down's Syndrome Society, speaking to parents who had concerns about their children.
"Mum was awarded an OBE in the 2015 Queen's Birthday Honours, for services to people with Down's Syndrome and their families. The news left her absolutely speechless and flabbergasted, but she absolutely deserved this.
"She was proud to have dispelled the myth that having a Down's child was detrimental to your family life. She helped argue that children shouldn't automatically be put into institutions, and that parents should make their own choice rather than simply following the advice they were given on this matter."
Janet passed away peacefully in her sleep on 17 March 2020. Sally shares how much of an inspiration her mother was to the whole family:
"She was still very active towards the end of her life, playing tennis, riding her bike and skiing. She was an incredible mum to myself and my brothers – Jim and Nick – grandmother to her five grandchildren, and an accomplished, adventurous cook.
"Her funeral was only attended by a handful of people due to COVID-19 restrictions, but the sun shone, the birds sang and it was a beautiful and peaceful occasion.
"Mum was never one for a great deal of fuss, and as a friend remarked, 'I think she would have approved'."
This year the School of Psychology and Clinical Language Sciences is celebrating its centenary with virtual celebrations planned for the week of 21st June; watch this space to find out more closer to the time.