Last week, CONNECTED was privileged to speak to three close-knit friends about their experiences at Reading, their individual journeys since graduating from university, and how they are pulling together to support each other through incredibly difficult circumstances.
Transformative friendships
University can be a transformative stage of a person's life, no more so than when we make lifelong friends along the way. Harry Martin, Sinead Nolan and Ryan Morris tell CONNECTED how their experiences at Reading became precious memories, and how their friendship has helped spark hope from the darkness of cancer.
Harry said: "I met Sinead aged 13 when she joined my school from Ireland. A couple of years later we began dating and both went on to study biomedical degrees at Reading. We were attracted by the beautiful campus, vast green spaces and welcoming atmosphere."
Sinead – who switched to a mathematics degree after her first year – added:
"Personally I was really nervous about leaving home, whereas Harry was quite excited. But as soon as I arrived at Reading I could picture myself there. It felt homely, safe and familiar."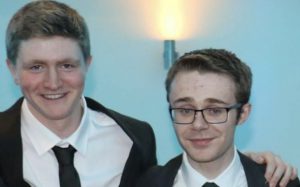 Harry and Sinead met Ryan – who was also studying in the School of Biological Sciences – through their studies. He said: "I chose Reading because of the flexible course which enabled me to specialise without committing upfront; but it was the friends I met who made it a truly incredible experience."
Harry and Ryan agreed that one of their favourite memories at Reading was the night of their last undergraduate exam. Harry reminisced: "We were finally free of revision and we just had a great time celebrating."
Sinead said: "I enjoyed my whole time at Reading. All the people I met there are brilliant and are definitely friends for life. If I could go back to Reading now, with the same people, I would do so in a heartbeat."
Ryan added:
"I feel blessed to have made such a great friendship group at Reading. It's incredible to be able to look back at that wonderful period of my life, filled with so many great memories."
Beyond Reading
The friendship that began at Reading is still going strong, with Harry, Sinead, Ryan and the rest of the group still meeting up and supporting each other on their different paths post-university.
Harry and Sinead both returned to their hometown of Swindon unsure of their next steps; then Harry decided to train as an army aircraft technician and Sinead began working for a local software development company. Ryan is now studying for a PhD, a continuation of his undergraduate and master's studies at Reading, at the University of Nottingham.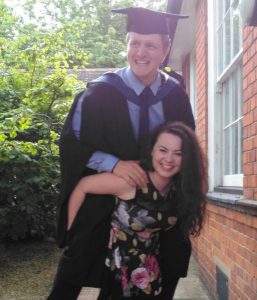 But despite physical distance, their friendship has strengthened following graduation; and not only that, Harry and Sinead's relationship has also moved on to another chapter with their recent engagement.
Sinead reminisced: "After being friends for a couple of years, Harry and I started dating aged 15. He asked me out after one of our Duke of Edinburgh meetings; he gave me a knowing look and said 'do you wanna?' We've now been together for nine and a half years."
Harry continued: "I've wanted to propose to Sinead for a few years; I was nervous but knew I just had to go for it. After scouring the internet for a ring, I planned a date night and after we'd eaten I asked Sinead to close her eyes.
"I said 'do you remember how I asked you out by saying do you wanna'? She opened her eyes and the ring was in front of her. I was overjoyed when she said yes."
Harry's journey
However, life took an unexpected, life-shattering turn for Harry when a trip to the doctor about tingling toes and back pain resulted in a devastating diagnosis.
After receiving advice from his doctor to take anti-inflammatory drugs for what was thought to be a herniated disc, Harry's symptoms worsened: "They took me in for a movement and stress assessment, then rushed me off for an MRI. They sent my scans to the John Radcliffe Hospital in Oxford and asked me to come back the following day."
It was at that point Harry heard the words that no-one – least of all a 24-year-old – wants to hear, changing Harry and Sinead's lives forever.
Harry explained:
"They found a lesion in my spine and they thought it was probably cancer. After a seven-hour spinal biopsy, I was diagnosed with Grade 4 Glioblastoma at the end of April last year."
Being diagnosed with a very aggressive type of cancer is devastating, but receiving that diagnosis in the middle of a global pandemic made it even harder.
Sinead said: "The pandemic meant that Harry had to go through those incredibly traumatic first weeks on his own – including his official diagnosis and time in hospital.
"Everything happened very quickly. It was only 14 days from going back to the doctor to say the tingling in his toes had worsened, to receiving a critical cancer diagnosis and Harry very rapidly becoming paralysed from the waist down."
Harry's treatment
Harry's treatment began straightaway, with six weeks of radiotherapy to his brain and spine followed by four months of chemotherapy, and another five-day boost of radiotherapy later in November. However, a review scan showed that the treatment wasn't working as effectively as hoped and the cancer had significantly progressed.
Harry said: "I had a month off treatment to enjoy Christmas, then in January I started a new chemotherapy." Sinead added:
"The oncologist shared with us that this chemo only has a 40% chance of having any effect – even if just to stabilise him – and if it doesn't work then Harry is likely to have less than eight months to live."
The course of chemotherapy that Harry is currently on is the last option available to him on the NHS: "When we received this news, we decided to explore different treatment options – and that's why we have launched the fundraiser." Harry explained.
Sinead added: "When you're looking at two patients with Glioblastoma, one patient's case will be completely different to the other and yet they receive the same treatment. We've found CeGat, a clinic in Germany, where they aim to personalise treatment to specifically target the make-up of individual tumours.
"Although this German clinic can't guarantee their treatment will be effective – no one can do that – they are providing alternative treatments for Harry."
Hope for Harry
With no other options available to them on the NHS, Sinead, Harry and Ryan set up a GoFundMe page called Harry's Healing Fund.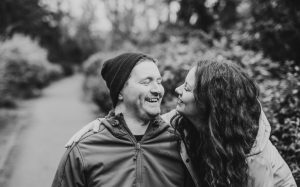 "We only set up the page about 35 days ago, but it's already had an incredible response." Sinead explained.
"Initially it was family and friends who generously donated, but what is even more amazing is that they all took it upon themselves to raise awareness and start organising their own fundraising ideas, like sponsored walks and runs. We've had so many creative ideas from lots of different people around the world."
Ryan added: "We've seen all sorts – there was a live cookery course last week and there's been raffles and tombolas. Another friend of Harry's from Reading, Mason, and I recently hosted a pub quiz. We streamed it on YouTube, with around 100 people attending the live event and many more tuning in after.
"Mason and I are incredibly honoured to have been involved in such an important cause – we're a small cog in a massive operation – to reach our target of £150,000 to help Harry."
Harry is overwhelmed by the support he's received so far: "My old boss who I used to do paper rounds for as a kid has been sending out flyers to his customers, there's fundraising activities taking place in Ireland and people are singing for me in the US.
"It just shows there's a lot more kindness in the world that you don't normally see. It's a desperate situation, but sometimes those situations bring the best out of people."
Sinead agreed that the activity from the fundraiser has been really positive and uplifting: "Even those who aren't in a position to donate have been sharing information and resources via the GoFundMe page.  
"It's been overwhelming coming up with a plan for Harry's treatment, so it's been great to have people pointing us in the right direction based on their own experiences.
"Because of the timescales we're working towards with the clinic, we had set a target to raise 50% of the funds needed by the end of February, and the fact that we've already achieved that is incredible.
"We feel very fortunate to have a supportive community around us – from our families and friends at Reading, to strangers from around the world. This is a hugely challenging time for us and we're incredibly grateful for everyone's support."
Find out more about Harry's story.