Eleni Kaisis completed her PhD at Reading in early 2021, and jumped straight into helping the global fight against the pandemic – joining a COVID-19 test and trace laboratory.
Eleni, who completed her thesis in Alzheimer's disease research at Reading's School of Pharmacy during the pandemic, has recently started working at an NHS test and trace Lighthouse Laboratory in Bracknell.
Eleni tells CONNECTED why she applied for this role: "I saw the job advertised within the School of Pharmacy at the University. Because it is really challenging to get a job right now, I thought this would be a good way to get my foot in the door of a laboratory setting.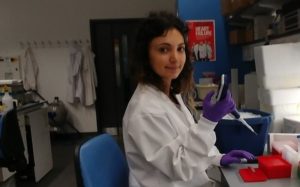 "Although this role doesn't pertain specifically to my research in Alzheimer's disease, it requires many of the same skills and techniques I learnt during my studies. I know that getting your foot in the door is an important first step in a career; once you're in the field it is a lot easier to move between clinical roles as you gain experience and build your network."
Eleni tells us more about the work she is doing at the test and trace laboratory: "After a virtual interview, I was offered a diagnostics role because I had gained some PCR [Polymerase Chain Reaction] experience through my studies, and the technique they use to analyse test samples is the same, just with more cutting-edge equipment. I now prepare, analyse and record data, handle COVID-19 samples and diagnose people.
"It's very exciting to be part of the UK's largest testing network. The fact that this role is also providing me with the clinical and diagnostic experience to kick-start my career is an added bonus to the important work that we're doing."
Following her passion
Although Eleni is pleased to be helping in the global fight against COVID-19, her motivation to study and work within the field of science goes back much further.
Eleni explained:
"Like many other people, I have had a loved one suffer from Alzheimer's disease. This motivated me to pursue science – specifically research in Alzheimer's disease – through my studies and to follow a career in this area. I want to better understand the disease and to help in the development of novel therapies.
"The reputation of the School of Pharmacy is what attracted me to Reading. I have had a positive experience studying here, supported by supervisors who have pushed me to gain as much experience as possible through laboratory work, assisting in the teaching of laboratory practical's, attending and presenting conferences, and helping me with my career aspirations."
Like many other students, Eleni found herself in the difficult situation of completing her studies during the pandemic.
She said: "I found that Reading was very supportive and did whatever they could to reduce the disruption of my studies. I was also fortunate enough to have finished my practical laboratory research prior to the outbreak of COVID-19."
Eleni has always been inspired by a desire to bring about positive change, which can clearly be seen through her decision to study science and to join the global fight against COVID-19.
She said of her plans for the future:
"I consider it a privilege to be part of a team that is helping to fight the pandemic, and I am enjoying my current role at the Lighthouse Laboratory.
"My future aspirations are to continue my career within the biomedical field, and to be part of a team that could bring about positive change to patients' lives."
Discover how other members of the University of Reading community are fighting the pandemic on the frontline.