CONNECTED speaks to Jen Tyldesley, fourth-year speech and language therapy student at Reading, to find out how she put her own worries aside to volunteer on the frontline during the pandemic.
Jen applied to the University of Reading to study speech and language therapy – a spur-of-the-moment decision which ended up being, in her words, "the best decision I've ever made".
She said: "I actually applied for a different course for most of my other university choices, and on a whim applied for this course at Reading because it had such a good reputation. I was passionate about working in healthcare and with children, but I didn't know much about speech and language therapy when I applied.
"However, when I did my research I was struck by how interesting the course sounded. I'm so happy that I applied to Reading because it really was the best decision I've ever made. The campus is beautiful, the staff are helpful and friendly, and it has a great reputation for my course."
While Jen has enjoyed her time studying at Reading so far – like many other students across the country – her studies were disrupted by the COVID-19 pandemic. Jen tells CONNECTED how she took this as an opportunity to step up and help on the frontline, doing the work she is passionate about.
Volunteering during COVID-19
When the first lockdown began in March 2020, Jen's lectures and exams were moved online; but the biggest impact of the pandemic on her studies was the cancellation of placements.
She said: "I was only able to complete eight days of my placement before it had to end due to the virus. Our placement co-ordinators in our department were brilliant – for example, they organised video call placements for vulnerable students – but when I heard that Public Health England [PHE] were asking for volunteers I knew I had to help.
"After responding to PHE's request for volunteers in April 2020, I was given a placement at Southampton General Hospital for five weeks. Following my placement, I stayed on as a Speech and Language Therapy Assistant [SLTA] for the rest of the summer.
"It was a long and busy summer, but it was amazing to do something to help the public and the NHS during the pandemic."
On the frontline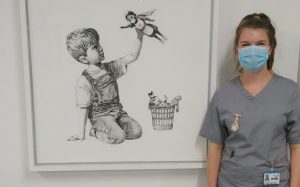 Jen explains what her role as a SLTA during the pandemic involved, and shares how she put aside her fears of entering a hospital during the pandemic to help others.
She explained: "I was working in the paediatric department of Southampton General Hospital with children from birth to 18 years old – with a variety of conditions – including brain injury, cancer, and cleft lip and palate. I spent time working with babies whose illness caused them issues with communication, undertaking swallowing assessments for eating and drinking, and language and speech assessments.
"I was also involved in doing early communication and play with babies. The premature and neonatal babies in our care are often averse to touch, because most of their interactions with staff have been painful or unpleasant as an unfortunate side effect of their treatment.
"Because of COVID-19 the babies in our care aren't getting as much contact with their families as normal, with only one parent allowed to visit per child and no siblings.
"So I would spend time with babies touching their faces, bringing their hands together for self-feeding, singing nursery rhymes, playing 'Ready Steady Go' – all the things a parent would do at home normally, but things these babies are not regularly exposed to because they are in hospital."
While Jen was eager to do her bit during the first wave of the pandemic, her decision to volunteer didn't come without concerns.
She said:
"Initially, I was anxious about being in a hospital during the pandemic. Over the summer I was living with my parents, who would both be considered reasonably high-risk if they were to catch the virus.
"But as soon as I started working I felt safe. The first thing the hospital did was to train me in how to keep myself and others safe; we were provided with adequate Personal Protective Equipment [PPE]; and everyone was vigilant about washing hands and maintaining a social distance. I felt that the hospital was possibly the safest place to be during the pandemic.
"However, wearing PPE did present challenges in my role as paper masks prevented the children from seeing our faces. I worked with one baby who hadn't yet left the hospital, and whose parents could not get in regularly as they had another baby at home; she very rarely saw anyone's face due to the PPE.
"Luckily we were able to get clear masks so that the children could see our faces, and when we first tried the clear masks it was honestly magical – the children reached out to touch our faces."
Making a difference
Jen describes her time spent working during the summer of 2020 as special, telling CONNECTED how she got an "incredible warm and fuzzy feeling" from helping the children in her care.
She said: "The difference we were making was clear to see each time we saw the children and how they'd developed each day. I even found I was getting positive feedback from the babies I was seeing – they would smile and giggle at me – giving me an incredible warm and fuzzy feeling.
"Of course there were days when things didn't go to plan, but my colleagues helped me learn from these days and come back the next day with a fresh perspective.
"Seeing the difference we were making to these children filled me with joy and reminded me why we do this.
"When the time came for me to leave the hospital I was sad because I'd had an amazing experience, but I know those babies and children are in excellent hands.
"There was one teenager with a brain injury who I saw throughout my time at the hospital – he asked me to come back and see him at Christmas, and while I'd love to see him again, I told him 'I hope you're not still here then' because that means he's home and better – which is what we're all working towards for these children."
Part of the NHS
Jen is now back at Reading completing her fourth year of studies, and preparing to re-join the NHS later this year.
She said: "If I hadn't stepped up to help over the summer I would've felt guilty. Given my training and the opportunity I was offered, it was only natural for me to say yes.
"I'm a massive supporter of the NHS, and to be part of it for the summer was amazing and has reminded me why I'm doing this course. I'm working hard to become a permanent part of the NHS, and to end every day feeling satisfied that I've done my best to help those in my care.
"Every person who works for the NHS is there to make a difference to people's lives. To be a part of that and to help deliver good quality care is just amazing."
Discover more about speech and language therapy at Reading.