Dr Helena Dolny – Reading graduate, international executive coach and finalist in the University of Reading's just IMAGINE if competition – talks to CONNECTED about her enterprise LoveLegacyDignity, which aims to transform how we engage with our inevitable mortality.
During the pandemic, our mortality has been at the forefront of our minds more than usual, and Dr Dolny's work to facilitate life-affirming conversations about how we choose to live and questions about how we feel about death, is helping many to cope with living during a pandemic.
Dr Dolny, who now lives in South Africa, started LoveLegacyDignity in 2019 and says she has noticed an increase in clients since the pandemic began:
"I've noticed that there seems to be more willingness to talk about death and grief in general at the moment. More people are engaging with the resources we provide and I've been invited to speak on more radio and TV shows; and these listeners have told me that the virus has made them think about their own mortality."
CONNECTED talks to Dr Dolny to find out more about her career since leaving Reading, what inspired her to start LoveLegacyDignity and what motivates her to help people have these difficult conversations.
A vibrant career
Growing up in a small town in north-east England, Dr Dolny decided to take a gap year volunteering as an assistant teacher in Zambia. This experience sparked Dr Dolny's interest in rural development which led her to study agricultural economics in Reading's School of Agriculture, Policy and Development.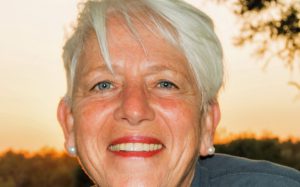 She said: "I chose to study at Reading because it had a strong reputation for agricultural and development economics. I had a wonderful experience there and the course helped me to pursue my interests from my time spent in Zambia.
"On graduating from Reading, I went to work in Mozambique's Ministry of Agriculture for five years where my studies were extremely relevant to the job. I then undertook a PhD on land markets in South Africa. My interest here was piqued by my late husband – Joe Slovo – who I'd met in Mozambique, but was a South African in exile.
"In 1990, when Nelson Mandela was released, I moved to South Africa with my husband and became an advisor to the Minister of Agriculture and Land Reform. Then, in 1997 I became CEO of the Land Bank where I led the transformation to loan money to black people for the first time in its history since it was formed in 1912."
Looking for her next career move, Dr Dolny decided to undertake a master's in coaching, and for the last twenty years she has been an executive coach running her leadership development company called Grey Matters.
Content in her corporate career, Dr Dolny was keen to find a way to give back to society in the form of pro bono work.
The fragility of life
Dr Dolny has lived a life in close proximity to death, as her husband was a prime target on the apartheid hit-list.
She explains: "Living my life close to death led me to become comfortable with the subject and aware of the fragility of life.
"It's made me realise that people should think carefully about how they're spending their years and not to put things off – there isn't another life when you retire.
"I discovered that I felt at ease sitting with dying people – offering them some comfort in their last hours – so I decided to undertake hospice training and also trained as a rites of passage guide.
"When Mandela died, I wrote a newspaper article headlined 'Nation Needs To Be Ready To Let Mandela Go' which was hailed as a real piece of thought leadership. I then started a Sunday newspaper series called 'Let's Talk About Dying', and I finished writing a book I'd started about twelve years before called 'Before Forever After: When Conversations About Living Meet Questions About Dying' which was published in 2017. This was when my career in life coaching came together with what people call death coaching.
"At the end of the book, I included a set of nine questions to go with the nine themes of the book and people told me I should run workshops on these themes. So I did, creating LoveLegacyDignity."
Engaging with mortality
Dr Dolny shares how LoveLegacyDignity works with individuals to focus on fostering conversations about how we choose to live, and transform how we engage with the ongoing presence of our inevitable mortality.
She said: "We started with face-to-face classes but transitioned to online classes which expanded our client base beyond South Africa. We now have people attending from the USA, Germany and Australia. We're about to run our ninth online course and I'm really pleased that the format is working well and has enabled us to remain operational during the pandemic.
"People assume my courses are for the elderly, but more often than not younger people also know someone young who has died and this can get them interested in conversations about death.
"We begin with questions such as: if this is the last year of your life, is this how you want to be living it? We also run through different checklists which can help people to prepare for death – from who you need to forgive, to leaving ordered documents for dependents, to healthcare and advanced directives.
"The last part we cover is rituals for death. We encourage people to be as specific as possible with their wishes as conflicts in families post-death often happen when those that have passed aren't specific. For example, I have family who have fallen out over where to bury their mother's ashes.
"Then, on the last day, we encourage people to make a video which accompanies a living will, leaving a message for loved ones to watch after you've passed. When I show example videos in our sessions, everyone comments on how beautiful they are to watch."
The Purple File – Checklist for Checking Out is available as a free download.
Meaningful work
Dr Dolny's commitment to LoveLegacyDignity comes across clearly; she does this work because it's her love and passion and this is her way of giving back to society. She said:
"I have a rule not to do work that I don't enjoy and my work has to have meaning. Helping people to navigate tricky conversations about death is satisfying and fulfilling for me.
"One of the things that really encouraged me to go for it with this venture was the competition the University of Reading ran in 2019 – just IMAGINE if. Presenting my idea to the panellists at Reading was really encouraging. People took it seriously, and although I didn't win, everyone still encouraged me to pursue my idea.
"My motivation comes from helping others. There was one time when I sat with somebody who was dying; he fell asleep and I stayed with him, then an hour later he woke up and I was still there. He said: 'It feels like I've got an angel in the room'. Who doesn't want to be the angel in the room?
"A lot of people get nervous and upset when someone is dying, but sometimes that person just needs you to be quietly with them – to be the angel in the room."
Find out more about just IMAGINE if, LoveLegacyDignity or Dr Dolny.