The University of Reading would like to express their gratitude to the alumni donor who makes the Bulmershe Bursary possible through their generous support every year.
The Bulmershe Bursary offers one talented arts student from a disadvantaged background the opportunity to thrive and achieve their dreams. This support is made possible by one individual who is prominent in the film, theatre and TV industry, but who prefers to remain anonymous.
They said: "The University and I created this Bursary to assist students who do not necessarily have access to the same support that I had at that stage in life.
"I am fortunate to have worked in the arts for the last 25 years, and I hope that the Bursary enables others to succeed in what is undeniably a competitive and, what might feel at times like, a closed ranks industry."
This year's Bulmershe Bursary recipient is first-year BA Film and Television student, Sadun De Silva. CONNECTED discovers more about Sadun's aspirations and how the Bursary has transformed his studies.
Overcoming barriers to success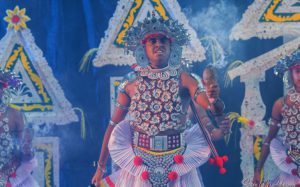 A vibrant member of his London community with strong ties to his Sri Lankan heritage, Sadun has been part of the performing arts community from an early age, and is committed to developing his own talent and that of those around him. He recently received a professional title from the Mayor of Harrow to signify his long-term dedication to community-based art.
In recent years, Sadun has collaborated on a number of film projects which he shares on YouTube with an impressive audience – over 2,000 people viewed his latest feature. However, Sadun has never been able to afford the equipment he needs to fully pursue his dreams. He said:
"I have been filming with borrowed equipment for most of my life because I couldn't afford to purchase my own.
"This is one of the reasons I chose to attend the University of Reading – they have an excellent variety of state-of-the-art equipment available on campus."
Unfortunately, for most of this academic year campus activity has been limited to stop the spread of COVID-19, preventing Sadun from accessing this important equipment. But, thanks to generous support, Sadun has been able to overcome this unexpected barrier to success and the Bursary has enabled him to purchase specialist equipment to continue creating new films, despite COVID-19 restrictions.
Sadun's latest project focuses on the fusion of traditional Sri Lankan Kandyan dancing and modern filming techniques. Drawing upon his first year of studies, Sadun is looking forward to incorporating his learning of effective filmmaking techniques which he has had the opportunity to explore during workshops.
Sadun said: "The highlight of my studies so far is the moment I realised that filmmaking is more than just coming up with a script and filming it; it is all about storytelling.
"Thanks to the support of the Bursary, I have been able to develop my creativity further, even while studying from home. I hope that thousands of people might see my next film and can appreciate how much I have poured into it."
During an exceptionally challenging year, the contribution from this generous Reading graduate has allowed Sadun to explore his creativity and to begin defining his artistic style without limitation. Thank you to everyone who supports the University of Reading community.
Discover the other ways the University of Reading and our supporters are helping students.