Real Jobs, a sector-leading programme run by the Department of Typography and Graphic Communication, brings together Reading students and clients in need of design support for personalised work placements that offer students real-world experience.
The scheme, which has been running for 50 years, enables students to take on 'real jobs' as part of their studies, giving them invaluable experience of designing for the real world, and better preparing them for jobs in the design industry after graduation.
Design commissions come from an extensive portfolio of companies and charitable organisations, as clients are offered an excellent way to access first-rate designs and to also help Reading students become better designers. Instead of a design fee, clients are asked to make a donation which goes to the Typography Student Fund which aims to help students further develop their professional practice ambitions.
CONNECTED speaks to two authors who were delighted to participate in the scheme.
Shirley Anstis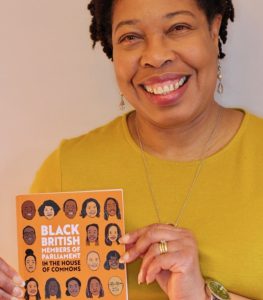 Reading graduate, Shirley, reaped the rewards of the Real Jobs Programme during 2020, when she enlisted the assistance of student designers, Yaa Agyapong and Labiba Haque, for her book Black British Members of Parliament in the House of Commons.
Shirley, who studied a master's in Careers Guidance at Reading, recalled: "I lived in Hillside, the international student house, and I have nothing but lovely memories of my time there."
With such fond memories of Reading, it made perfect sense to Shirley to help current students when she embarked on her writing career, and a neighbour suggested Real Jobs to her – this book is her third collaboration with the scheme.
She said: "I want to mentor and encourage young people – there is a wonderful energy that comes from working with students.
"For the students, it is a fantastic initiative because they get to work with someone who has a real product and a deadline that has to be met, and it offers a great introduction to the professional world.
"I've always had a wonderful experience with Real Jobs and received a high standard of work. In particular, the communication has always been excellent. With each book I developed a brief, and from then on in, everyone involved was clear as to what we were working towards.
"This time around it was challenging because we couldn't meet in person, due to social-distancing regulations, but Yaa and Labiba kept up conversations through emails, texts and Zoom. I was continuously writing, trying to make my deadline whilst they continued with all the design elements.
"It is a wonderful collaboration that has never let me down."
Yaa and Labiba said of the experience: "The opportunity allowed us to learn and expand our design skills, and working intensely on typography renewed our attention to detail. The skills and lessons we have learnt from the project have taught us how to handle pressure and tight deadlines, maturing us as designers in the process."
Shirley's latest book is a collection of mini biographies of current black and mixed-race Members of Parliament. She explained: "Young people are always looking for role models and often those from minority groups do not see themselves well represented in society. Often schools return to people such as Martin Luther King and Nelson Mandela, but it can be hard for young people to relate to historical figures.
"The politicians featured in my book are current, and represent both Conservative and Labour parties. They live in communities that people of all cultures live in. Hopefully, it will inspire young people from all backgrounds."
Find out more about Shirley's latest book.
Enrique Reilly
Another writer who has recently benefitted from the Real Jobs Programme was Enrique – a business consultant in the logistics industry, who was inspired to begin writing by news reports relating to the impact of COVID-19 on the mental health of young people.
He penned his debut book, The Horrible Captain Horatio Murky, and while the words flowed freely for Enrique, he hit a roadblock when it came to designing his book.
He explained: "I emailed several universities asking for help before Reading came up. One of the lecturers, Professor James Mosley, informed me about the opportunity they offer to their students to work with professionals.
"It was a win-win for me because a lot of those suffering from mental health issues are around the age of these students. To give them a chance to have something to focus on during a difficult year – one in which everyone had to deal with the psychological strain that comes from being locked within the same four walls – was excellent."
Aside from providing a student with a welcome distraction from social-distancing measures, Enrique was quick to identify the wider benefits afforded to both student and client by the scheme.
He said: "It provides a great experience for students CVs. I was assigned Joanne Tunbridge, and she went over and above what was expected. Whenever there were any issues, she dealt with them and I couldn't fault her.
"I also love the fact that the work she completed for me will contribute towards her final degree."
Joanne reflected: "This was my first experience of working with printers, printing platforms and e-books. This job allowed for some creativity and I learnt a lot of new skills."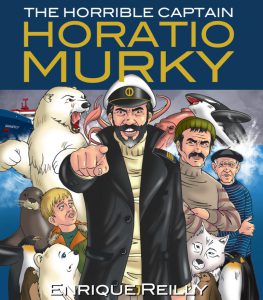 Enrique was so impressed by the quality of work he received from Joanne that he opted to enlist the services of a second undergraduate, Eva Doger de Speville, to help promote the sales of his book.
"I am excited to be giving an opportunity to another brilliant young student," he continued. "Eva is a French speaker, which is great because my book has been translated into French for children across the English Channel to enjoy as well.
"Eva set up social media accounts in the name of Captain Murky and published posts to attract French readers. That is something I would never have been able to do on my own."
Enrique hopes to bring his cast of colourful characters back for a sequel, and is adamant he will also return to Reading for creative inspiration. He said:
"The University of Reading have been brilliant. They were so helpful and that is what I needed. A lot of people tend to say that students come out of university highly qualified but under experienced. Allowing these two students to get some real experience has been so rewarding."
The Horrible Captain Horatio Murky is a tale of a ten-year-old who saves wild animals from the antagonist, with all proceeds to be donated to WWF (World Wide Fund for Nature) and Heads Together.
Find out more about Enrique's first book.
Discover more about the Real Jobs scheme or enquire about working with Real Jobs on a project.