As the COVID-19 pandemic continues to cause devastation around the world, Reading graduate, Swapna Nair, speaks to CONNECTED about her first-hand experience of the current situation in India.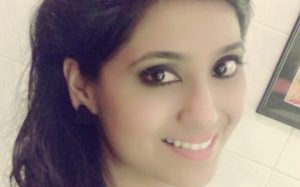 Swapna studied a master's in the Department of Politics and International Relations at Reading, graduating in 2018. She said: "I have always been motivated to broaden my knowledge about problems that affect the world's stability, including terrorism, climate change and conflict. My studies at Reading have shaped my understanding of the historical, political, socio-economic and military processes of contemporary world politics."
Swapna, who currently works as a Research Associate at the Maritime History Society, was inspired to speak out when India was hit by a brutal second wave of COVID-19. She said:
"It's important to share what is happening in India because the pandemic has revealed just how interconnected we are. If one country has a very high level of infection, then it's likely to spread around the world which makes this current outbreak not just a crisis for India, but for everyone."
Currently recovering at home in Ahmedabad from her own brush with COVID-19, Swapna shares an insight into life in India amidst a pandemic raging out of control.
A terrifying situation
Swapna explains the situation on the ground in a country where coronavirus is infecting hundreds of thousands of people every day.
"As COVID-19 cases rise at an unprecedented rate, India's ordinary people are moving heaven and earth to secure oxygen, hospital beds and medical supplies.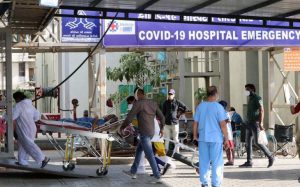 "The endless sight of anonymous corpses wrapped in white plastic streaming out from ambulances to crematoriums showcases the dire situation within India.
"Daily new infections reached record highs of over 400,000 in April and May – on 24 May, cases fell below 200,000 for the first time since 14 April. India has recorded 28  million COVID-19 cases, and 349,000 deaths so far, but experts say the actual toll is far higher. Every family we know in our city are either suffering from COVID-19, or have recently recovered. Too many have lost loved ones.
"People are terrified. Friends and extended family, living elsewhere in India, have told me stories of hospital beds running out," she explained.
Challenges on the ground
Swapna shares an insight into the challenges the people of India are facing in their battle against the pandemic, describing both the severe shortage of medical oxygen available and the logistical problems in the transportation of oxygen when it is available. She said:
"The oxygen requirement in India's hospitals increased rapidly: from 3,842 MT of oxygen used on 12 April, to 8,944 MT on 9 May – an increase of 132%.
"The total daily production for the country is 7,127 MT of which the majority goes to the industrial sector. For the first time since mid-April, the supply of oxygen to hospitals dropped to 4,100 MT on 5 June – even with this significant drop in demand, the current national requirement for oxygen remains high.
"While most of the oxygen producers are based in India's east, the soaring demand has been in cities in the western and northern parts of the country which has led to another major problem: inadequate transportation and storage capacity.
"Liquid oxygen at very low temperatures has to be transported in cryogenic tankers to distributors which then convert it into gas for filling cylinders, but India has also been facing a shortage of cryogenic tankers and the speed limit for transporting oxygen by road is just 40kmph. This has led to further challenges as the cylinders are regularly failing to reach patients on time.
"These issues have led people to take desperate measures – many have turned to the black market for medications and oxygen cylinders to keep their loved ones alive, despite steep price increases."
Looking forward
When asked about her hopes for this wave coming to an end, Swapna said that she's already anxiously looking beyond this point: "Restrictions are now easing in India as case numbers continue to fall. However, many officials and health authorities are warning people of the possibility of a third wave, which they believe is inevitable. There has even been some speculation that a third wave could be stronger than the second.
"As we know, the vaccine is the most powerful tool that we have against coronavirus infections, and most experts agree that it will offer some degree of protection against the various coronavirus strains.
"It is doubtful that India can produce enough vaccine doses to protect the most vulnerable groups against a third wave, but I do think that vaccinations are our only route out of this crisis."
Paul Inman, Pro-Vice Chancellor (International), said: "The pandemic continues to create unprecedented challenges around the world. The University of Reading's global community of students, staff and alumni remain very much in everyone's thoughts, wherever you are located, at this most difficult time."