Reading graduate, Jack Abrey, speaks to CONNECTED about the global climate campaign he led for the Scouts, the importance of empowering young people, and being awarded a British Empire Medal (BEM) for his services to young people and to charity during COVID-19.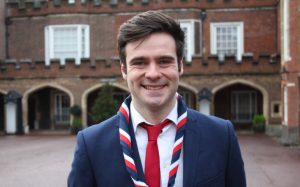 Jack was a member of the Scouts from age six to 18 and, after studying Human and Physical Geography at the University of Reading, embarked on a full-time career with the charity.
Jack explains why choosing a career that would have a positive impact on others was important to him: "Scouts has always played a large part in my life and I wanted to give something back. The values of the Scouts – integrity, respect, care, belief and cooperation – align with my own, making the Scouts a great fit for me.
"I do this job because it genuinely makes a difference and I get to support causes that are close to my heart. As Scouts, helping others is in our DNA, and we've been helping to leave the world a little better than we found it for over 100 years."
A crucial way in which the Scouts have made a difference is through their global climate campaign, #PromiseToThePlanet, which Jack led on as Programme Delivery Executive. 
Promise to the planet
Jack explains that looking after the environment, young people's passion to make a difference, and the drive to leave the world in a better place, have all been constants throughout the history of the Scouts – and these passions combined created the campaign which launched on 1 June 2021.
Jack said: "Naturally the UN Climate Change Conference of the Parties [COP] was a big focus last year.
"But we know that the climate crisis is very much at the forefront of young people's minds every year. They're constantly telling us that it's one of their biggest concerns; young people aren't naïve and they want to take action.
"With COP shining the spotlight on the climate crisis, we were keen to use that to build some momentum behind our campaign."
Jack worked with young people and volunteers from over 20 countries, Scout's international offices, the World Wide Fund (WWF) and the government to discuss and co-create what they could do on a global scale to empower young people to take action and help tackle climate change.
He said: "The campaign was designed by young people, from all over the world, at every stage. It was based on what was important to them, and what policy asks they wanted to present to world leaders.
"I simply facilitated the campaign on behalf of our Scouts to give them greater, collective impact – to show how a small action such as a Scout in Uganda planting a tree becomes something that will genuinely help to solve the climate crisis if 57 million Scouts undertake the same action."
There were four strands to the campaign – recover, reduce, recycle and rethink – with the aim of getting people to carry out social actions, such as planting a tree, following a more planet-friendly diet, or recycling – whether in groups or individually depending on local COVID-19 restrictions. 
This programme of social actions was linked to the UN Sustainable Development Goals, and WWF partnered with the Scouts to verify the actions that were undertaken during the campaign.
Jack and the Scouts designed this campaign to have impact for years to come and connected it to two of the Scout's longer-term campaigns – Earth Tribe, the global youth movement for environmental action from World Scouting, and A Million Hands, the Scouts' flagship community impact campaign which covers six themes, one of which is protecting the environment.
Jack said: "We wanted to make sure that this short-term campaign was rooted in our core offering and long-term partnerships, so we can have a real impact on tackling climate change."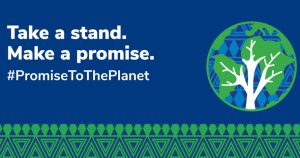 The inspiration behind the campaign came from listening to the 57 million young people who make up the Scouts, and the campaign itself generated over 2,000 projects in 55 countries – totalling 100 million hours of action – and culminated in a Royal visit from The Duke and Duchess of Cambridge.
Taking action
Jack explained: "The Scouts have never shied away from advocating and lobbying for changes. Our mission is to empower young people to have their voices heard and enable them to have conversations with decision makers.
"Young people need to believe that they can effect change and be listened to.
"It's important for everyone to take action on the climate, but ultimately it's young people who will inherit the planet as it is – they are the ones bearing the brunt of the last 100 years of industrialisation.
"It's up to us to ensure that young people know what to do and how to do it in the face of the climate crisis – we need to equip them with the skills to deal with these challenges, as well as working alongside them to do what we can now."
Climate Education Summit
Jack's belief – that it's important to equip young people with the knowledge to help fight climate change – goes hand-in-hand with the University of Reading's ambition to work with others in tackling the defining crisis of our generation through climate education.
Jack joined the University of Reading's Climate Education Summit which took place on 15 September 2021.
He said: "Climate education is vital to solving this problem and the Scouts firmly believe in learning by doing, but the world needs to move away from the assumption that young people don't know what climate change is.
"They do know and they are extremely worried about it, so climate education needs to focus on saying to young people, 'we know you're aware of the problem and you've got the knowledge, now here's what you can do next.'"
New Year Honours Award 2022
Jack was recognised for his inspirational work in this year's New Year Honours List and was awarded a BEM for his services to young people and to charity during COVID-19.
He said: "I'd like to thank the thousands of young people and adults who took part in the campaigns I led on and co-developed with young people and volunteers. You all stepped up at a time when it was needed most and helped to leave the world a little better than you found it.
"Through social action we can connect communities, break down barriers and transform society to be a more tolerant, sustainable and resilient place for us all.
"This award means so much to me, not because of what it is, but because of the journey it represents for me personally. However, this isn't the end and I pledge to continue striving to make a difference locally, nationally and internationally – to build a world that works for everyone and everything on it."
Find out about what happened at Reading's Climate Education Summit, or discover more about the Scout's #PromiseToThePlanet campaign.