The University of Reading have been promoting the internationally-recognised United Nations Sustainable Development Goals (SDGs) by showcasing how the work of our researchers, alumni and students are helping to address these global issues.
As part of the University of Reading's #PlanetPartners campaign, CONNECTED shares some of the work that our community are doing to help address two of the SDGs – Sustainable Cities and Communities, and Life on Land – as well as taking a look at the University's overall role in helping to change the world for the better.
Sustainable Cities and Communities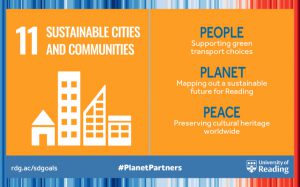 The 11th SDG is Sustainable Cities and Communities, which encompasses making towns and cities around the world inclusive, safe, sustainable and resilient to pressures like climate change, now and in the future.
CONNECTED shares how the University community is helping to address this global issue by speaking to accomplished architect and PhD student, Piers Taylor, and School of Architecture Professor, Flora Samuel, about their commitment to sustainability and the environment.
Piers Taylor, TV presenter of The World's Most Extraordinary Homes and The House that £100k Built, said: "Architects have to be very careful to try their hardest, and best, to work as wisely as possible and to ensure the least amount of damage in developments.
"Unlike 10 years ago when people paid lip service to the sustainability of projects, now people are really interested and are drilling down into the choices they make about their impact on a landscape, on an environment and their consumption of resources.
"There is nowhere to hide now and people have to ask themselves why am I doing this, how am I doing this, is it right that I am doing it, am I doing it the right way, and am I doing it as effectively as I possibly can in terms of minimising damage to the environment?
"It is really bad practice to work on a building that does not address all of those things head on."
Professor Samuel's latest research has been capturing the positive aspects of neighbourhoods during the COVID-19 pandemic, helping planners design resilient homes and neighbourhoods for a greener future. She said:
"The report we produce will present options for how we can do things better in the future. This will support a green recovery, allowing us to develop neighbourhoods that are resilient, sustainable and great places to live."
Find out more about Piers Taylor's and Professor Samuel's work.
Discover the other ways in which our University community is tackling Sustainable Cities and Communities, for example by supporting Reading's economic growth and evolution as a smart and sustainable city through the Reading 2050 project.
Life on Land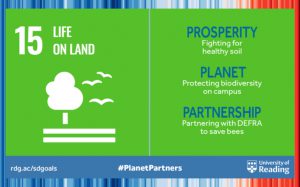 The 15th SDG is Life on Land, which aims to protect natural habitats like forests, and monitor and prevent changes to these areas and their biodiversity due to climate change or human action.
CONNECTED shares how the University community is helping to address this worldwide problem through Reading's Sustainable Agriculture Bursary, provided by Jordans Cereals in partnership with The Prince's Countryside Fund, to support undergraduate students interested in sustainable farming studies.
Each of the partners contributing to the bursary recognise the importance farming plays in the long-term health of our planet, and how integral sustainable food is to our everyday lives.
Mia Hartwell, Jordans Sustainability Manager, said: "At Jordans Cereals we're committed to protecting nature and the wider environment around us.
"We're proud of the bursary scheme; it is designed to actively support the next generation of farmers, helping farming become even more sustainable in the future."
Grace Parrish, one of this year's bursary recipients, said: "I am so excited to be given the opportunity to be working with experts in the field, and continue my own personal development for my studies and future career.
"I will be able to directly implement this knowledge to make a real change towards a more sustainable future for farming."
The successful applicants receive a £3,000 award in their first year, and a further £1,000 award provided by the University in both their second and third years, to support their academic studies and help to further their interest in, and knowledge of, sustainable agricultural practice.
Find out more about the Sustainable Agriculture Bursary.
Discover the other ways in which our University community is tackling Life on Land, for example by running an online course on sustainable farming and food production.
A global effort
Throughout May we have been sharing examples of how our research, teaching and institutional action are helping to tackle the UN SDGs. These examples demonstrate the role the University is playing in changing the world for the better, and the importance of working together to achieve this.
Professor Robert Van de Noort, Vice-Chancellor of the University of Reading, said: "As individuals, we are all capable of actions that make a small, positive impact on the world, but by working together we can truly change it.
"Working with partners across the planet has been fundamental to the success the University has achieved, and will always be at the centre of our approach to addressing global challenges."
Watch our video to discover more about how the University has been helping to tackle the UN SDGs.