After the much-debated decision to postpone the 2020 Tokyo Olympic Games, CONNECTED caught up with Reading graduate and GB Rower, Mathilda Hodgkins-Byrne. Mathilda reveals how she got into rowing, shares what her experience at Reading was like, and explains how she prepared for the Games during a global pandemic.
It was moving schools aged 13 that spurred Mathilda on to "have a go at rowing". She said: "Our family have never been particularly sporty, but everyone at my new school was really good at netball and hockey.
"It turned out I was actually pretty good at rowing, and within a few weeks I started training with Hereford Rowing Club. My younger sister, Charlotte, saw how much I was enjoying it and decided to join shortly after me and we've been doing it ever since."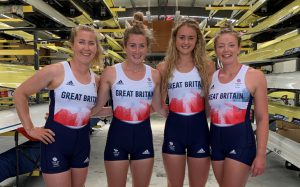 Mathilda quickly moved her way up through the ranks. In the summer of 2012, she competed at the Coupe de la Jeunesse – an international rowing regatta – and after starting college in the September of 2012 joined the Gloucester-Hartpury Start Programme – a joint initiative with the GB Rowing Team. In 2014 Mathilda embarked on her degree in chemistry at the University of Reading, where she continued with her promising rowing career on the Start Programme.
Balancing demands
As well as juggling lab work and assignments, Mathilda had an intense training schedule consisting of two cardio sessions, four weights sessions and two water sessions each week. Even taking her end-of-year exams proved to be challenging as the summer term coincided with the competition season, and Mathilda was often out of the country representing Great Britain.
She said: "After my first year I realised that pursuing my studies and the demands of rowing was going to be hard to balance, so I approached my supervisor about going part-time for my second and third years of study which he agreed to support me with."
Unsurprisingly, Mathilda had no time for part-time work which many students undertake to support themselves – however, she received valuable support from University donors who helped fund a sports scholarship and a grant from the Student Support Fund. She reflected:
"Reading really supports athletes. Both the department and Student Services team were incredible – they bent over backwards to help me and made everything possible.
"It was purely down to the University that I was able to complete my degree. Without the support I've received from Reading, my family, friends and the GB Rowing team, I couldn't have got to where I am with my rowing career today."
Although Mathilda found balancing the demands of both her studies and rowing career challenging, she explained why it was important to have another focus: "When I was doing chemistry that was all I could think about – I was working towards another career – and that took my mind off of the pressures of rowing and helped me to perform better."
Just after she graduated in 2019, Mathilda qualified for the 2020 Tokyo Olympic Games – as part of the women's quad – along with her sister, Jess Leyden and Melissa Wilson at the World Rowing Championships. However, upon qualifying they had no idea of the challenges that would lie ahead.
Preparing for the Olympics during COVID-19
With the postponement of the Olympics last year, and all the uncertainty around this year's plans, Mathilda explains how she prepared for the international competition and what inspired her to keep focused during the pandemic.
She said: "We used the lockdown time to focus on our individual development. I realised I wasn't very strong, so my coach put me on a strength training programme and that's what I've been focusing on in the lead-up to the Olympics.
"With all the uncertainty it's been really hard to prepare, but you just have to keep training. The strength programme was a great distraction for me and it's really worked – I'm stronger and therefore a lot faster in the boat now."
However, it isn't just preparing physically for the Olympics that can be challenging during a pandemic. Mathilda reveals that psychologically it has also been difficult: "In my spare time, outside of rowing, I made sure I kept myself busy by volunteering with some human rights charities, and spending quality time with my mum, my dogs and my chickens.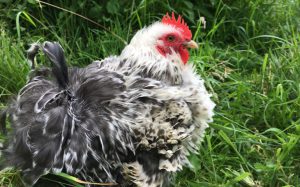 "Emotionally it's been quite tough and my chickens have really helped me. They give me a sense of perspective – spending time with them helps me to unwind because they are always so positive and happy. It makes me think if these guys can muddle through life, then so can I. On countless occasions they have inspired me to get up and go to training when I really haven't felt like it."
A year like no other
Mathilda reveals how she feels about competing at the Olympics during COVID-19, and what she knows about how it might operate differently this year.
She said: "With all the uncertainty around the Olympics, the best way to describe how I feel is relieved!
"I feel pretty confident with all the COVID-19 measures that have been put in place. We are tested upon arrival and then daily thereafter, and we have to fly home 48 hours after our individual races have finished.
"It's certainly going to be a year like no other. It's a shame that we can't stay out and watch the rest of the team compete, but what I feel really sad about is that our family and friends can't be there to support us. Instead, they will be watching us race virtually and the first time we will be able to celebrate properly with them is after the quarantine period.
"However, I am lucky that I get to compete with my sister. It's comforting knowing that she'll be there in the boat with me, and to have someone around you that you can be completely frank with.
"We are really close, and we both pull each other up on things if we need to. I feel fortunate that we can do that for each other without any bad vibes – we both understand that we are doing it so that we can improve and perform at our best."
Achieving your dreams
Turning her thoughts to what it means to be going to the Olympics, Mathilda said: "I had hoped one day I'd get selected to compete. As I mentioned, neither me nor my family were particularly sporty, so to be competing at the Olympics makes me feel incredibly proud. It just shows if you really put your mind to it and work hard, you can achieve your dreams.
"I think the pandemic has also highlighted just how uncertain everything can be, so to be going to the Olympics this year makes me feel extremely fortunate."
Mathilda revealed to CONNECTED that whilst her immediate focus is on the Olympics this summer, she also has her sights firmly set on Paris 2024. She said: "I just want to see how fast I can go. After that, I'm not really sure what's next.
"Since the pandemic I've become really interested in human rights, and one of the ideas I've been exploring is a Law degree conversion. I'd like to get a job that is connected to science in some way, so that I can use what I learnt on my chemistry degree in my future career."
Follow Mathilda's progress throughout the Olympics, or find out more about studying chemistry at the University of Reading.