The Sporting Excellence Scholarship is helping student athletes to stay fit throughout lockdown, and is preparing them to compete again after a challenging year for sport. 
With the 2020 Tokyo Olympics having just finished, CONNECTED takes a look at how University donors are supporting the sports stars of the future, by providing grants to students who compete at a national or international level in their sport.
Over the last year, the scholars have faced more disruptions to their training and competitions than ever before. The scholarship has been a lifeline for many students who would have otherwise struggled to maintain their fitness, or been unable to afford the equipment needed, to continue competing at such a high level.
At-home training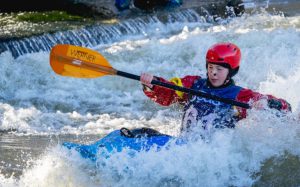 Abigail Goddard, Freestyle Kayaking World Champion and first-year undergraduate bioscience student, speaks to CONNECTED about how the scholarship has helped her to stay fit whilst out of the water.
"I have always loved the water. I grew up watching my dad paddle on white-water rafting trips and I started canoeing as soon as I was old enough. I began freestyle kayaking because I loved the freedom of the water and the rush of tumbling – it was exhilarating. By the time I was 18, I had kayaked all over Europe – from Spain to Scotland, and France to Bratislava," she explained.
"When it came to picking universities, I knew I had to find somewhere that could balance my educational and sporting needs. Reading has a great bioscience programme and a strong water sporting community being so close to the River Thames. It was a great choice."
Abigail started her degree in September 2020, when COVID-19 had already impacted the international sporting world. During each national lockdown, Abigail was unable to get out on the water and couldn't meet with her trainer in person.
She said: "I didn't know about the scholarship until I had already started, but when I found out I was eligible, it was a huge relief. The scholarship allowed me to join a specific training programme run by World Champion Freestyle Kayaker, Jacko. He ran online training that we could do at home, without specialist equipment, to keep us fit and to ensure our muscle movements were improving despite being out of the water. I did a lot of somersaulting in my living room, but it really did help!
"I was able to build my skill set and confidence at a time when my options were really limited. It is such a small sport and we don't get funding anywhere else, so the scholarship made a really big difference."
Balancing sport and study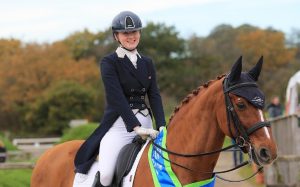 Harriet Brick, a first-year English literature student, talks to CONNECTED about COVID-19's impact on the Team GB qualifiers, and how donor support has helped her through the lockdown.
"I sat on a horse before I could even walk," Harriet tells CONNECTED. "I can't imagine not riding, it has been my whole life.
"I knew that going to university and balancing riding would be a challenge, but it was so important to me to have the opportunity to do both. I hadn't initially considered Reading, but my physiotherapist mentioned that her daughter studied here, and after a bit of research, I decided I could balance my education and sport well if I came here too."
Like Abigail, Harriet began university in September 2020 shortly before the UK entered another national lockdown. The early months of 2021 proved to be especially challenging as Harriet's opportunities to practice dwindled.
"I decided to remain on campus for the lockdown because I couldn't study from home. I did try, but the internet connection was awful and it wasn't an appropriate learning environment.
"My horse, Ginger, is at home in Shropshire, so while I was staying in Reading I had to pay someone to maintain Ginger's care and upkeep for me – that's why the scholarship was so important.
"Without Ginger, I can't train or compete and I wouldn't have been able to attend the qualifiers – which were already cancelled once due to COVID-19 – and I probably wouldn't have made it on to Team GB.
"Getting help with Ginger's care allowed me to look ahead and plan for Olympic level riding, but it also gave me the peace of mind I needed to focus on my studies without constantly worrying.
"I want to say a massive thank you to everyone who made this scholarship happen. It's extremely difficult to be an athlete and a student at the same time, and it is amazing that there are people out there who understand the challenges and want to support us through them."
Success stories
The scholarship provides up to £2,000 which can be used to help scholars with the costs of travel to trials, equipment, coaching, nutritional advice and other costs associated with competing in performance sport.
But, the scholarship means so much more as Campaigns Project Officer, Janice Galvin, explains: "It is a chance to be part of a success story. We very much hope that some of the students who benefit from a scholarship will be names that you see and hear on television, and at the Olympics in the future.
"People who do exceptionally well at sport have the capacity to go beyond themselves; what they achieve can be for the greater good of others. In that respect the scholarship can generate a sense of civic pride, national pride, and pride for the wider University community."
We are very grateful to everyone who has contributed to the sporting success of the scholars. Thank you.
Find out more about the Sporting Excellence Scholarship.