"No one will protect what they don't care about; and no one will care about what they have never experienced."
A stark but powerful insight from Sir David Attenborough that explains why it is vital that we ensure our generation and future generations are exposed to the natural environment, and are educated about how to respond to the climate crisis.
Following the University of Reading's Climate Education Summit last week, CONNECTED interviewed Philip Turvil, Reading graduate and Eco-Business Director at the Field Studies Council.
The Field Studies Council (FSC) are one of the UK's leading outdoor education specialists, who are committed to creating a world where people feel more connected to the environment and to helping people make better choices about how to protect it.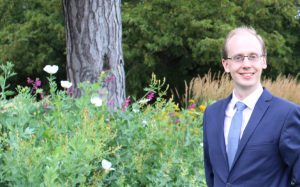 Following a degree in horticulture at Reading – the only university Philip applied to due to its long-standing, international reputation – he ventured into the charity sector. Philip worked for organisations including Garden Organic and Royal Botanic Gardens, Kew, before joining the FSC as their Eco-Business Director, where he aspires to increase the number of people who can access the positive benefits of outdoor education.
Philip shares with CONNECTED why he thinks it's important for people to connect with the natural environment, and his motivations for embarking on a career focussed on outdoor education.
Transforming attitudes
"There is something incredibly rewarding about seeing an individual – initially, perhaps unconfident, scared or intimidated – transform and engage when they connect with the natural environment," he said.
"When individuals understand how things work in nature, become confident enough to touch soil, and identify plants, animals and fungi, they tend to start caring more about the environment," he explained. "And this often inspires them to take practical actions in their personal lives to help protect it, like creating wildlife habitats, doing more gardening or donating to an environmental charity.
"It's that connection to nature which benefits individuals, communities and the environment that inspired me to want to work in this sector."
Preparing for the future
While climate education is high on the agenda, CONNECTED spoke to Philip about how the education system can better prepare young people for the challenges of a changing climate.
He said: "I think we need to increase people's knowledge, awareness and experiences of the natural environment. As I mentioned, if people understand more about nature, they are more likely to care for it, protect it and inspire others to do the same.
"If every child had the opportunity to study outdoors, and if working with plants, animals and fungi could be embedded into the national curriculum at various key stages, I think we would be a huge step closer to better preparing young people for the future.
"I'm under no illusions – this is a massive task. There's an awful lot of content to cover and logistics to work through, but I think given the importance of tackling climate change and all the related issues and urgencies we must deal with, it's imperative to undertake this work now."
Taking practical action
Turning his thoughts to what we need to know to help us look after our planet in the years to come, Philip said:
"I think more people need to learn about the diversity of plants, animals and fungi species.
"Fungi is a particularly good example – it's generally considered to be seven or eight times more diverse than plants, which means it has about three million different species and yet we know very little about them and how they contribute to biodiversity.
"A lot of the messaging about climate change is pretty gloomy, and whilst the crisis is undoubtedly urgent, if we continue to focus on that alone it could make people feel helpless and end up discouraging them to take practical action.
"Showing people what happens naturally to environments over time versus what happens as a result of certain actions by humans, is one of the most important messages we can teach others."
Philip urges that anyone, anywhere can take practical action and inspire others to contribute to the global fight against climate change.
He said: "Every window box, scrap bit of land on a housing estate, garden or park, provides opportunities for individuals, families and communities to study nature and develop it by planting new things or creating wildlife habitats.
"If you want to take practical action, I'd encourage you to seek local advice, find out what's going on, and get involved."
Discover more about the Field Studies Council, or find out more about the University's Climate Education Summit.