"The responsibility to combat climate change is on all of us. After all, it is up to us what kind of world we leave for our children."
These sentiments from Reading graduate, Risto Heikkala, are no doubt shared by many of us as we face the looming prospect of a future in crisis.
As Head of Product Management and Pricing of Renewable Polymers and Chemicals at Neste, Risto is working to create solutions for combatting climate change and accelerating a shift to a circular economy, offering hope for the future.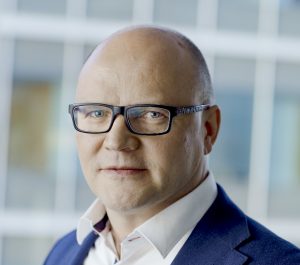 Risto, who lives in Finland, studied a part-time Executive Master of Business Administration (EMBA) at the Henley Business School and graduated in 2019.
"My time at Reading enabled me to 'cast off the blinkers'," he reflected.
"It gave me a greater understanding of the international business environment, and the knowledge and toolbox I gained still helps me in my daily work."
Having worked for Neste since 2007, Risto recently moved to the newly-established Renewable Polymers and Chemicals unit. He now works on providing solutions for the polymers and chemicals industry based on renewable or recycled raw materials, to reduce our dependence on fossil resources.
A new life for plastic waste
Risto explains how Neste has turned its attention to renewable feedstock – a natural resource that can replenish itself in a limited time – for polymer production, as well as accelerating the development of chemical recycling to contribute to solving the plastic waste pollution challenge – something which he believes is "one of the greatest challenges of our time".
He said: "Most people are using polymers every day, because their superior properties allow for a wide range of applications, ranging from cars, medical appliances, beauty and home care, to electronics and packaging.
"However, there is a dark side to conventionally produced polymers – when using fossil resources like crude oil to produce polymers, we are adding additional carbon to the carbon cycle. This carbon eventually ends up as carbon dioxide in the atmosphere at the end of a polymer product's life."
Neste is working on replacing fossil resources with renewable and recycled materials. While the renewable components are based on waste – residue oils and fats – the recycled components use post-consumer plastic waste, liquefied into a raw material to use at their refineries. While both components replace fossil crude oil, the recycling also provides plastic waste with a new life, helping to reduce the need to direct these materials to landfill and incineration, and prevent littering of the environment.
"I'm thrilled to be directly involved in reducing our dependence on fossil resources, and helping to turn plastic waste into a valuable resource," Risto added.
No time to wait
Renewable and circular solutions can make a big impact in the fight against climate change and pollution.
Risto said:
"Renewables offer great opportunities to contribute to our climate goals. They also come with a big advantage over several other technologies – they are available now and are ready to use. This makes renewable and circular options a necessity – we don't have time to wait for other options as climate change isn't waiting for us.
"Neste has renewable feedstock options ready to use in polymer production and also offers renewable diesel and sustainable aviation fuel, as well as our work on chemical recycling to turn plastic waste into a valuable resource. These are all drop-in solutions that are ready to reduce our climate impact now.
"Our contributions to a circular approach makes the most of our resources, helping to combat climate change and work towards a climate-neutral society."
Every step counts
Risto's commitment to tackling climate change and the pollution problem doesn't stop at work.
He explained: "At home we are trying to live in a more sustainable way. We are sorting waste, recycling furniture and clothes, and using renewable fuels and electricity in our cars. Going forwards, we are aiming to heat up and cool down our cottage using low-energy technology.
"Some of these things are smaller steps and some are larger ones. But after all, every step counts. I am eager to contribute to and work towards a more sustainable way of living.
"Anything else would not be fair on my children. It is up to us what kind of world we leave to them – I for one would like to do everything in my power, through both my work and personal life, to leave them with a prosperous future."
Find out more about Neste.