Reading graduate, Heather Cadden, tells CONNECTED how our future can't just focus on achieving net zero carbon – a truly sustainable world also needs to empower people in the supply chain.
Heather studied human geography at Reading, a decision which sparked a passion for fighting for people's human rights.
She said: "I was incredibly inspired by one of my modules – taught by Dr Sally Lloyd-Evans – where we had to do a presentation on child labour in a high street retailer. It made me realise my passion for this area, but I didn't know if jobs in this space even existed.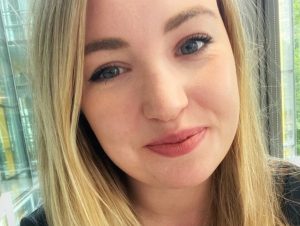 "After university, I briefly tried teaching geography but realised I was lacking life experience and spent some time working in retail figuring out what I wanted to do. During this time, I came across an entry-level ethical role at Asda, and Dr Lloyd-Evans helped to prepare me for the interview. I spent two years at Asda learning the ropes of ethical trading, and once I felt I'd learnt the basics I moved to SEDEX – an ethical trade membership organisation who work with businesses to improve working conditions in global supply chains – before joining Marks & Spencer as an ethical trade officer."
Heather now works as a Responsible Sourcing Manager focusing on human rights at M&S Food, which sits within their Environmental, Social and Governance Strategy – and was established 15 years ago with the aim of embedding sustainability into M&S' business model. She tells CONNECTED how her team work to protect human rights in the supply chain.
Protecting workers
She explained:
"We focus on protecting workers. Their lives shouldn't be negatively impacted by working with M&S, it should be positively impacted by it. We help to uncover problems and rectify them. We don't do this on our own – it's important that we collaborate with other businesses including our competitors, suppliers and industry experts on the ground to improve working conditions."
Heather shares some of the projects that she has been working on with M&S recently. "We were lacking direct feedback from the people we were trying to protect and support, so for the last two years I've worked on launching a voice tool in our supply chain," she explained.
"This tool enables workers in the UK – and will eventually include those in global food factories – to feedback to M&S on their specific areas of risk. I have also travelled to visit suppliers across the UK and Europe, interviewing their workers about their experiences and supporting them with implementing changes.
"Another project I worked on was with Kenyan flower farmers with the Foreign, Commonwealth & Development Office. With flowers not being considered an essential item, these farmers were hit hard during the pandemic, so we worked with them to look at how they could improve their livelihoods and resilience.
"We have also supported people across farms and factories to realise their true potential through our Emerging Leaders training programme."
Factoring people into a sustainable world
Heather explains why it is important to protect and amplify the voices of people in the supply chain in our efforts to achieve a sustainable future.
She said: "Even if we could achieve an environmentally sustainable planet, if that world is still run by big corporations with no thought for protecting workers, then we can't have a sustainable future.
"Without empowering people who make the products we use – such as cocoa farmers in Africa – we will end up with the same problem further down the line. You can tick a box to greenwash supply chains, but if you don't build this ethos into culture and people's livelihoods for them to pass down to generations, then it won't be sustainable in the sense that it won't last.
We need to empower everyone and not just let corporations engage in a box-ticking exercise."
Heather also stresses the morals behind embedding human rights in the supply chain. "Why fight for the future of our planet if we don't fight for the correct treatment of people on the planet?
"We shouldn't have products at the expense of other people's livelihoods – it's imperative that we treat people well."
Encouraging others
Heather's passion for her work continually draws her back to Reading, to encourage others to join her in the fight.
She said:
"I absolutely love what I do – it feels like I'm going to work for a good reason. It can be a very difficult job and I often hear things I'd rather not know about. Ignorance can be bliss, but I want to do the right thing and it's important to seek out problems so we can do something about it.
"Every year I go back to Reading to give a lecture on one of Dr Lloyd-Evans' modules, and I mentor students from the University who are interested in the industry. I do this in my free time, in an informal way. I support my mentees with that big jump from leaving education and going to work, and help them understand the realities of life within the ethical trading and human rights industry."
Heather is also keen to encourage others to do their bit and think about the ethical implications when they are shopping.
"I don't buy everything perfectly, but it's important to look at a company's ethical commitments such as their Modern Slavery Statements. Avoid being drawn in by ethical greenwashing and read into what that company is actually doing, and ask questions about where their products come from."
Business as usual
Despite loving her work, Heather does hope that one day jobs like hers shouldn't need to exist, as the ultimate aim is to change behaviours.
"When I graduated these jobs didn't exist as much, but the ethical industry has boomed with it now being pretty common to have these roles in the food and clothing industry," she explained. "The dream is that these types of roles are only around for a short period of time because people start doing the right thing.
"I'd love for this to become business as usual – whether you are a buyer, a designer or anywhere in the process, you uphold human rights without questioning it. I'm not sure it will happen in my career lifetime, but we will know the work is done when they no longer need us."
Find out more about studying human geography at Reading, or discover more about M&S' Environmental, Social and Governance Strategy.