Ring in the festive season with the University of Reading, from carol singing and festive treats to a Santa Run, Children's Christmas Lecture and Giving Tree to get our local community feeling Christmassy.
Winter Festival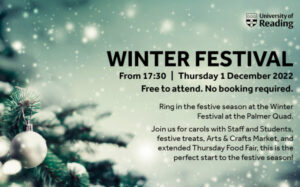 Join us for the University of Reading's Winter Festival at the Palmer Quad. Kick off the festive season with carols with our Choir, festive treats, an Arts & Crafts Market, and extended Thursday Food Fair.
All are welcome, booking is not required.
1 December 2022, 17:30-19:00, Palmer Quad, outside Palmer Building, Whiteknights Campus.
University of Reading Carol Service
Join the University Chaplaincy and Reading University's Music Society to celebrate the Christmas season with a traditional service of carols, readings and musical performances. The service will also include an opportunity to donate to local and international charities, with refreshments available afterwards in Mojo's bar.
5 December 2022, 18:00-19:00, 3Sixty, RUSU Building, Whiteknights Campus.
Universal Voices Charity Carol Singing
Join the University of Reading's Universal Voices Choir – a donor-funded community choir for boys and girls aged 7-13 years in the Reading area – for a carol concert to raise money for charity. They will be performing alongside the Reading University Music Society wind ensemble.
8 December 2022, 16:30-17:00, Reading Train Station.
All are welcome, booking is not required.
Find out more about the Universal Voices Choir.
The Reading Santa Run
This year's festive run is being held on Whiteknights Campus on 11 December 2022. The run attracts hundreds of runners every December and is open to anyone.
Whether you join the run or come along to watch, you'll also be able to enjoy the food market, choir performances and festive drinks, with a prize for the best festive outfit on the day up for grabs.
1K Mini Santa and Elf Run – everybody, of any age or ability, is welcome to join in the mini Santa run which starts at 9.30am.
5K Santa Run – open to anyone over 11 years old, kick off the holiday season by keeping fit and raising funds for ReadiFood and Starting Point.
Find out more information and sign-up.
The Giving Tree
The Giving Tree is Connect Reading's annual Christmas Campaign and is a chance to spread some Christmas kindness. This year, the University and the Reading University Students' Union (RUSU) have been matched with homelessness charity, Launchpad, and the NHS Royal Berkshire Hospital and are pledging to donate gifts to those supported by the charities.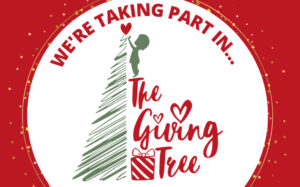 Running until the 14 December 2022 you can pick up a gift tag from the Christmas tree in the University of Reading Library Foyer. Purchase the specified gift on the tag (please shop local where possible) and return the unwrapped gift with tag to the Welcome Desk at the RUSU Reception.
Any staff member, student, alumni or member of the local community is able to get involved and donate a gift. The requested gifts are no more than the value of approximately £15, hopefully making the Giving Tree as affordable as possible.
It's absolutely fine if this isn't something that is possible for you right now, sharing this message and spreading the word is just as important.
The University and RUSU have pledged to donate fifty gifts this year, let's see if we can smash this target together.
If you want to find out any more information please email community@reading.ac.uk.
Children's Christmas Lecture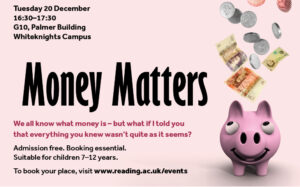 Join Professor Adrian Bell, Research Dean and Professor in the History of Finance, as he describes how the concept of money has changed over time, from seashells to silver coins, to paper money and now crypto currencies. What is money and why does it matter so much against the contemporary background of the current cost-of-living?
20 December 2022, 16:30-17:30, Palmer G10, Whiteknights Campus. Suitable for children 7-12 years.
Admission is free, but booking is essential.
See what else is on at the University of Reading by visiting the University's Events page.