CONNECTED discovers how the University of Reading's Universal Voices Choir – which is funded by donors – is enriching the lives of children through music and supporting the local community.
Music can help young people find social groups, build relationships, and develop empathy and self-expression, as well as improving concentration, literacy and numeracy. However, whilst music is a core part of the curriculum, many schools lack specialist music teachers to deliver the highest quality musicianship that children deserve.
Universal Voices' vision is that every child has the right to become a musician and to access the benefits that music brings.
CONNECTED speaks to Dr Rebecca Berkley, Associate Professor at the Institute of Education and Universal Voices' choir leader, to find out how the choir is supporting the local community, providing valuable opportunities to our students, and how they have adapted their activities during the pandemic.
Supporting the community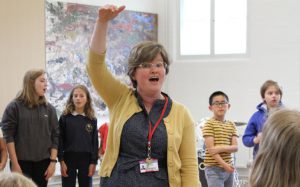 Made possible by generous donations from alumni and supporters, this free non-auditioned choir for local children launched in 2017, and had 52 members from 21 schools in the Reading area prior to the pandemic.
Rebecca said: "We're so pleased of what we've achieved with the choir so far. We're proud to be supporting our local community with over 75% of our participants living within easy walking distance of the University, and more than 67% living in areas of social and economic deprivation.
"Community is an essential pillar of the choir. The University strives to be a good neighbour by making high-quality choral education available and free to local families through Universal Voices."
Rebecca explains how the choir supports the musical education of local children by focusing on musicianship and performance.
She said: "Musicianship is at the core of our training, using a well-recognised methodology to help children find their musical ear. We start with games, activities and exercises, and then link that to reading and writing music notation.
"Performance is also a key part of the choir. While we are currently unable to perform due to COVID-19 restrictions, all activities are still geared towards performances when they are allowed to proceed. Students are proud of their performances and it's a life-enhancing activity for children to participate in."
After the choir's partnership concert in March 2018, one parent fed back:
"It was such an amazing performance, and my daughter was really thrilled and felt important being a part of it."
Future music leaders
As well as providing support and training to local schools, the choir also forms an integral part of music education provision for undergraduate and postgraduate students studying at the University of Reading.
Rebecca said: "We also seek to promote teacher training in choral conducting and leadership through Universal Voices. Student teachers training at the Institute of Education work regularly with the choir as assistant conductors and musicianship tutors.
"45 trainee music teachers at the Institute of Education have developed their classroom skills with the choir so far, and last year 12 second-year BA Education music students taught creative performing and music projects in local schools.
"After these sessions, they brought 150 children back to perform with the University Big Band – a 25-piece student-led orchestra – in the iconic Great Hall. For many children it was their first experience of performing in a large-scale concert."
Moving online
Like all areas of society, Universal Voices has paused its activities due to the pandemic, but it is ready to restart with current and future restrictions in mind. Rebecca tells CONNECTED how the choir has adapted to continue providing support to the local community during these difficult times.
She said:
"We hope that on-campus rehearsals will be able to recommence in summer 2021, and in the meantime Universal Voices is focusing on providing digital resources to schools.
"These include digital classroom singing materials; digital piano accompaniment masterclasses; plug-and-play online musicianship lessons for teachers to use in-class; and the Digital Partnership Festival 2021, 'The Colours of my Life' driven by BA Education students."
Transforming lives
The incredible work this choir does to support the local community, and to provide valuable opportunities to our students, is only possible due to the generosity of our alumni and supporter community.
Polly Vacher MBE and donor to the choir, explained her motivations for supporting Universal Voices: "It is wonderful to give young children the chance to be involved in music.
"As a musician, it gives me great pleasure to see their sheer enjoyment at performances, giving them a feeling of achievement and helping them grow in confidence – it is so worthwhile and gives them something which will stay with them forever. It truly enriches their lives."
This choir – and the support of University donors – is having a transformative effect on the lives of local children in Reading who would not normally have access to quality music tuition and performance opportunities.
Thank you to all donors for their continued support.
Get involved
If you wish to find out more, get involved with the choir, or access the digital lessons, please contact Jo Manzi-Crean in the Alumni and Supporter Engagement Office (ASEO).
Watch ASEO's Christmas thank you video which features Rebecca singing 'Walking in the Air'.