"The agreements and actions that come out of COP are vitally important efforts to reduce the impact of human actions on the planet."
Professor Rosalind Cornforth's words ahead of the 27th Conference of the Parties (COP27) – which ran 6-18 November in Sharm el-Sheikh, Egypt – capture the importance of the Walker Institute's longstanding engagement with the biggest climate change conference on Earth. Professor Cornforth, Director of the Walker Institute, continued:
"These agreements must be informed by strong evidence, so we are proud to be at the forefront of providing the latest science on climate change and resilience."
The University of Reading is an official Observer of the UN Framework Convention on Climate Change (UNFCCC) COP process, having participated for almost a decade. This status was obtained and maintained by the Walker Institute and underpins our direct research in support of the Intergovernmental Panel on Climate Change (IPCC) in which we are heavily involved.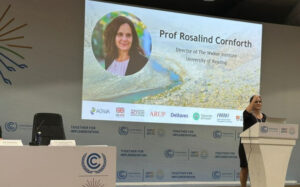 CONNECTED speaks to Professor Cornforth to find out more about their activities at COP27, and to share details of Walker's upcoming 'What Really Happened at COP27?' event on 1 December.
COP Climate Action Studio
For each COP, the Walker Institute runs a Climate Action Studio – COPCAS – where doctoral students can immerse themselves in the unfolding climate policy process and link up with participating students and staff who are attending COP in person.
Professor Cornforth said: "Our successful COPCAS returned this year, hosted live throughout two weeks of COP with 23 PGR students.
"This year, COPCAS ran daily from 8am-5pm with groups of students, supported by the Walker team, engaging remotely with COP, watching live sessions, monitoring the negotiations, conducting interviews, gathering and critiquing reported information, and discussing the issues they encountered.
"The students were encouraged to relate COP27 to their research topics and translate and communicate developments to different audiences. They engaged with social media, posted blogs, and produced videos.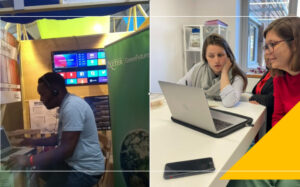 "In addition, two students won a competition to join the University of Reading's delegation to participate in COP in person and conduct interviews with a wide range of COP27 participants. The COPCAS students also had the opportunity to liaise with these two students whilst they were at COP."
View the COPCAS student blogs.
Water security
University representatives also participated in activities in the Blue Zone – the official space for negotiations and side events – informing UK Government representatives involved in the negotiations by providing impartial scientific and technical advice.
Professor Cornforth shared: "This Blue Zone event was called 'IPCC AR6 Water Security Conclusions and Launch of the Expanded Water Tracker for National Climate Plans'. 
"It provided an overview of climate risks to water security, including drought, floods, and human vulnerability, and how the Walker Institute is working with partners to address these issues using a new water tracking tool.
"Lord Zac Goldsmith, Minister of State and the UK Foreign, Commonwealth and Development Office (FCDO) made the opening remarks, together with Dr Hani Sewilam, Minister of Water Resources and Irrigation, Egypt. I was one of the keynote speakers along with Professor Richard Betts from Exeter University and the UK Met Office, with Ms Kelsey Harpham, from the Alliance for Global Water Adaptation (AGWA), introducing the expanded global water tracker for National Climate Planning."
View the recording of this Blue Zone event.
From reaction to action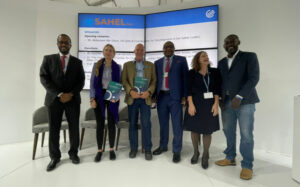 The Institute's second side event, with the UN Refugee Agency (UNHCR), at which Professor Cornforth was one of three panellists, was called 'Moving from Reaction to Action: Anticipating Vulnerability Hotspots in the Sahel'.
This is where the UNHCR launched an important report to which the Institute contributed as part of the Predictive Analytics for the Sahel project. Professor Cornforth said:
"This project aims to push for anticipatory, rather than reactive, action to vulnerability hot spots that lead to large displacements of people across the Sahel in North Africa.
"The Walker Institute is one of eight 'My Climate Risk' Regional Hubs, appointed by the World Meteorological Organisations under the World Climate Research Programme. These hubs are designed to develop a 'bottom-up' approach to regional climate risk, and our research is designed in collaboration with individuals, communities, other organisations and governments to ensure that it meets real needs, fills critical gaps in knowledge, data and information and is applicable in practice.
"Using research to make a difference, and adopting a systems-based approach to understanding the multiple hazards people face, is a cornerstone of our work."
Read more about the Sahel project.
'What really happened at COP27?' event
If you're local to Reading, then please join us on 1 December for our annual panel discussion, organised by the Walker Institute, looking back on what made international headlines and what might have been missed during the conference.
Professor Cornforth explains more about the upcoming event: "A group of COP27 delegates, spanning our own University of Reading party as well as external participants, offer their own grounded perspectives of the successes [and failures] of COP27, in conversation with the Chair of the Walker Institute's Board, Peter Gibbs – ex-BBC weather forecaster and Host of BBC Radio 4, Gardener's Question Time. This event provides an opportunity for the wider University community to review and assess the global climate conference and our next steps together."
Find out more about this year's panellists and book your tickets here. This event will be taking place in The Meadow Suite, Whiteknights campus, 2.30-4.30pm on 1 December 2022.