The University of Reading has awarded Dr Nancy Mudenyo Hunt – co-founder of The Nasio Trust – an Honorary Degree in recognition for her charity work over the past 20 years, changing the lives of countless children.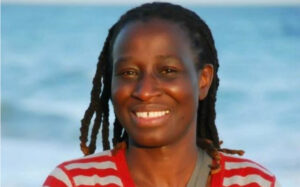 Born in Kenya, Nancy was the thirteenth child of an extraordinary mother Irene, who, although illiterate, was determined to give her children the opportunities she did not have. Nancy gained a degree in education before moving to the UK to work in the public sector, helping to tackle domestic violence and, later in the Thames Valley Police service, training senior police officers in leadership, equality and diversity.
Nancy said: "Without the right kind of support children in western Kenyan communities have no hope for a future. It is heart-breaking to see intelligent children unable to fulfil their dreams; many are malnourished and some die from illnesses that are preventable or curable. This would not happen in the UK. It is unacceptable that there is such a wide equality gap caused only by the virtue of your birthplace.
Determined to provide this support, Nancy and her husband, Jonathan, set up The Nasio Trust. She said:
"I do what I do because I care about the community into which I was born. I hate seeing people suffer, especially children, when I know I can do something to help and change their destiny."
An inspirational leader whose work has changed the lives of countless children, adults and young people in Kenya and also in the UK, Nancy has now received an Honorary Degree of Doctor of Letters from the University of Reading in a ceremony which took place on 9 December 2022.
As we welcome Nancy into our alumni community, CONNECTED speaks with her about The Nasio Trust, what inspires her incredible work, and the importance of making an impact in your community.
Where it all began
Nancy's inspiration comes from her late mother who found an abandoned baby – about three months old – in a sugarcane plantation on her farm in Mumias, in western Kenya, in 2000.
Nancy explained: "He must have been there for about three days and was severely dehydrated and under-nourished – he needed urgent hospital attention. Unable to find his family, my mother decided to care for the baby despite being in her late 70s. She named him Moses.
"I was visiting Kenya from the UK at the time, so I took my mum to the police station to hand the baby in. But a police officer looked at my Levi jeans and said 'You have money. You should go home and help your mother look after the baby.'
"My sisters, inspired by my mother's actions, then turned an unused roadside kiosk into a basic day care centre and feeding programme. They had space for 16 children, but on the first day 65 orphaned and vulnerable children arrived.
"These events exposed the problem of poverty and HIV which had badly affected this part of western Kenya – where 60% of the population survived on less than 60p a day – and inspired me to do what I could to help. I went back to the UK and set up a charity in 2001, called The Nasio Trust, to give these children a chance in life."
A holistic approach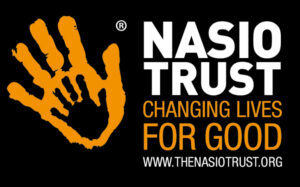 To make real lasting change and to tackle the root causes of poverty, Nancy believes in a holistic approach to address all aspects of a vulnerable child's life – education, healthcare, food security, and psychosocial support and life skills. This approach builds a firm foundation that strengthens resilience and gives the greatest chance for children and their community.
Nancy said: "We listen and work closely with the community to meet their needs at a grassroots level. We have adopted a holistic approach – children cannot study and do their best if they are hungry or ill, so we support them in as many areas as possible. Our programmes and projects are designed to give the next generation the best possible support to lift themselves out of poverty.
A strong goal of The Nasio Trust is to empower communities. Nancy explained: "The provision of aid – unless in times of man-made or natural disaster – is not sustainable and creates a dependency culture. If the help is withdrawn, these communities would be worse off than if the help had never been provided.
"Empowering communities means that they acquire the knowledge and skills to stand on their own feet. Give a man a fish and he has food for the day; give him a fishing net and train him how to use it and he has food for life."
In 2005, working with Thames Valley Police, Nancy also developed a unique development programme for young people in Oxfordshire, culminating in volunteering in Kenya.
Nancy said: "Initially focused on adolescents who had lost direction, this life-changing programme now brings together young people from all backgrounds to work together gaining experience, confidence, an awareness of wider world issues and a totally new outlook to their lives."
Making an impact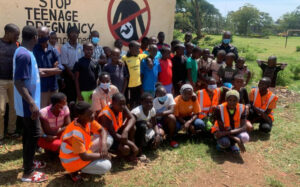 Nancy and her team are making a clearly visible and demonstrable impact in communities both in Kenya and the UK.
Nancy said: "I am really pleased that some of the children we supported in our first cohort in 2002 are now employed in the charity's management team – one is a qualified clinical officer in the medical centre, another is a teacher, another is a social worker, and the list goes on.
"The next generation of activists is being prepared. I have certainly fulfilled the wishes of my dying mother whose words were, 'Never leave these children'."
The charity's work is also having a profound impact in the UK. Nancy said: "Volunteers from the UK, especially those young people who have lost direction in their lives, benefit enormously from spending time in these poverty-stricken communities. Many realise that instead of being miserable for what they don't have, they see that it is possible to be content with what they do have – the provision of free education, healthcare, psychosocial and social support – all of this is just a dream for the Kenyan community. It is important that people in the UK appreciate that they are global citizens, part of a bigger world, and that they have a role to play.
"One boy called Alfie went on a volunteering trip to Kenya with his Wallingford school, aged 15. The trip had such a profound impact on Alfie's life that he is now working for the charity based in Kenya. He also got his father, Dominic Flitcroft, involved with the charity. Dominic is very supportive of what we do and was appointed as a trustee about three years ago. In fact, it was Dominic – who is a Visiting Fellow in Education at the University of Reading – who nominated me for this Honorary Degree, for which I can't thank him enough."
Humbling recognition
Nancy was recognised as Natwest Regional and National Most Inspirational Women of the Year for 2014/15 and, in 2017, she was awarded an honorary degree of Doctor of the Open University for services to the educationally underprivileged, amongst other achievements. Nancy shares what these awards, alongside the University of Reading Honorary Degree, mean for her work.
She said: "The recognition for our work is humbling. I am immensely proud of my whole team across Kenya and the UK, especially those from the first cohort of children we helped 20 years ago, who are now working for the charity. Any recognition we receive is because of what we as a team have achieved. It would not be possible to do what we do on my own.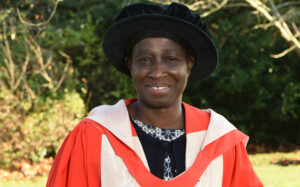 "I hope these awards will make more people aware of our work and will hopefully improve our profile as a charity and increase our supporters so that we can continue to do more, such as developing our medical centre to provide a wider range of services.
"I was not expecting to be awarded an Honorary Degree from the University of Reading and it took me totally by surprise. Naturally, I am thrilled to be nominated.
"I am truly humbled and can't thank my team, supporters and children enough – they've been a real support and inspiration to me. They keep me going even when I feel like giving up!"
Find out more about Nancy and The Nasio Trust's work.