Local charity, ReadiBus, is looking for people from the wider University of Reading community to join its governing Board of Trustees.
ReadiBus is a specialist, fully-accessible bus service that people with restricted mobility in the wider Reading area can book to travel door-to-door. CONNECTED speaks to Peter Absolon, University of Reading graduate and General Manager at ReadiBus, to find out why the service is so important to the Reading community.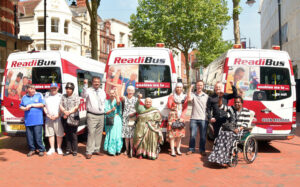 Peter explained: "The ReadiBus service is an extension to the mainstream bus service which makes travelling independently by bus in Reading accessible to all. It is a physical manifestation of over four decades of a fair and caring Reading – of a community that looks after and empowers those who are disadvantaged or vulnerable; a community that promotes and champions access, equality and inclusion.
"Reading was actually the first town in the country to establish a transport scheme that facilitated independent travel by people with restricted mobility. At the time, it was a pioneering one-year pilot scheme that – 41 years later – is still enabling those with restricted mobility to do things for themselves."
ReadiBus more than proved its worth to the community during the pandemic lockdowns. "Over 70,000 safe essential journeys were made on ReadiBus between March 2020 and November 2021, enabling extremely vulnerable people to attend medical appointments," Peter shared. ReadiBus was judged to be the best community transport service provision in England during the pandemic, by the National Community Transport Association at the CT Awards.
Building on University links
ReadiBus has long-standing links with the University, having emanated from a research project in 1979 at Bulmershe College (which later merged with the University) which identified the absence of – and need for – an independent means of getting out and about for people with restricted mobility.
ReadiBus has maintained its strong links with the University – it is currently managed by two University of Reading graduates; for all bar a few months its Chair of Trustees have all come from the University; and the Department of Typography designed its original livery. It is now seeking to build on those close links by welcoming more people with University connections to the Board. Peter said:
"We are keen to stay connected to the University community, partly to recognise and stay true to our roots, but also because University members are part of the caring Reading community.
"ReadiBus is also an active 'research' project in a sense, with continuing scope for development and innovation to meet different needs. The University and its graduates can be a source of great expertise and input while ReadiBus has a current usership of about 2,000 people. Research and ReadiBus go together, so it's beneficial to have close links with the University."
What is involved?
Board members are both trustees of the charity and directors of the company. They are either appointed by key strategic partners, such as major funders, or are individuals who have an interest and a desire to be involved and to contribute their time and experience.
All experience that new members can bring is welcomed, including from fields such as disability, ageing and mobility to finance, law, operations and administration. Training and guidance can be provided.
The Board usually meets four times a year and has subcommittees that meet when needed.
Trevor Bottomley, Honorary Secretary of ReadiBus for 20 years, shares why he was inspired to get involved:
"My elder son Martin, who is now 61, was born with cerebral palsy and has spent his whole life in a wheelchair, so accessible transport has been built into my life for a very long time. It was important to me to help maintain accessibility in public life and educate people of its necessity and value."
If you are interested in joining the Board, please contact Peter Absolon on 0118 931 3406, peter@readibus.co.uk, or via the ReadiBus website.