Thinking of studying a one-year, full-time Masters with Henley Business School? Well, this could be the perfect time to do it, as the standard alumni discount has been doubled to £3,000 for programmes starting in Autumn 2023.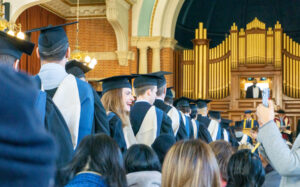 Whether you studied at Henley or took a non-business subject at the University of Reading, we are delighted to offer our alumni the benefit of a £3,000 alumni discount. This discount is for those joining a one-year, full-time Masters programme at Henley Business School in Autumn 2023 and it will be applied as an automatic reduction in tuition fees. This is double the standard alumni discount and you don't need to have studied business before.
To qualify for this limited offer, you simply need to apply for a Henley Masters by Tuesday 28 February 2023 and have paid your deposit by Saturday 1 April 2023.
Carys Jones, who studied BA Business Management and is currently studying MSc Marketing (International Marketing) at Henley Business School, shares why she would recommend a Henley Masters. She said: "I chose to come back to Henley to complete my Masters degree as I fell in love with the Business School when I was studying for my undergraduate degree here.
"Henley is a triple accredited Business School, meaning that it has a great reputation worldwide, and the teaching here is excellent. It also has so many great additional facilities and services on offer such as the Careers Service and Library, which are exclusive to Henley students.
"There is also a strong community feel here, which makes it a friendly environment to study in. I would definitely encourage people to apply here, as I have thoroughly enjoyed being a student here for the past three years."
For more information, check out the Henley Business School website. If you have any questions, please contact the Henley admissions team by email at postgraduate@henley.ac.uk or by phone on +44 (0)118 378 7593.