CONNECTED brings you an update on how the Community Fund is benefiting the local Reading community, and announces the next set of projects set to benefit from a funding boost.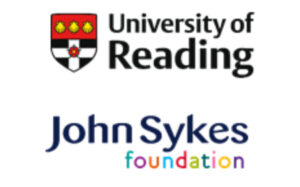 The Community Fund, which launched in 2021, is a joint initiative between the University of Reading and the John Sykes Foundation, offering financial support to projects that benefit the people and community of Reading.
Professor Robert Van de Noort, Vice-Chancellor of the University of Reading, said: "At a time when costs are rising for everybody it is important that projects like these, that can have a huge benefit for so many people in our area, don't get left behind and abandoned altogether.
"As a University, we want to be involved in the wellbeing of our town and its people so it is great that we are able to support these projects through the Community Fund."
John Sykes said: "The Community Fund was established to help the people and communities of Reading. Last year we supported some fantastic projects that have made a meaningful difference to the communities they serve, and I have no doubt that this next round of funding will do the same or more. I very much look forward to hearing how these projects progress."
CONNECTED shares an update on three of the 12 projects that the John Sykes Foundation funded through the Community Fund over the 2021/22 year.
Berkshire Brigands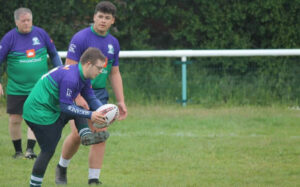 Colin Stonehouse, a member of the University of Reading security team, established Berkshire Brigands in 2020 as a mixed abilities team within Reading Rugby Club. His primary goal was to give players – who for various reasons could not be part of a regular team – the chance to enjoy the game they love.
Colin was inspired to launch Berkshire Brigands by his younger son who has Down Syndrome, but who wanted to play rugby like his older brother. Colin explained: "Mixed ability rugby exists for individuals whose abilities are restricted in various ways. That might mean physical disabilities, conditions such as autism or Down's syndrome, neurological diversity, or even simply finding physical contact or the typical social aspects of the mainstream game too much to cope with."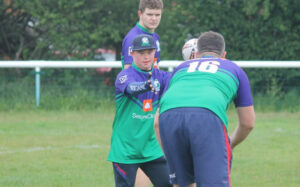 Berkshire Brigands' positive effects go far beyond the game of rugby. "Individuals with these kinds of life challenges find it hard to develop a social life and a circle of friends," Colin observed. "The Brigands have become not just a rugby team, but a friendship group."
The Brigands applied to the Community Fund for help with the cost of training and accreditation for coaches and referees. Colin said:
"Thanks to the John Sykes Foundation and the University we have been able to send three of our coaches and referees on first aid courses.
"And we've been able to apply for International Mixed Ability Rugby accreditation – the big benefit of that is that we will be able to get our coaches' standards formally recognised."
Reading Together
Reading Together is a project run by the University's Institute of Education (IoE) to encourage and help parents and carers of preschool children to read aloud to, and with them. Sessions have been held during 2021/22 at Reading's Whitley, Whitley Wood, and Hexham community centres.
The project took a two-pronged approach – preschool storybook reading sessions and a book club for adults. The 40-minute preschool storybook sessions ran once a week for several weeks at each community centre in turn. Students read children's storybooks in a dynamic and engaging way, and then parents read to their children. At the end of the session, each family went home with the book they had been reading, free of charge, so they could re-read it together.
Reading Together has been extraordinarily successful. Professor Holly Joseph, from the University's IoE, and leader of the project, said: "The feedback from the parents has been great.
"One mum told us how they didn't previously have any books in their home at all, but when she came to a reading session, she was struck by how much the children loved the books. She is now determined that her children will grow up with books."
Feedback on the adult book club has been encouraging too. People have reported better sleep, improved mental health, and generally a happier, more positive outlook.
"The financial support from the Community Fund has been critical to the success of the project," said Dr Daisy Powell, who co-leads the project with Professor Joseph. "The combined offer of the reading sessions and the free books has been very attractive, but books are expensive – the project simply couldn't have happened without the John Sykes Foundation's funding."
Citizen Science for Cleaner Air
Over three million children across the UK are exposed to harmful levels of air pollution each school day, with those in the South East at particular risk. The Citizen Science for Cleaner Air project is making the invisible visible, mapping pollution hotspots on children's journeys to school.
Professor Hong Yang, from the Department of Geography and Environmental Science, explained: "In citizen science we engage the public to help us gather vital information. We give children smart sensors which clip to their backpacks or clothing to gather high quality data on air pollution as they walk into school. The sensors transfer the air quality information to mobile phones via Bluetooth, allowing it to be viewed in real time and uploaded to us for collation and analysis.
"The project gives children and parents the information they need to plan safer routes to and from school, as well as gathering data essential to understanding the problem and tackling it effectively."
Marta O'Brien, Senior Teaching and Research Technician for the School of Archaeology, Environment and Geography, works on the project alongside Professor Yang. She said: "We are so grateful to the Foundation. The project has involved several open days, developing the toolkit and promotional leaflets and of course the sensors and back-end technology."
Continuing support
The Community Fund has been uniquely beneficial to students, the University, the wider Reading community, and especially for the disadvantaged.
Hilary Spicer, Associate Director of Principal Gifts at the University, summed up:
"The University's partnership with the John Sykes Foundation is immensely valuable, making possible a diverse range of community enhancing projects that we couldn't contemplate without the Foundation's support."
In 2022, University staff members were again invited to apply for funding to support projects they are involved with either as part of their job, or in a voluntary capacity.
This current year's projects cover a diverse range of areas, including music, sport, education, healthcare, and social mobility, and are aimed at helping all members of the community, from the youngest school children to the most marginalised adults. The projects support people with disabilities, homeless people, refugees, school pupils and more.
Discover more about the projects receiving support this year.