CONNECTED speaks with University of Reading graduate, Peter Ogudoro, a finalist for The Study UK Alumni Awards 2022-23 about the remarkable global impact he's had within the teaching community in Nigeria.

The Study UK British Council Alumni Awards recognises UK university alumni, who are living outside of the UK, and whose outstanding success stories have made a significant difference within the community – be that locally, nationally or globally. The awards cover four categories; Social Action, Culture and Creativity, Business Innovation, and Science and Sustainability.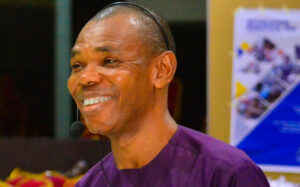 Peter, who is a finalist in the Social Action category, has used his experience of studying at the University of Reading to make a tremendous difference in education, not just within Nigeria but around the globe. He tells CONNECTED how he has made an impact in his community through connecting teachers and providing them with more effective tools for the very important job they do.
Peter explains: "Nigeria is a country of over 200 million people, with about 50 million children and young people in the school system. Teachers have responsibility for preparing those 50 million young people for meaningful living in an increasingly competitive global environment.
"But most of the approximately two million teachers in the country do not have employer-provided access to a continuous professional development platform." 
Taking action
In 2016, Peter took action against Nigeria's education limits and started the Nigerian Teachers' Community. The online community of teachers now has a membership of about half a million who learn from the posts shared on the platform. These members then share the posts beyond the platform to their peers around the world. Peter elaborates:
"I encountered roadblocks while trying to use the evidence I gathered through my doctoral research in Education at the University of Reading. This inspired me to help Nigeria's education policymakers to promote learner-centred teaching in the country's schools for functional education and global competitiveness.
"The mission is to overcome rote learning in the country's education system and put the learning needs of children and young people at the centre of the jobs that teachers do.

"The platform provides peer-generated free resources that empower teachers to reduce the gaps in their knowledge and skills in a grossly under-resourced education system.
"The platform is also a job board for our members and employers of teachers. Most of the members are Nigerians but a significant fraction of the community are teachers and education researchers from other countries around the world."
Peter was one of the only 131 people in the world to win the Facebook Community Accelerator Award for 2021 on the strength of his community's contribution to the development of the global education industry. The award earned Peter a development grant which empowered him to scale the community's membership from 180,000 members to its current size of about half a million.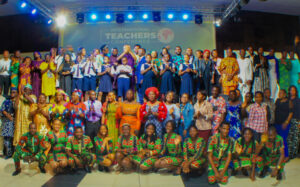 He said:  "On the strength of that grant, we organised our first International Teachers' Conference from 11-12 April 2022, which attracted people from Finland, Germany, the USA, Canada and the UK as well as Nigeria's education stakeholders."

Peter has gone on to become one of Nigeria's leading education analysts and respected voices by the media because of his personal accomplishments in the education industry. He is committed to developing global partnerships for the benefit of teachers' welfare and their sustainable professional development.
A life-enhancing experience
After graduating with a master's degree in Business Administration in Nigeria, Peter found that he was eager to enhance his skills further. It was destiny that he encountered the University of Reading at an education fair where he discovered the field of International Development. He explains:
"I applied to study at Reading and found that decision life-enhancing both for me and the people my work is benefitting. I had course mates from diverse countries and belonged to a community of staff and students from about 150 countries. This enabled me to develop an international network that gave my career wings.
"Some of my course modules were taught by industry practitioners including broadcasters from the BBC. I went on guided tours of the Universities of Oxford and Cambridge, the British Museum, and several other places that exposed me to the history of global education and development.
"I also volunteered as a peer supporter as part of the Counselling and Wellbeing Unit of the University of Reading which gave me access to amazing values and skills including the empathetic disposition that is now driving my professional work."
Peter went on to be hired by the Nigeria Police Force to train their spokespeople, military counterparts and paramilitary agencies across the country. But he was not ready to give up on his own education and returned to the University of Reading in 2013. Peter embarked on a PhD in Education with emphasis on Career Management, Attitude Change and Product Diffusion and was nominated for Doctoral Researcher of the Year.  
Peter reflected on his time at Reading: "My doctoral training built on my master's training  to provide me with knowledge, skills, values, and the international network that gave birth to the Nigerian Teachers' online platform.
"I attended over 70 workshops organised by the University's Graduate School. I also benefitted from several international special leadership development programmes in about 10 research-intensive institutions that included the Universities of Cambridge and Sheffield in the UK, and The Federal Institute for Educational Research, Innovation, and Development of the School System in Austria.
"Those uncommon opportunities gave me not only skills but also access to a network of education researchers and practitioners. The platform that University of Reading provides is indeed a unique international currency with which its beneficiaries can purchase amazing opportunities to bless humanity in incredible ways."
The University of Reading is proud to share that Peter is one of three alumni to be shortlisted for the Study UK British Council Alumni Awards 2022-23. Check out our next editions in February and March where we'll be speaking to the next two candidates.