At Reading, we love to celebrate love. People's time at university can shape their lives, minds and hearts – so we set out to discover some of the great love stories that began on our campus.
When the Alumni Team shared this social media post asking for people's stories of how they met their partner at the University of Reading, we were bowled over by the response – including from the couple in the photo themselves.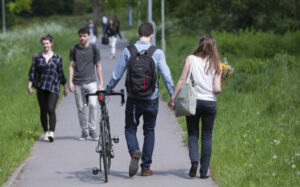 James and Ali McLennan-Jones got in touch with the Alumni Team to let us know that they were the couple in the photo and that they are still together today.
James said: "The photo you used on your social media post was taken from when I gave Ali some flowers and walked her home after her last exam in her third or fourth year."
Ali said: "We were told by the photographer that the University would be using the pictures and it was a lovely surprise to see them still in use – and in fact, we'd not seen this particular photo before.
"It's been a wonderful gift to receive this photo out of the blue – it's taken us on a trip down memory lane and given us a photo of our time at Reading to treasure."
CONNECTED asked James and Ali to journey a bit further down memory lane and share their story with us. We are also sharing more University of Reading love stories on social media, so take a look on our Facebook and Instagram to see more heartwarming #UoRlovestories.
James and Ali
James and Ali began their studies at Reading in September 2012 – James was studying History and Politics, Ali was studying Pharmacy. Both arrived at Reading already in pre-university relationships, but little did they know that new love was on the horizon.
James said: "We were put into St. Patrick Hall's accommodation in A Block in Old Court. Ali's room was across the hallway from mine and we quickly became friends. We even went on a double date to the Vue Cinema in Reading to watch the James Bond film Skyfall – the twist being that we were in a relationship with our pre-university partners at the time, and Ali and I went as friends.
"However, both our previous relationships came to a natural end, and we started dating during our first year of university. But we're not sure when our first proper date actually was!"
James and Ali's relationship thrived during their time at Reading with James fondly recalling their time spent in A Block in Old Court. He said: "This is where we met and spent most of our time together in our first year so it will always be special to us.
"We also had a significant love for the Bagelman in the Students Union who served us many a meal!"
James and Ali knew their relationship was becoming serious when James spent a few months studying abroad in their second year. He said: "When I left Reading for a few months at the start of second year to study in Rhode Island in the USA, we realized that we had something special. I spent a lot of my time away looking forward to coming back to Reading and being with Ali.
"But even then, figuring out that Ali was the one was something that happened over time as I saw how we each had the capacity to grow as individuals in ways that still harmonised with one another.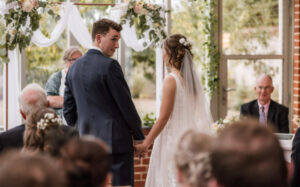 Ali said: "People change a lot over their lifetimes and we think it is important to find someone who will change at a similar pace and in a similar direction to yourself."
Deciding their future was to be together, James proposed to Ali in the Lake District in the Autumn of 2020. He said: "COVID had put a halt to my previous proposal plans, but finally we had a really lovely sunny day in the Lakes, and I proposed on the side of Helvellyn Fell."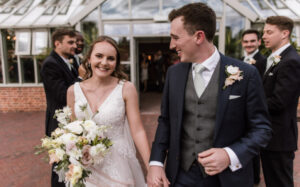 Ali said: "Nearly ten years after we first met, we got married on 19 August 2022 in Wiltshire. We had a gorgeous sunny day for it which our guests made the most of with lots of garden games and drinks."
James added: "The groomsmen were made up of my friends from university, with my best man – Chris Harding – being the guy who had lived next door to me and Ali in halls in first year."
Ali recalled: "Our first dance was to You've Got The Love by Florence and the Machine, followed by a Scottish cèilidh dance [for no reason other than because it is so much fun!].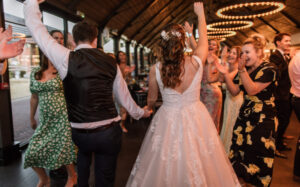 We then had a DJ set with songs that we would have listened to at the Students Union during our university years. It was the best day of our lives so far."
James and Ali now live in South London, where Ali works as a Senior Pharmacist in St. Georges Hospital, while James is a civil servant working as a Senior Policy Advisor for HMRC in Westminster. They are about to embark on a three-month travelling trip to New Zealand and Australia for their honeymoon.
#UoRlovestories
Since asking to hear your UoR love stories, we've heard from alumni around the world, alumni who have been married 50+ years, alumni who have recently got together, alumni who are now working at the University together, and alumni whose children now study at the University.
Follow us on Facebook and Instagram for some more love stories and trips down memory lane.
Register on CONNECTED or update your details with the alumni team to hear more from our alumni community.