The Study UK Alumni Awards recognise UK university alumni with outstanding success stories. The University of Reading is proud to have one of our alumni, Muhammad Imran Khan, shortlisted in the Science and Sustainability category for 2022-23.

The Study UK British Council Alumni Awards recognise UK university alumni, who are living outside of the UK and who have inspirational success stories, across four award categories: Science and Sustainability, Culture and Creativity, Social Action, and Business Innovation.
These alumni, such as Imran, have used their experience of studying at a UK university to make an impact on their communities, industries and countries and have distinguished themselves through their career and achievements within their field.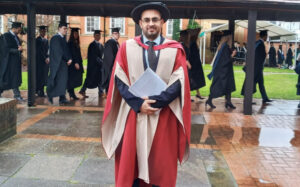 Imran told CONNECTED how losing his father early in his high school education forced him to become self-sufficient at a young age. He said: "I am the eldest of seven siblings and I had to step up in order to manage the cost of my education.
"But I was determined to succeed and I graduated with a distinction in Mechanical Engineering from the University of Engineering and Technology, Peshawar in 2007. I then became an Operations Engineer at a leading oil and gas company in Pakistan."
Following a dream
Despite being in a leadership role in one of the top oil companies in Pakistan for eight years, Imran decided to leave home for the University of Reading. The decision to move countries and embark on a PhD at Reading came from somewhat romantic roots.
He said: "My wife, who was also an engineering graduate, dreamt of moving to England and pursuing a PhD.
At this time we had a one-year-old baby so it was not an option to split our family up. To support her dream I resigned from my job and accompanied her to the UK with the intention of pursuing my own PhD there as well."
Upon his arrival in the UK, Imran was faced with the difficulty of how to juggle the high tuition fee of pursuing a PhD without a scholarship, and looking after a baby. He luckily came across a professor from Reading who guided him on the fact that one of the unique features of the PhD programmes offered in British universities is the availability of PhD by Published Works. A PhD by Published Works is for candidates who have developed their research skills through a body of publications produced during the course of their career, either within or outside academia.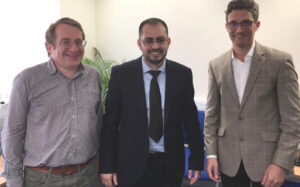 Imran said: "This route was well suited to my situation, as it allows the candidate to produce a series of peer reviewed academic papers around a coherent theme prior to getting admission to the PhD programme.
"Taking advantage of this opportunity, I worked hard for three years to publish research papers, while staying at home with my baby. Then in my fourth year I enrolled at the University of Reading for one year to develop a synoptic commentary of my published work under the guidance of a supervisor and defended my published work in the traditional viva voce exam."
A substantial contribution
Imran's research focuses on applied, multi-disciplinary research that combines engineering, economics, and regulating and reducing the environmental impact of developing natural gas as sustainable transportation fuel. His research has been published in over 103 articles in the world's top energy journals.
From this research, he has made a substantial contribution in promoting different aspects of the sustainable development of alternative transportation fuels in developing countries. Imran has even gone on to be placed among the top 1% most-cited scientists in various disciplines according to the global list of highly cited researchers released by Stanford University in 2022.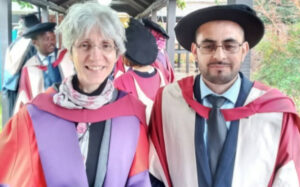 Whilst Imran said he is "thrilled" about the list of accolades he has achieved, he is thankful for the life-changing personal impact his time studying at Reading had on him.
He said: "I am the first Pakistani to receive this type of PhD by Published Works from the School of Engineering at the University of Reading. It is a challenging route, but one that made a PhD possible for me.
"My PhD in Energy Engineering transformed me into a completely different person. It changed my thinking approach from subjectivity to a more epistemological and ontological one.

"I am not claiming that my PhD changed the world, but it certainly changed many aspects of my life including my political thinking and religious beliefs."
Making further education accessible
Imran's research lead to him being appointed Associate Dean for Research at CECOS University Peshawar in 2019, becoming the youngest in the history of the university since its founding in 1986 to deliver this role. Not only has Imran's research made a global impact but he continues to give back within his own community by making guidance for furthering education accessible to all and supporting more women in STEM.
He explained: "I regularly organise and deliver research-orientated lectures, which are open to all at no cost, to help guide members of the community on the various aspects of PhD by Published Works in the UK.
"I currently mentor candidates voluntarily – in particular females in STEM from my province who hope to pursue a PhD degree from a British university, but due to financial or other personal reasons cannot enrol in traditional PhD programmes in the UK."
Find out more information about PhDs in the School Construction Management and Engineering at the University of Reading.
The University of Reading is proud to share that Imran is one of three alumni to be shortlisted for the Study UK British Council Alumni Awards 2022-23. Subscribe and check out our next edition where we'll be speaking to the third candidate, or read our previous article on shortlisted candidate Peter Ogudoro.