Reading graduate Hilary Withey has a passion for helping others. From her career in social work, to volunteering with female survivors of abuse in Nepal, Hilary is an inspirational example of why we are celebrating the University community's incredible volunteers with the inaugural Celebration of Volunteering.
Hilary was one of our very worthy winners of the Alumni and Supporter of the Year Award 2023, which she received during the Celebration of Volunteering ceremony on 27 April. Hilary said: "It was a small thing to spend a little of my time with the remarkable girls at ABC Nepal's rehabilitation home.
"Truly, in all my volunteering, I have given very little compared to what I have received and learnt – about myself and about what is precious in life. I am very happy to see the importance of volunteering recognised and celebrated by the University of Reading."
Helping female survivors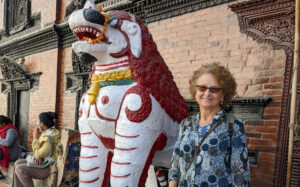 Hilary said of her volunteering : "One of the organisations I'm volunteering with is ABC Nepal, which works with women and girls who have been victims of human trafficking, rape and domestic violence.
"ABC Nepal aims to help survivors to rebuild their lives and be reintegrated into society. It also helps to raise awareness about girls' and women's rights."
Hilary's contribution has been to spend two or three afternoons a week in a rehabilitation home for girls, aged 12 to 20, chatting with them about food, school, friends, English and Nepalese traditions, and organising games and other activities.
She said: "One topic we have spoken about that I particularly liked was 'An Ideal Husband'. I was pleased that this topic elicited responses from the girls such as 'He will let me have my own opinions' and 'He will never judge me by my past or my family background'."
"A highlight of my time in Nepal was accompanying girls, staff and committee members to a well-attended rally in Kathmandu Durbar Square in November 2022. This was in support of the international campaign '16 Days of Activism against Gender-Based Violence'.
"The girls proudly displayed banners and placards they had prepared earlier and called out – in full voice – for an end to violence and gender inequality. It boosted their self-confidence and helped to raise awareness."
Find out more about the work ABC Nepal does and how to get involved.
Social Work
Hilary has also spent time in Nepal volunteering with St Xavier's College, specifically their Social Work Department. Established and run by the Nepal Jesuit Society, the college is open to people of all faiths and was the first in Nepal to introduce a Bachelor of Social Work course in 1996.
Hilary's career in Social Work began in 2006 when Wokingham Council sponsored her to study social work as a mature student at the University of Reading.
Hilary shared her inspiration behind becoming a social worker: "For me, it was one of my good friends who had schizophrenia who inspired me to move into the profession. I thoroughly enjoyed the degree and developed many values that I carried into my career as a social worker."
After graduating from Reading, Hilary worked for Wokingham Borough Council's Crisis/Home Treatment Team, before moving into the main Community Mental Health Team where she worked on longer-term cases. 
She said: "A career as a social worker is very rewarding, but also very intense and emotional.
"For example, I would visit somebody and I had to decide whether I believed they would still be there the next day, or whether they were a risk to themselves. You have to constantly think about how you can do your best to keep people safe and you need to be able to think fast on your feet."
Hilary used her experience to help those in Nepal learn more about mental health and social work.
She said: "I created some scenarios, relating to anxiety, sexual abuse and elated mood. I ran a workshop for one year group of 35 students, using role plays to explore how to respond effectively.
"The students took part with enthusiasm and gave positive feedback, so I was asked to repeat the process with Years 1 and 2. I also ran a Q&A session with about 30 students, from a mixture of year groups, who had expressed a particular interest in mental health social work."
Reading Amnesty International Group
While Hilary is doing incredible work in Nepal at the moment, her first taste of volunteering in Reading came with Reading Amnesty International Group, who describe themselves as active, ordinary residents, with a common passion for human rights in the UK and around the world. Hilary's decision to volunteer stems from a desire to try and change things for the better.
Hilary said: "I've always believed that if you don't do anything, then nothing's going to change. I decided to get involved with Reading Amnesty International because I felt their beliefs and values chimed with mine, and I've been volunteering with them for ten years now."
Through the group Hilary has worked on issues including the forced disappearance of individuals in South Asia, and Nepalese women's human rights. The group campaigns on member-driven issues, by writing emails, joining petitions, sending letters and organising fundraising and awareness raising activities.
Hilary's passion for volunteering and championing for women and girls' rights is clear, but she is adamant that she has received more from her volunteering than she has given.
She said:
"I have learnt far more than I have given to others. I have met so many wonderful, generous people, and my time spent volunteering has been a gift."
Find out more about Reading Amnesty International Group and how to get involved.

Discover more about alumni volunteering opportunities with the University of Reading, and read about our other Celebration of Volunteering winners and nominees.