CONNECTED delves into the research of University of Reading's Professor Sakthi Vaiyapuri, who is helping to save countless lives from venomous snakebites in rural India.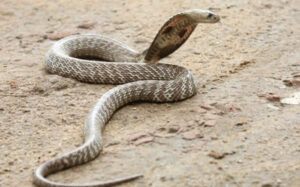 Snakebites are a significant health risk around the world, particularly in developing countries and have been classified as a 'neglected tropical disease' by the World Health Organisation. With approximately 150,000 deaths per year, India is considered the snakebite 'capital' of the world and has some of the highest snakebite cases globally.
After witnessing the dangers first-hand, Professor Sakthi Vaiyapuri from the University of Reading's Pharmacy research division, has dedicated himself to helping raise awareness about the dangers of snakebites.
He said: "Growing up in Tamil Nadu, India, I was very scared of snakes as a child after seeing so many injuries and fatalities due to snakebites. There were so many cases in nearby villages and people would die as a result of being bitten. This really inspired me to help through my research."
Professor Vaiyapuri believes that raising awareness is vital if there is any chance of reducing the amount of snakebite-related deaths and injuries across India. After surveying almost 30,000 households in rural Tamil Nadu, he discovered that a vast amount of rural Indian households had little awareness around snakebite prevention or distinguishing one snakebite from another.
He said: "Knowing about venom and trying to find effective treatments are important but first we need to make sure that people know how to avoid being bitten and what to do when they are.
"A lot of people die before getting to the hospital, so we must make sure people know what to do in the first instance. With proper education around snakes and snakebites, death or serious illness can be avoided."
Lifesaving campaign
Armed with boxes of snakebite awareness leaflets, a laptop and a folding cinema screen, Professor Vaiyapuri, along with Dr Stephen Paul Samuel from the Queen Elizabeth Hospital in Kings Lynn and snakebite specialists Dr Senthilkumaran from Manian Medical Centre and Dr C Soundara Raj from TCR Multispeciality Hospital, has been campaigning in schools, colleges, and villages to improve public awareness about snakes and snakebites. The team have toured police stations, forest offices, markets, schools, libraries, farms, temples and railway and bus stations; thus spreading lifesaving snakebite awareness to the community.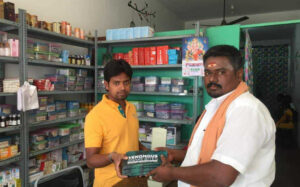 Professor Vaiyapuri explained: "We focus on three common misconceptions or barriers. Firstly, the mistaken belief that using a tourniquet is the best way to treat a snakebite; secondly, that traditional healers can treat all types of snakebite which is incorrect; and thirdly, we are addressing the lack of knowledge about which species of snake are venomous by telling people which ones to look out for."
The incorrect use of a tourniquet can result in the amputation of the limb as it can completely cut off blood circulation. This frequently happens when travelling from remote areas as it can take over three hours to reach a hospital by which point the limb has been deprived of oxygen.
"We tell people not to use a tourniquet unless they know how to apply a pressure bandage. You need to limit blood flow away from the bite site by around 50%, not completely stop it," he explained.
Professor Vaiyapuri explained that because of the awareness campaign, more people are visiting hospitals instead of relying on traditional healers who often practice dangerous or ineffective methods. He said:
"We educate people that they should go to hospital and that going to healers is a complete waste of time. There are a lot of false beliefs around snakes – for example, that limestones or black stones will cure snakebite symptoms or that a rat snake will bite through its own tail, which is something I believed myself as a child."
The campaign's key messages and activities have been published in hundreds of articles and magazines across India, reaching around 7 million people in Tamil Nadu and over 100 million across India. As a result of the campaign, people are going to hospitals more quickly and are being treated more effectively. They, therefore, spend less time in hospital which decreases the cost spent on hospital bills which can be a deterrent for those in rural India with minimal incomes.   
Snakebite education
Professor Vaiyapuri has already made a significant impact across the country and his mission has not ended yet. He is currently working alongside the governments to produce a free health insurance scheme that will enable those in poverty to access immediate medical help.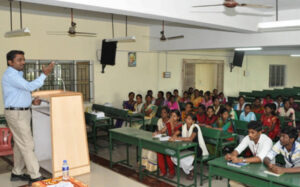 He elaborated: "Many people in India are poor and cannot afford the medical treatment they need. A single treatment could cost anywhere between £1 and £10,000, therefore, health insurance provided by private insurance providers, costing around £5-10 a year covers all medical expenses and would enable people to access the treatment they need.
"This would not just be for snakebite treatments; it would cover any emergency, accident and trauma, medical treatment or procedure needed. It would save the lives of many but also reduce time spent off work due to disease, illness and injuries which worsens poverty."
It doesn't stop there. Professor Vaiyapuri is also working alongside the governments to ensure proper snakebite education is introduced into the school curriculum and is producing mandatory training for snake rescuers and healthcare professionals.

Professor Vaiyapuri explained: "Snake rescuers are volunteers who are called upon if a snake is found in a house. They are not paid or trained and learn by taking risks themselves which often results in life-threatening injuries to both the snake and the rescuer."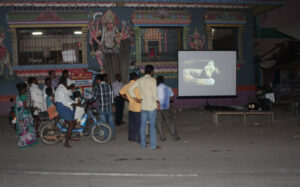 This training scheme will provide advanced training to the volunteers, teaching them to recognise various species, how to approach and catch the snake to avoid being bitten or harming the snake, and what to do if the serpent attacks.
This training scheme will be complemented by an app that Professor Vaiyapuri is helping to develop, with key collaborators (specifically Gnaneswar, Snakebite Project Coordinator at the Madras Crocodile Bank Trust) in India, for removing snakes from populated areas. The person who has spotted a snake is able to report the sighting via the app, then the app will send an alert and a nearby snake rescuer is able to respond to the job. Professor Vaiyapuri expressed that the app will not only enable people to locate a snake rescuer quickly, but it will ensure that somebody who is properly trained will attend. The app will also collect data on which snakes are most sighted and which areas are most affected, which will contribute to further research.
Professor Vaiyapuri will be visiting India next month to help launch the snake rescuer scheme, and to oversee the incorporation of snakebite education into the curriculum.
An on-going project
Alongside active campaigning, Professor Vaiyapuri continues with his research, which focuses on the effects of snake venom. Coinciding with this research he is developing a diagnostic kit which is a simple antibody test strip, similar to a pregnancy test. From a drop of the person's blood or urine, the test is able to reveal whether or not there is venom in the snakebite victim and can quickly determine the snake species that inflicted the wound.
This technology will save precious time in diagnosing the snake wound, and will help medical staff with little or no specialist snakebite-training to correctly treat victims as quickly as possible. Professor Vaiyapuri hopes that these cheap-to-produce, life-saving kits could ultimately be stocked in local pharmacies.
Find out more about Professor Vaiyapuri's research and how to protect yourself from snakebites.