University of Reading art students have taken over Thames Tower in Reading town centre, with an exhibition that encourages the community to connect with one another through shared experiences, encounters and storytelling.
Reading's School of Art students opened the exhibition with a mock protest which saw students parade outside the Thames Tower holding placards they created to demonstrate something they are passionate about.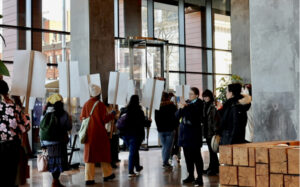 Statements on the placards were inspired by themes of signage and freedom of expression and ranged from personal to political. The name of the exhibition, Arachnophobia and Other Tales, refers to one of the artworks in the exhibition which is a large fluffy spider. One of the exhibit organisers, Dr Florian Roithmayr, from the University of Reading School of Art, said: "People in the building have taken a real shine to it, so it's actually created the opposite of arachnophobia – they are actually quite fond of the spider."
Dr Roithmayr explained that the reference to "and other tales" in the exhibition title refers to all the stories that everyone has to share. He said: "Art is very much a vehicle for communicating: sharing and exchanging stories of personal encounters or experiences, and making them public to bring people together."
Shared Experiences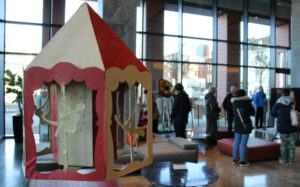 The artists explore a range of multi-faceted themes in this exhibition and touch on many contemporary issues from imagined realities, nostalgia, fragility, desire and grief, to diaspora, identity and the male gaze.
Dr Roithmayr said: "What might affect one person might also be relevant to another. Storytelling is a great way of reaching people, and art is a wonderous way of storytelling. Most art has a tale and something to say. 
"Art is a way to have your voice heard which is the purpose of this exhibition. It allows our young artists in the University to have their voices heard by giving them a platform to engage with the public."
The exhibition is the first in a series of a long-term project for Reading School of Art, in partnership with the corporate building Thames Tower and HS Projects, who specialise in delivering artistic interventions and projects in unexpected places.
Tina Sotiriadi, co-founder of HS Projects, said: "We like the challenge of working in non-gallery spaces outside of'the usual 'white cube' setting. We transform unconventional places into interesting forums for artistic and cultural exchange, and produce art exhibitions that seek to engage new audiences with the arts.
"The ground floor area of Thames Tower provides an excellent exhibition space and, with its large floor-to-ceiling windows, offers great visibility to the passing public who are welcome to come in and view the exhibition."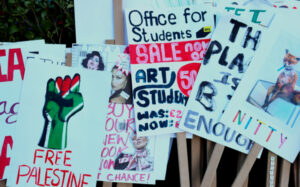 The project is part of the University's drive for embedding professional practice into education. Dr Roithmayr explained: "Professional artists present and exhibit their artwork and it is absolutely crucial that our students receive hands-on experience of this, as well as working with external curators. This collaboration with Thames Tower and HS Projects is a very generous opportunity for the students because they are all paid an artist's fee for being part of the exhibition.
"All of this is part of what we try to do as a University, in terms of providing professional training and employability skills. There are many aspects of professional training that are overlooked within the industry, such as writing invoices, valuing your own work, working with curators and dealing with insurance. These are invaluable skills which the University and this experience are providing for our students."
HS Projects will be curating two exhibitions a year at Thames Tower as part of the ongoing project with the University's School of Art.
Arachnophobia and Other Tales is being exhibited on the ground floor of the Thames Tower and can be viewed by the public for free until 9 June 2023.