Students from the Reading School of Art are holding the final ever Art Degree Show in the TOB1 building this spring.
Titled 'The Epilogue' this last ever degree show to be held in TOB1 (the current Reading School of Art building) marks the end of an era. The School will be shortly moving to a new site on the Whiteknights campus to facilitate the development of new buildings at its current location.
But as all good things must come to an end, the School of Art has decided to celebrate in style. In order to fully commemorate the building, history and legacy of the current art department, they are determined that this show goes out with a bang.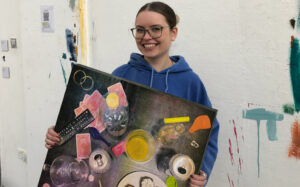 Final-year student, Eloise Lifton, said: "The Degree Show is the unique end point of the educational journey of the art student; it is the finale to an extensive amount of hard work and perseverance by students since they started at the Reading School of Art three or four years ago."
The Final Year Degree Show is delivered through funding raised by art students throughout the year in preparation. Donations go towards producing the publication catalogue for the art show, marketing, production of handmade merchandise and other administrative costs. Eloise said:
"We'd like to say a big thank you to everyone who has supported us and helped to make this show a reality."
Watch this video to find out more about the art students' fundraising efforts:
Come along
The Degree show will contain a collection of artworks, essays and documents from students, cohesively collating the wide range of multidisciplinary practices from Reading's final-year art students. The show will be a lively event featuring art alongside live music and will celebrate the end of a long artistic journey for Reading School of Art finalists with wider support from friends, family and the public.
The Degree Show is open to family, friends and the wider public and it is open from Monday 29 May–Friday 2 June, 11am-4pm in TOB1. Anyone is welcome to come and see the exhibition during this time, there is no booking required.
Share your memories
To help commemorate the end of the School of Art's time in TOB1, we'd love to hear your memories of your time spent studying in this building.
Email us at alumni@reading.ac.uk with your memories, stories or photos.