Judy Hegarty Lovett – winner of Best Director at the 25th Irish Times Irish Theatre Awards 2023 – speaks to CONNECTED about her experience as a director, her creative journey and how her hard work has paid off.
Growing up in Ireland Judy didn't always know she wanted to be a director. Judy said: "I was a creative child – I was always more drawn towards the creative subjects at school like art, theatre and music. I joined theatre club and Irish dancing outside of school too.
"My mother was also hugely creative. I'd come home from school and the living room would be a different colour and the furniture rearranged, and when she worked she used her creativity as a florist. Although I didn't realise it at the time, it was a huge influence on how creative I am now."
It took Judy a while to recognise her calling as a director, and she described herself as a creator of theatre for a long time. Judy shares her story, including how her time spent studying a PhD in Film, Theatre and Television at the University of Reading helped her in her career, and her drive and determination that led to her winning the Irish Times Irish Theatre Award for Best Director 2023.
The seeds of the beginnings
Judy practised different creative media throughout her education at Crawford College of Art and Design and at University College Cork, Ireland (UCC); from painting to printing to performance pieces. It was during this time that her interest in the theatre was sparked.
She explained: "I joined UCC's amateur dramatic society where I did a number of plays. In tandem with that, I did performance art whilst at Crawford College and I suppose that was the seeds of the beginnings, although I didn't know at the time that I was heading towards theatre."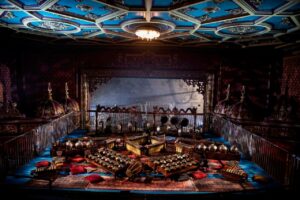 Shortly after graduating from Crawford, Judy moved to Paris and joined the Gare St Lazare Players, an English-speaking theatre company in Paris which ran from 1983-1999, where – slowly but surely – theatre became a central focus in her life and career. Judy said: "It was in Paris that I started to consider that the theatre could actually be a career for me.
"I was prepared to work in all departments of the theatre: I made the posters, did the lighting, the sound, the costumes, and the production. Doing all these different roles gave me a rounded view of the theatre and a good understanding of it. My time in Paris was a fabulous opportunity to gain a true understanding of every aspect of theatre and acting."
From Paris, Judy, along with husband and actor Conor Lovett, moved to London where the couple started Gare St Lazare Ireland and began to work with Samuel Beckett's prose.
Judy said: "Conor asked me to direct him in Molloy and that was the game changer really. That solo piece went on to play in the Edinburgh Festival in 1998 and was a great success – we had amazing press coverage and response from this tiny little theatre.
"I often think back to that moment. If that hadn't have happened, would we still have headed in the Beckett direction and have this lifelong relationship?"
After their success in Edinburgh, Judy and Conor found themselves touring more than 25 countries worldwide – performing in over 80 cities – with the Beckett piece. Judy said: "Because the show was portable and we loved it – and all of Beckett's writing – so much, it was easy to hop around and tour it in different countries. It was hugely informative and a great way to engage with people and our craft."
The work of Beckett soon became synonymous with Judy's career and, although unplanned, has stuck with her for over two decades.
She explained: "We didn't plan to focus on Beckett's work for the last 25 years, but it turned out to be something we loved, something we could do and something people really enjoyed so we kept going."
One for the team
After touring with Beckett's prose over a period of ten years, Judy took his play, Waiting for Godot, to the Dublin Theatre Festival in 2013. She said: "The scale of our work was changing dramatically and significantly; we were now bringing it to theatres with 2,000 seats, the recognition for the company was expanding, and we were beginning to work more collaboratively with different people."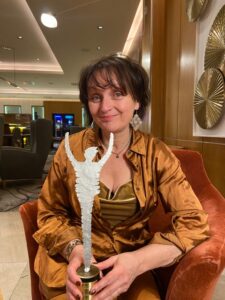 One collaboration in particular proved a pinnacle experience in Judy's career. Judy explained: "We met with Will Eno who loved our work and who loved Beckett. He wrote a piece for us named Title and Deed which we performed in New York in 2021 to great critical acclaim."
"Ten years later we've returned to his writing with this piece, The Realistic Joneses, which we've just played at the 2022 Dublin festival, and which we took to California this year."
It is Judy's work in The Realistic Joneses that won her the Irish Times Irish Theatre Best Director Award and she is absolutely thrilled at the accolade. She said:
"Winning the award was absolutely brilliant. It's one for the team, for the company, for myself. It's great to get recognition because it's the culmination of a lot of hard work and a lot of dedication."
An informative experience
Judy refers back to her time at Reading as being a key factor in her career success. She said: "My doctorate at Reading was hugely helpful in understanding my role as a director, what I brought to the work, seeing myself as a director and how I understood myself. As most doctorates are, it was hugely informative to my practice.
"I knew that a lot of critics, writers and academics were writing about our work with some not understanding it and I wondered 'Why is that?' I thought maybe I needed to discuss this from the inside out and to define the work from the point of view of the creator. I decided to focus my thesis on the work I do as a director and the company presenting Beckett's prose on stage."
Because Judy completed her PhD in Film Theatre and Television, part-time while continuing to work and run Gare St Lazare Ireland, her focus on reflecting on her practice was symbiotic. She said: "Because I was writing about my own practice, while working, I was literally reflecting on my own output, as it was happening. It was an amazing experience."
"It was a lot of work but I found it hugely inspiring and helpful to my practice and way of thinking. My doctorate was an amazing tool for looking at the practice and forming a clear sense of how to describe it and understand it – it was just incredible."
It was a thirty year gap since Judy had been in any sort of academic practice but what may have been daunting for some, she saw as a great opportunity. She said: "I was pretty rusty starting out. That was another brilliant thing to experience, to be able to watch my writing skills develop and to realise it will improve, like everything, if you keep practising. So it was really enjoyable to realise that I can write and I can express myself through writing.
As well as highlighting the development of her writing skills during her PhD, Judy also praised the wonderful support from her supervisors, Professor Anna McMullan and Professor Lib Taylor. She said: "They were just incredible from the get-go – hugely encouraging, very approachable and available. They taught me that I could do this, and that what I had to say was important. Wherever I had doubts about my own skills to write, express, or integrate the subject, they constantly reinforced an incredible sense of value and encouragement all the way through. I honestly don't think I could have done it without them."
Endless possibilities
As well as having a doctorate in her practice alongside an abundance of experience, Judy accredits the challenges that can be encountered when starting off in the industry as providing invaluable experiences that have shaped her career. 
She explained: "Being a director is all about relationships and managing relationships, and managing ideas, creativity and the process – that's not the entire role as director but it is certainly some of it. It's about making a space for people to feel included and be part of the process."
However, Judy shared that there is more to be done within the field to improve issues around gender politics. She said: "Coming from the point of view of a woman – and all women will know and understand this – there is an additional negotiation that comes with gender. It's a sensitive issue that I'm sure works both ways; there's a gender imbalance.
"The more we work towards undoing those structures, the better. I think we're making headway into having a better understanding of each other and how structures need to change to be more inclusive, on all matters to do with gender politics."
Judy encourages that future students hoping to get into the industry should "go for it" and offers advice for those starting off. She said: "It's a difficult career path for both actors and directors, particularly when you are relying on agencies to employ you, and it's easy to lose heart when you're not getting work. I decided not to work for agencies but started my own company to work for myself but even then, there's gaps and fallow stages.
"It's important to remain motivated and to see those gaps as times to work on new ideas and on new projects. View those moments as an opportunity for new creative possibilities.
"If you're a student starting out, learn how to market those fallow periods as development periods. Honour yourself as an artist who creates rather than just being presentational."
Judy is currently in California directing her award-winning The Realistic Joneses until 14 May 2023.