Michael Clarkson, one half of The Clarkson Twins – a sensational writing duo behind Netflix's latest hit, Red Rose – speaks to CONNECTED and discusses his roots, inspirations, struggles and successes.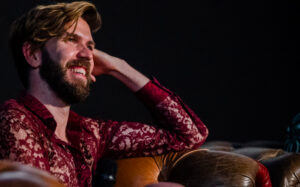 Born in Bolton as the joint youngest of six siblings, Michael and Paul Clarkson grew up around storytelling. Michael said: "Our family always loved watching film and TV. Because we have older siblings, and older-than-average parents for our age, I was exposed to a cultural archive and influences that covered multiple decades.
"Storytelling was just something we did to entertain in our family. I used to walk to school with Paul telling stories, imagining the world and imagining working in film. Our twin world allowed us to be ambitious with each other, because there was no-one telling us no.
"Both of us are curious people who love hearing stories and learning new things which we would then share with each other."
Michael's natural curiosity, passion for storytelling and determination to work in the film industry, led him to writing and directing. He has been able to turn his dream of working in the media industry into a reality, and he shares his journey with us here.
Unlocking potential at Reading
It was a stroke of luck that Michael came to Reading to study a joint English and Film and Theatre degree. When he applied he was yet to realise that the University was highly regarded for both subjects. He said:
"Reading turned out to be this incredible space for me to stretch my creativity. I really landed on my feet studying here."
Michael described his time at Reading as having a profound impact on him. He said: "I found my studies so inspiring. I had so many wonderful professors, but I want to give a particular shout-out to Professor Grace Ioppolo from the English Department.
"She really stoked my ambition and made me want to do the very best that I could. She said to me 'You've got to think more like an American'. And so I did. I stopped being perfunctory and self-deprecatory, aside from when writing with comedic British intent. She gave me self-belief and the confidence to declare what I wanted. She helped me unlock my potential."
As a joint degree student Michael's time was split between the Department of English Literature and the Department of Film, Theatre and Television, a mix which he found beneficial. He said: "The combination of my degree helped me to expand my skillset and experience. I loved it all."
A directorial debut
It wasn't just Michael's degree that taught him valuable lessons – he learnt a lot through the Reading University Drama Society (RUDS) too.
He said: "When I joined the drama society it was like the ruins of an ancient civilisation – they kept talking about the golden age of RUDS in the early 2000s. Well, I wanted to bring it back!
"I pitched to the committee that I should direct the musical Jesus Christ Superstar. After a bit of persuading, they agreed.
"We'd never done anything on this level before. We had a cast of about 30 people, an orchestra and we sold out every night.
"The money we made relaunched RUDS to be able to run trips to Edinburgh Fringe Festival again, and stage multiple shows on campus. I was working with some of the most talented people I've ever worked with and with whom I still work with when I can."
The hard path to success
Following graduation from Reading, Michael's journey to success was not easy, however he was determined to follow his childhood dream of writing and directing, and refused to have a 'plan B'.
He said: "My journey to becoming a writer and director was hard. I felt I was starting on the backfoot because I came from working-class Bolton and I have felt my class at every step of this journey.
"Shortly after finishing my degree at Reading, I moved to London for an internship and from around ages 21 to 26 it was really hard. I was working full-time jobs which I hated as well as trying to follow my creative pursuits.
"Some days I would go to bed crying because I felt so desperate. But I'd never had a plan B in my life because I felt that the moment I generated a back-up I would stop pursuing my dream."
Michael and Paul began making short films and met with agents to ask them to represent them. Instead the agents advised them to go to the Edinburgh Fringe Festival, so they, with fellow Reading alumna Gemma Hurley, took their play, Death Ship 666!, up there. It was a huge success, with sell-out shows and five star reviews calling it 'Airplane meets Titanic'.
Michael said: "We came back to London, showed the agents our reviews and they said do it again. So a year later, we wrote, rehearsed and raised the funds to take another show, Once Upon A Nightmare, and again proved that we could spin people's money into creative gold. But agents still didn't want to represent us."
Michael then worked at the London Screenwriter's Festival as a festival organiser. He said:
"One of the most valuable tips I learnt there was cold-calling and to not be ashamed to ask the world for what you want. You've got to develop a thick skin about rejection and just keep trying."
Michael met a producer at the Festival who advised him to apply to a film school in LA called the University of Southern California (USC) School of Cinematic Arts. Michael applied and was accepted, but he then needed to figure out how to pay the fees.
Community backing
Michael secured a BAFTA scholarship and ran a crowdfunding campaign. He was delighted when hundreds of small donations came from the working-class community in Bolton to get him to LA.
He said: "This covered my first year of study, then for my second year a group of entrepreneurs from Bolton agreed to pay for my tuition.
"I was so grateful to my community for stepping up and helping me. All the while I was determined to pay this forwards, to open more doors for working-class people and for more northerners."
Michael had no idea that USC was such a big deal, but it was his stint in LA that would lead to the opportunities he'd been waiting for.
He said: "I found out on my first day that getting into USC was harder than getting into Harvard Law. I'm so glad I didn't know that statistic before I applied because it would've gotten into my head."
Tenacity
While at USC, Michael signed with his agents and also secured his first professional writing gig.
He said: "During my last year at USC I saw that the adaptation of Philip Pullman's His Dark Materials was going into production, so myself and Paul did some snooping and wrote a passionate email to the head of the production company detailing why we should be involved.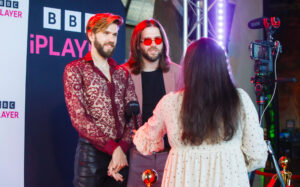 "Again, I was using the lessons I learnt from Reading and the film festival – ask for what you want. I had the tenacity to send the email and it worked. We were hired to be script consultants for the show."
After completing His Dark Materials and graduating from USC, a stream of jobs for Michael and Paul – who refer to themselves as The Clarkson Twins – followed: Steven Knight's SEE on Apple, The Wheel of Time on Amazon, Mike Flanagan's The Haunting of Bly Manor, followed by the BBC greenlighting their own show, Red Rose, to be filmed in Bolton.
Michael said: "We got hired for all of those shows through us asking for meetings and outlining why we'd be a good fit.
"USC was definitely a turning point for me. But it wasn't just USC – you can look back and pinpoint key moments throughout my life that cumulatively have led to my success. The creative relationship I have with my twin and how we form worlds together; the belief of my family; my experiences at Reading, including Jesus Christ Superstar and Grace's influence – it all adds up."
Red Rose
The current pinnacle of The Clarkson Twins' success is Red Rose which is out now on Netflix and has been a phenomenal hit. Described by Michael as "like The Ring but set in Bolton", the horror drama series focuses on a group of teenagers who must survive a summer of terror after downloading an app that makes dangerous demands with deadly consequences.
Michael said: "We moved back to the UK to make Red Rose with the BBC and it's now been picked up by Netflix. It came out internationally on Netflix in February 2023 and it went to second globally, and number one in the UK and other territories. This was immense! Especially considering that Netflix didn't do any publicity around it, this was all word of mouth."
Red Rose means even more to Michael and Paul as it is set in their hometown of Bolton and has seen Michael achieve his promise of repaying those who funded his time at USC.
He said: "The investment of the Bolton community in sending me to USC has now come full-circle. I've been able to draw attention to Bolton and shooting there brought money to the local area.
"Red Rose also gave us the opportunity to say to the working-class north: your lives are filmworthy, you make great characters and you should feel empowered in your own lives."
Lessons from Reading
Despite the low points in his quest to become a writer and director, Michael is now reaping the benefits of the difficult journey he has been on – and he is thrilled to find his work now linking back to his time at Reading.
He shared: "I've had the privilege to be able to use my degree in my career. For example, when I met with Mike Flanagan to discuss working on The Haunting of Bly Manor I was able to call up all of my Victorian gothic influences – such as reciting creepy poetry and pitching characters influenced by the era – that I learnt in the third year of my degree.
"I've been able to use so many things I learnt at Reading in real moments in my life and career and this feels incredible."
When asked to recall his proudest moment so far, Michael's focus remained on Reading. He said: "I'd have to say Jesus Christ Superstar. My Dad said to me the moment he knew I could make it in this industry is when he came to watch that show. I didn't really understand it at the time, but I do now – I convinced a lot of talented people to be involved, by utilising my passion to persuade others to give up their time to create something really impactful."
So what words of wisdom can Michael share with the budding writers, directors, actors, and producers of tomorrow?
He said: "If you're at university you need to get involved in societies – don't focus solely on your degree. In societies you meet a different group of like-minded people who are pursuing the same objectives as you and those people will push you further by sharing the same goal. And if the societies aren't working for you, then shake things up like I did.
"If you have the skill and the capability within you, just keep trying. Do what Grace said and 'be more American!' Go out there and demand opportunities.
"Even now I have to remind myself to keep that energy and belief, rather than letting the 'nos' impact it. Because I've had a million 'nos' but a handful of 'yeses' and those 'yeses' have led me to where I am today."
Michael is currently working on his directorial career and is hoping to develop his debut feature film soon. "Directing makes physical what the writer comes up with – for me it's a natural evolution, to make the ideas in your head concrete," he said. "My dream is to direct a Clarkson Twins script. I want to unlock my directing path so that Paul and I can generate and work on even bigger universes."
You can watch Red Rose on Netflix, or find out more about studying English and Film and Theatre at Reading.