Reading graduate and long-time volunteer, Brian Heathcote, was one of the alumni shortlisted in Reading's inaugural Celebration of Volunteering for his incredible commitment to voluntary action around the world. 

Brian, who studied Vocational Guidance at the University of Reading in the 1990s, has always had a passion for education and guiding people. He said: "Studying vocational guidance at Reading led me to working in a local authority's careers service – guiding young people, or adults who had had a break from the workforce, in their job search.
"The course at Reading was first-class and gave me an excellent footing for my career.
"Before embarking on this course I had been a teacher and youth worker for 20 years. This new career was another branch of education, ensuring that young people could put into practice what they had been learning at school all these years – to enable them to apply their education."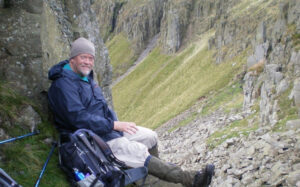 Brian's natural affinity for helping and guiding others has led him to dedicate much of his spare time to volunteering – both throughout his career and since retiring 13 years ago.
He said: "Volunteering is 50/50. Affiliation to an organisation offers the opportunity to get up in the morning and make a positive contribution within the community. It provides the opportunity for something to aim for – a purpose and a structure. Volunteering has had huge personal benefits for me, from Task Force Youth Volunteering projects during my teens, through to training students in less developed countries to become teachers, to actively contributing to the current range of initiatives that I continue to support.
"Just one of these initiatives is helping young people experience the countryside in the way that I did years ago and preserving it for future generations."
Preserving ancient monuments
One of Brian's core volunteering activities is within the Ranger Service for the Peak District National Park which he has done for the past 15 years.
He said: "My role as Ranger involves keeping an eye on the environment which is under threat of damage from the thousands of visitors to the Peak District.
"The Rangers' role is to patrol and prevent threats to the environment from people; for example littering, causing damage to local infrastructures, moorland fires and endangering livestock."
Brian enjoys these activities as Ranger, but has more recently moved into an area that particularly appeals to his love of ancient history.
He said: "I have always been fascinated by our prehistoric heritage which has led to specialist training in monitoring designated historical sites within the UK – such as Scheduled Monuments. These particular monuments have been designated by English Heritage as of cultural and historical interest and in need of protection. There are over 500 in the Peak District alone – and we trained rangers who have the responsibility to remove any threat to the structures.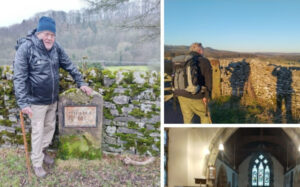 "Such sites, often remote and located on steep hill summits, have to be regularly inspected – to monitor the conditions, take photos, make sketches, and record human, livestock and natural threats to their stability.
"This wasn't a major element of the Ranger role when I first joined, but it's something I'm now passionate about."
Brian has also taken a keen interest in mindfulness walks and assists within the guided walks programme dedicated to this particular theme.
He said: "One of my fellow Rangers leads guided walks based around meditation and mindfulness – a concept I wasn't really aware of at the time. Due to my interest, he asked me to be his back-up Ranger on the walks which altered the way I approached walking.
"When I was younger I used to enjoy long-distance trail walking which essentially focused on getting from A to B as quickly as possible so I didn't miss the last bus home. I never had the time to appreciate where I was and the environment I was walking through.
"Mindfulness readdresses that – it takes away the necessity of a marathon challenge and opens your mind to the beauty and culture and environment that you're walking through like the flora and fauna. This was a totally different concept to me."
Brian was also a voluntary lecturer in Papua New Guinea's "Colleges of Education" training students to teach in their local schools. On his return, he became a volunteer driver for the local community car scheme, helping disabled or elderly people to make journeys to medical appointments, shops, or social events.
The value of volunteers
In addition to his Ranger role (and looking after his grandchildren) he also manages hostels on a voluntary basis for the YHA and is a Group Coordinator with the University of the Third Age (u3a), which provides the opportunity for those no longer in work to come together and learn for fun.
Brian's longstanding dedication to volunteering has been recognised through the YHA's Long Service Award in hostel management and the International John Muir Award which recognised his work in the Scheduled Ancient Monument Network, as well as being shortlisted for the University of Reading Alumni and Supporter of the Year award. But what do these awards mean to him? He said:
"I think recognition of voluntary service is a personal affirmation of a significant level of involvement at a particular moment. I'm quite proud of my voluntary activities – it was lovely to be recognised by the University of Reading in their first Celebration of Volunteering.
"Such recognition reflects an appreciation of voluntary efforts and the value of volunteering contributions within the community, be they local, national or international.
"For me, it certainly has been a journey well worth seeking."
Discover more about alumni volunteering opportunities with the University of Reading, and read about our other Celebration of Volunteering winners and nominees.