CONNECTED speak to the couple helping to keep our university green. Come rain or shine, Clive and Sheila Payne can be seen litter-picking around campus. What started three years ago as part of their daily permitted outdoor activity during lockdown, is now part of their weekly life.

The couple were never strangers to the University of Reading, both born and raised in Reading and living only 200 metres away from Whiteknights campus for all of Clive's life, and Sheila's too once they married. Clive said:  "I have great memories of visiting the campus with my parents, then taking our daughters and grandchildren. It's a beautiful campus, you get to see the woods, the wildlife and it's always enjoyable."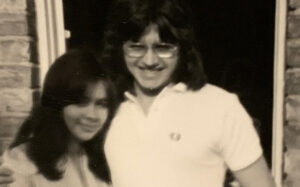 Clive and Sheila met as children at the Penguin Swimming Club (a swimming club for people with polio). Clive explained: "We both contracted the poliovirus in 1957, when we were just two, which resulted in us both having one paralysed leg – Sheila's left leg and my right. Swimming was an activity that was encouraged as you could exercise without putting undue stress on your weak leg. We had our first date years later, in 1971, at a work party for Tesco – where we both worked after school."
"Our good legs have done a great deal more work than normal so we're now experiencing some challenges with them. Therefore we use our mobility scooters for distances we cannot walk."
Since marrying 48 years ago, Clive and Sheila have had two daughters, two grandchildren and two step-grandchildren – all of whom have played a role in the couple's campus clean-up.
Clive and Sheila tell us about what inspired them, the warm reception they have received from students and staff alike, and their recent Celebration of Volunteering award.
Treasure hunting
The couple would often take their daughter's dog out for walks during lockdown – tying her to the mobility scooter so she could run alongside. Clive said: "I noticed on these walks the rubbish that had been put into the hedges and bushes so we decided to do something about it."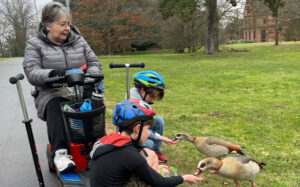 Armed with litter-pickers and bags, Clive and Sheila are often seen on campus five to six times a week, whatever the weather – and sometimes with company.
Sheila said: "Our grandchildren also help with the litter-picking, they call it treasure hunting as we usually end up in the Co-Op where they choose a treat – their treasure."
Clive and Sheila have also rescued treasure belonging to staff and students. In addition to general litter, the couple have found a number of lost items that have – thanks to them –  been handed into campus security to be reunited with their owners – from phones, wallets and handbags, to a watch worth £2,500.

The couple also disparage common misconceptions from the public that it is just students who are the cause of littering. Clive explained:
"We point out that the amount of rubbish increases with number of people in an area. During lockdown there weren't so many students around and actually many locals exercised on the campus and there was still plenty of litter."
Making a difference
"Without exception" Clive and Sheila have received nothing but a warm welcome on campus, which was notable when they were met with roaring applause when receiving their Alumni and Supporter Volunteer of the Year award at the Celebration of Volunteering Awards ceremony.
Of their visits to campus, Clive said: "We have had many conversations with students, staff and the general public when litter picking. We know all the dog walkers and all the dogs. Without exception everyone is very friendly and positive about our efforts to help to keep the campus tidy.
"At Christmas we were stopped by a member of staff at Park Eat who gave us a tin of biscuits and chocolates and a card thanking us for our efforts in keeping the area tidy which we were very touched by. It is also important to emphasise the great work of the staff who maintain the campus to a very high standard. 
"We were very pleased when we were nominated for the Celebration of Volunteering award, we were both very surprised and honoured. We felt even more honoured when we were informed that we had actually won an award."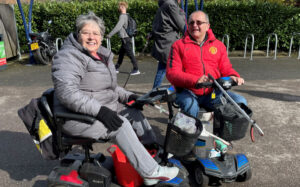 Volunteering and giving back to the community means a lot to both Clive and Sheila and their efforts have even rubbed off on their family. Clive explained: "Doing the right thing is something we were brought up to do and we have passed this onto our daughters – both who work with charities within the community."
Although honoured by the award, it was a sense of community that the couple took home with them that evening. Clive said:
"Having read details about the work of all of the nominees, it is very clear that the winner of the Celebration of Volunteering award is the local community. If we all do our individual bit, that all adds up to a lot of change.
"We would encourage people to volunteer, your efforts do make a difference. It's a great thing to do and you get a great satisfaction that you're doing something good. If you've got the time to do it – do it."
Discover more about alumni volunteering opportunities with the University of Reading, and read about our other Celebration of Volunteering winners and nominees.