From the Scouts, to narrating audio books for blind people, to helping local primary schools, Jack Abrey's dedication to volunteering is evident. As a result, the University of Reading was delighted to announce him as one of the winners at the inaugural Celebration of Volunteering.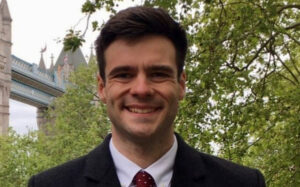 Jack shares with CONNECTED what the Celebration of Volunteering was like and why volunteering remains such an essential part of his life.
He said: "I had a fantastic evening at the Celebration of Volunteering. It was inspiring to meet so many likeminded people and recognise everybody's truly amazing achievements.
"I volunteer because I want to give back and help to make society a more positive, inclusive place, for everyone. Growing up I was lucky enough to have some truly amazing experiences as part of the Scouts, all made possible thanks to volunteers from all walks of life, giving up their time to help young people like me to develop skills for life."
"Volunteering also has a double benefit – it's great for the causes you're helping out, but it's also great for you too. From making lifelong friends and connections with inspiring individuals, to developing a whole host of skills, you really do get out just as much as you put in."
Jack studied Human and Physical Geography at the University of Reading, and praises Reading for emphasising the importance of leaving the world a better place.
He said: "The University's mantra sticks in my mind to this day – reminding me to stand up, be counted, to not be afraid to go against the grain, and above all, to combat injustice and leave the world a better place."
Accessing the visual world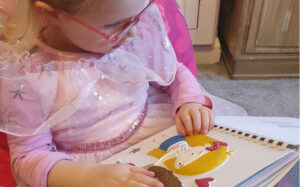 One of the organisations Jack gives up his spare time for is a charity called Living Paintings, which is based in Kingsclere, Berkshire. This charity helps blind and partially sighted children and adults to access the visual world through ground-breaking touch-to-see books.
Jack said: "These books are made up of raised tactile pictures, accompanied by audio narration from presenters including Tim Peake, the Archbishop of Canterbury and me! 
"I first met the team whilst completing an internship through the Reading Internship Scheme and was instantly taken aback by their work. Along with a passionate staff team, there's a group of volunteer heroes who handcraft the tactile pages. Watching them work was a real privilege and I wanted to do my bit to help.
"I love storybooks – they've made me laugh, cry, taught me new things and changed my perspective and I truly believe this should be a common experience for everyone. With up to two million people in the UK living with sight loss, including 20,000 children, Living Paintings' work is crucial to breaking down the barriers faced by those living with sight loss and visual impairments. It's a real honour to play my small part in that."
Enhancing the school experience
Jack also volunteered as a Local Authority Governor at a primary school from 2021 – 2023, inspired to play his part in helping young people to receive the best quality education and school experience possible. He said:
"During my time as a University of Reading Ambassador I engaged with a number of different schools and saw how each unique setting operated. This gave me the confidence to put myself forward to become a Local Authority Governor.
"As a part of my role, I was a member of the curriculum sub-committee, complaints committee and the full governing body and I helped to set the strategic vision and ethos of the school. From ensuring the curriculum taught was as high-quality and inclusive as possible, to working hand-in-hand with other governors to resolve issues, I really enjoyed my role and developed a huge amount of skills too."
Playing to an audience
Another string to Jack's volunteering bow is as a radio presenter. Alongside fellow Reading alumni Zack Attree, Jack co-hosts the Zack and Jack Show on the volunteer-run station, Tring Radio.
He said: "Together, we produce a weekly show, selecting and organising the music to be played, building a show structure, dreaming up the games we'll invite our audience to play and of course presenting. We also attend events, meet the local community and collaborate with local businesses. 
"Tring Radio is the fastest growing radio station in the South East and it was set up and run entirely by volunteers. It gives budding presenters, young and old, new and experienced, the opportunity to share their love of broadcasting with thousands of people. 
"I love everything about radio. It's a fantastic format where you can really have fun and share your personality with your listeners. Whether it's hunting for the next big song, or coming up with innovative new games to play on air – every show is different!"
Get involved
Jack urges everyone to consider volunteering, but acknowledges it is not always easy. He said: "With the cost of living crisis, it can be really hard to find the time to volunteer, but it doesn't always have to be a formal role with a regular commitment. There are plenty of ad-hoc opportunities, from cheering charity runners at a local marathon, to testing websites."
Discover more about alumni volunteering opportunities with the University of Reading, and read about our other Celebration of Volunteering winners and nominees.