CONNECTED speaks to Reading graduate and local councillor, Sarah Hacker, about her fundraising efforts for local charities that are close to her heart, and her commitment to supporting her community.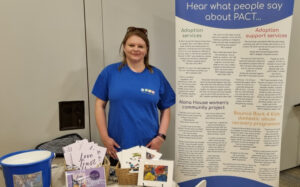 Sarah recalled of her time at Reading studying Rural Environmental Science in the Department of Geography and Environmental Science: "I had a wonderful time. I knew I wanted to study at Reading because I have lived here since I was three years old, my family and friends are here, and I wanted to continue with my ballet teaching training.
"But Reading was also one of the best universities for agriculture and it's a really vibrant town. It was an easy decision for me – I'm a Reading girl."
After graduation, Sarah didn't set out for a career in politics, but her desire to help others and to have an impact on her own community, saw her stand for election as Labour Councillor for Battle Ward in Reading in 2010. Four elections later, she's still working to help her community in her capacity as a local councillor, as well as through her work as a Community Fundraiser with the PACT (Parents And Children Together) charity and as a Trustee for Reading Pride and costume volunteer for Rabble theatre company.
Inspired by family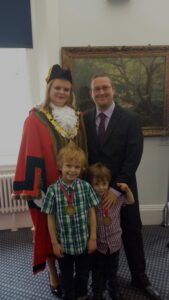 Sarah reflected on her journey that has brought her to this point of her political career: "I have always wanted to help people in the community and I didn't feel I was fulfilling that desire through my job in financial services.
"My great-great-grandfather was one of the founding members of the Independent Labour Party, Joseph Burgess, while my great-uncle was an MP in North Islington. I joined the University of Reading Labour Club during my time at university and then my dad became a councillor. This got me thinking about how I could get more involved in local politics, because I've always been very passionate about Reading and my community.
"Then the stars aligned. One of our councillors went independent so a Labour seat came up in the ward where I live. I felt I had the skills, energy and desire to do it and I felt it was the right time.
"I'll never take being a councillor for granted and I want to say a big thank you to the people of Battle who voted me in and have continued to do so. It's a big honour to be able to represent you."
Taking action for the community
Sarah shares that her motivation as a councillor is all about taking action to improve her community, from the big projects to the individual concerns.
She said: "I find it fulfilling when you start to see the big projects, which can take years to finish, coming to fruition. For example, the Cow Lane Bridges project – that made a huge difference to the area and we're really proud to see it.
"There are still changes that need to be made that I'm campaigning for, such as Reading West is getting a lovely new station but it's not accessible.
"I also like listening to individuals and trying to alleviate their concerns. For example at a recent surgery, people came to see me to raise concerns over anti-social behaviour, green spaces being ruined by parking, rubbish problems and concerns around sex workers.
"That's what keeps you in the job – you want to make a difference to the community you live in, especially as I live right in the middle of it and have done since I was a little girl."
Making it personal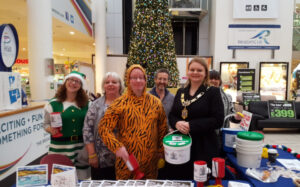 Another way Sarah strives to make an impact in her community is through fundraising. Her desire to fundraise for a charity close to her heart prompted Sarah to put herself forward for Mayor of Reading in 2015.
Sarah reflected: "I've been Deputy Mayor and Mayor of Reading. It's entirely different to being a councillor, as it's a ceremonial position and when I'm wearing the chain I have to be politically neutral.
"But the main reason I put myself forward for Mayor was because my youngest son was born nine and a half weeks' premature. As Mayor one of your responsibilities is to raise money for charity, and I wanted to fundraise for 'Babies in Buscot'.
"I also decided to fundraise for, and raise awareness of, Fibromyalgia as I was diagnosed with that the year I ran for Mayor. I'm thrilled that I raised over £30,000 for my designated charities while I was Mayor.
"If you'd have asked me when I was a pupil at Meadway School if I'd become Mayor of Reading one day I would've laughed – but you just have to take opportunities as they present themselves."
A fulfilling job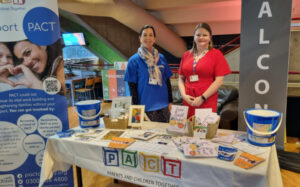 After her year as Mayor, Sarah wasn't ready to give up her passion for supporting charities. Following a tough personal year in 2019 with her mum being diagnosed with breast cancer, Sarah made the move from the financial to the charity sector.
PACT is an adoption charity and family support provider helping hundreds of families every year through adoption and adoption support services, and community projects across London and the south east of England.
Sarah explains more about what PACT does: "PACT is a charity with three streams – we fundraise for adoption support for children who usually wait longer to find a family, for example sibling groups, or those with disabilities or from minority backgrounds. The second stream is Alana House, which uses the nine pathways of support to empower women with complex needs who are looking to make positive life changes. The third stream is 'Bounce Back 4 Kids', a domestic abuse recovery programme to support children who have been affected by, or who have witnessed, domestic abuse.
"This job really fulfils me. It's all about social justice and equity. We give people the understanding, in all three strands, to really make the best out of life."
Using your voice for change
Sarah's desire to make an impact in her community frequently sees her back on the University of Reading campus in her various roles, and she was named University of Reading Alumna of the Year in 2015 for her outstanding contribution to the community.
Sarah reflects on this recognition: "I was astonished to receive this award. But it was an absolute honour, simply wonderful.
"It was lovely to come back to the University, to meet my old professors and to be recognised for what I'd gone onto do. I never thought that would happen. I still feel very fondly towards the University and it's nice to be remembered by them.
"I'm lucky to still have strong ties with the University under my many different hats. I've been onto campus for PACT to talk to the student radio station, and to talk about Alana House for International Women's Day last year. I also did a talk to students about what it's like to be Mayor, and as a councillor I work with the University's Community Engagement team on improving their engagement with the town."
Sarah summarises her key motivation in all the work she undertakes. "A lot of us can criticise things, but if you want to make a change you have to actually do it yourself, if you can," she said. "I'm very fortunate to be in a position where I can make a difference and so I try to. Over the years I've gained the skills, experience, connections and confidence to make my voice heard in the right places.
"If you're going to moan about something it's important to back those words with action and to use your voice for change. That's what I've been lucky to be able to do."
Find out more about PACT, or email our Alumni Volunteering Officer, Rachel Dean, if you are interested in volunteering with the University of Reading.