Reading graduate, Amy Tisi, is committed to helping her community. Through her teaching, setting up one of the first baby banks, and being a local councillor, she has helped thousands of families in desperate need.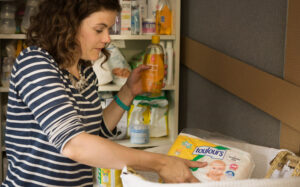 The day that Amy went through clearing to come to the University of Reading, because of the highly-regarded psychology course here, was the day that set her on the path for the rest of her life. Despite never having set foot in the town before, Amy relocated her life and has stayed local ever since.
She said: "I met my husband at Reading. Not at the University itself, although he did study there a decade before me, but in a local choir. After graduating from Reading [with a First!] I went on to do a PGCE at Oxford Brookes and then got jobs teaching in Southcote and Woodley. I also returned to the University after my PGCE to do a postgraduate diploma in Inclusive Education."
Amy, who now lives in Windsor, said: "Psychology and how people's minds work have always fascinated me. This led me towards educational psychology but I found I loved being a teacher in schools at the heart of the community. Psychology is a really useful degree with highly transferable skills that have helped me throughout my life."
The Baby Bank
In 2014, Amy was on maternity leave with her first child, having coffee with her friend, Rebecca Mistry. She said: "We were chatting about how things seemed to be getting quite tough for people and how it would be great if there was a food bank but for baby things for those struggling."
And thus The Baby Bank was born.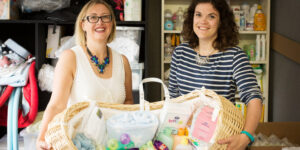 Amy said: "Rebecca and I started small by putting a box for donations in the church café and it evolved from there. We now have a huge storage space and help thousands of families a year across East Berkshire, into Buckinghamshire, Slough, Uxbridge and Hugh Wycombe by providing preloved and new items to children aged 0-16 who would otherwise go without.
Originally one the first baby banks to be set up, The Baby Bank now employs Rebecca and another  member of staff, and Amy is now Chair of Trustees. But sadly the need is only increasing. Between January and March 2023 The Baby Bank helped 733 families, whereas in 2022 it helped 511 families during the same period.
Amy said: "One of our key priorities is providing beds. It's so important for babies and children to have safe places to sleep, but midwives tell us they find babies sleeping on the floor, or on a pillow.
"We also give out lots of nappies and milk – we hear stories of mums pretending to change nappies, but being forced to put the same nappy back on their child, or having to water milk down.
"Other items in high demand are double pushchairs, cots, wipes, bedding, warm blankets, toiletries and school uniform for older children. Anything you can think of really that is essential for children and families."
People have to be referred to The Baby Bank by their midwife or health professional and nearly everything The Baby Bank hands out is donated or, in the case of mattresses, bought new for safety with grant funding. They have really strict criteria for their donations to make sure everything is good quality.
Helping those in crisis
Running The Baby Bank is emotional for everyone involved as the heartfelt thanks they receive confronts them with the enormity of the need and desperation in their local community.
Amy said: "I dropped off a cot to one lady and she thanked me profusely as her children didn't have anywhere to sleep.
"Another lady wept when I gave her a bag of presents from the Christmas Appeal, as they'd never been able to celebrate Christmas before. This job can be very emotional, but it's so special to be able to help these people in need.
"For most people, they come to us at a particularly bad time in their lives. If we can take away their stress of worrying about the basics, such as sourcing food or where their children will sleep, then we hope they can concentrate on the other things. We also help a lot of refugee families and  asylum- seeking families in crisis.
"I'm so proud of how far The Baby Bank has come. It's amazing to see how a small idea has grown because of the input of amazing volunteers and how many people we now help. This has been a true group achievement."
Addressing root causes
Inspired by the impact Amy was having in her community, she stood as a local councillor for the Liberal Democrats in the Royal Borough of Windsor and Maidenhead in 2019, and again in 2023. She said:
"I've always been someone who gets involved – I see a problem and I want to make things better. Through The Baby Bank I saw the level of need in my community and I wanted to look at the root causes.
"It wasn't necessarily the best time for me to get involved in local politics – I'd just had my third child and did my campaigning with him in a sling – but I went for it. I thought I could offer an alternative to the current leadership. I knew there were problems and I was willing to listen and work together with the community to fix them."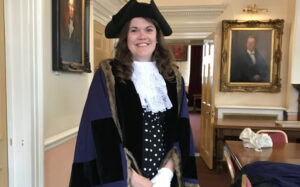 Amy's been a councillor for four years now and has recently been re-elected, increasing her majority to over 1000. She shared her favourite part of the role. "It's being the go-between to help people when they don't know where to turn or are struggling to make headway with a problem," she said.
"I'm accessible and involved within the local community so I know when things aren't going well and people can easily speak to me, whether that's in the local pub, café, or at school pick-up."
Alongside her councillor work, Amy ensures she still makes time for her regular volunteering with The Baby Bank.
A better future
Amy's driving force behind her community work stems from her hatred of the thought of children and families suffering.
She said: "It sounds corny, but it's true: you need to be the change that you want to see. If you care about where you live and the people you live side-by-side with, and are able to, then you've got to step up and make the changes.
"Our end goal for The Baby Bank is to see it pushed out of existence, because that then means the root problem has been dealt with. But until then, I'll keep trying to influence my community in a positive way and try to make the place where I am raising my three children better for the future."
Find out more about The Baby Bank, or email our Alumni Volunteering Officer, Rachel Dean, if you are interested in volunteering with the University of Reading.