Academics from the International Study and Language Institute (ISLI) have been giving up their time to help refugees who are Medical Support Workers (MSWs) at the Royal Berkshire Hospital gain confidence with their English.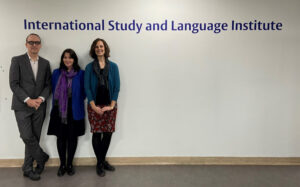 Bruce Howell, Associate Professor in ISLI and organiser of the MSW scheme, shared why the Institute decided to embark on this initiative. He explained: "The key word in the title of our School is 'International'. There is the temptation to think that international means we don't have much to do with the local area, but that is incorrect. Reading has a strong international community and ISLI is volunteering as part of the University's commitment to engage more with the local Reading community.
"Our skills lie in teaching and working with international communities, so it felt obvious that we should look to combine these skills into our voluntary efforts and aim to support international communities who now live here."
The MSW scheme began in March 2022 with ISLI lecturers Laura Connolly and Louise Bourguignon – and later Leslie Lust – volunteering to lead the sessions. With a group of four MSWs recently participating in the weekly informal sessions, CONNECTED spoke to Bruce, Laura and Leslie to find out more about the scheme and why it is important to support our international communities.
Confident communication
MSWs are trained medical professionals in their own countries, but in order to become fully qualified here, they need to pass certain tests.
Laura shared how this voluntary scheme is helping MSWs: "One of the elements they have to improve is their language capability. We have found that the MSWs we've worked with have good English language skills and grammar and can communicate quite well in medical jargon.
"However, they might need help adapting the language for a non-expert audience, such as their patient, or need to gain confidence in their abilities with the English language and in their communication skills.
"It's also the small talk, giving presentations, listening to accents, and understanding colloquialisms and idioms, that we try to help with."
Bruce added: "These sessions are designed to help in non-verbal communication as well, ultimately giving the MSWs more confidence and enabling them to thrive in the stressful and busy hospital environment."
Laura and Leslie have created these sessions to be informal and to be based on organic conversations between the participants and themselves.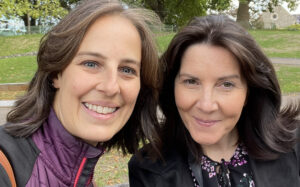 Leslie said: "The MSWs are always attentive and willing to participate. Prompted by a conversation, they will ask questions and offer each other advice."
Laura added: "They help each other to gain confidence and offer solutions to different situations. We facilitate the sessions, but give them exercises to do together and there is a lot of collaboration between themselves."
A sense of belonging
This voluntary scheme is about more than just language and confidence – it's also about welcoming people to the local Reading community and helping them to find a sense of belonging. Bruce said:
"The MSWs we are helping are refugees. Laura and Leslie's sessions are also helping individuals feel welcome and supporting them while they adapt to life here. Having a sense of belonging is so important."
Laura said: "I'm from Ireland and Leslie is from America so we know what it is like to move here and adapt to a new country. We know that being in an international environment can make simple things like listening and understanding each other trickier, which can make it harder to develop relationships and make connections.
"We can't assume that because people have a basic level of English that they'll automatically engage with everybody else. We see this with our international students as well; we should actively welcome everybody and make them feel that they're not just students, but part of a society of people who want to learn."
Leslie added: "I have found a sense of belonging in England and I want to pass that on. The MSWs didn't know each other when they started the classes, but now walk together and chat easily during our sessions. We hope they will form lasting relationships and continue to support each other."
Connecting with the community                               
So what is it that inspires Laura and Leslie to give up their time each week to help MSWs? They shared that part of the reason is their desire to welcome international communities in Reading – but it's not their only motivation.
Laura said: "I spent a lot of time in a hospital last year and saw the brilliant work that medical professionals do. I saw how medical professionals are very patient and try hard to communicate effectively. Because I'd witnessed it first-hand and had benefitted from effective communication in a hospital environment, I wanted to give something back and enable others to have similar experiences.
"Volunteering within the local community is an honour. I thoroughly enjoy it and we get as much from it as we give."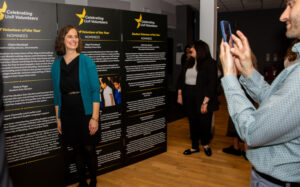 Leslie shares similar motivations to Laura: "Helping MSWs to gain confidence with their English ultimately helps the wider Reading community – it will benefit everyone who uses the hospital. I love teaching my students, but I also love to have a connection with the community outside of the University and to help make a difference in that community where I can."
Bruce shared that ISLI hopes to continue with this scheme and potentially develop it further, depending on the Royal Berkshire Hospital's ongoing requirements for training. He said: "This is just the first step. We've had a lot of interest in our offering and ISLI would certainly like to continue volunteering in the local community."
Laura and Leslie were nominated for their work with MSWs in the University of Reading Celebration of Volunteering 2023. Find out more about the Celebration of Volunteering.