Children in pre-schools across Reading have benefitted from a series of multilingual storytelling sessions, to celebrate their heritage languages as well as to help improve their early literacy skills and understanding of language.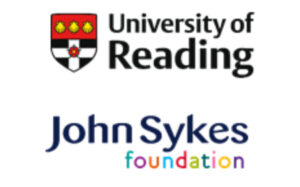 As part of a project funded through the Community Fund – a joint initiative by the University of Reading and the John Sykes Foundation – with a donation of £1,700, a group of 12 student volunteers from the University visited four pre-schools in Reading. They read story books to the children in seven community-spoken languages, which included Malayalam, German, Arabic, Urdu and Mandarin.
The idea was to expose both the multilingual children, who speak one or more languages other than English, and monolingual children who speak only English, to multiple languages in their learning environment and to provide a positive example of reading not dependent on English fluency.
Charlotte Dormer, project volunteer and Academic Liaison Librarian at the University of Reading, said: "Through this project, we wanted to demonstrate the value of storytelling in multiple languages for all children, whether multilingual or not. We know that lockdowns limited the opportunities that children had to experience language-rich environments, and this was an opportunity to start to readdress that balance.
"We also know it is important that children read. The evidence all points towards better social outcomes for children who are read to and who enjoy reading, and for children who are multilingual it is also important that they are encouraged to develop those skills in all their languages."
Talk-rich environments
Research conducted at the Centre for Literacy and Multilingualism (CELM) at the University of Reading suggests that talk-rich environments, where heritage languages are used alongside English, help to promote multilingual children's understanding of language and literacy more generally.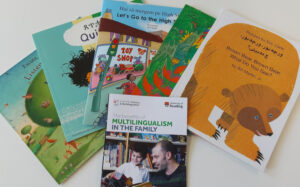 Professor Holly Joseph, from the Institute of Education and Director of the CELM, said: "The benefits of speaking more than one language are well-documented and span cognitive, linguistic and social domains. However, the UK school system tends to be very English-centric and does not always celebrate the other languages that children speak. This can mean that children don't feel proud of their other languages, or that parents talk and read to their children only in English.
"We want children and families to know that speaking heritage languages at home is a wonderful thing to do in terms of growing family connections, developing a sense of cultural identity, and helping children with early reading skills in all their languages."
Benefitting everyone
Multilingual storytelling doesn't only benefit those children for whom the language is spoken at home. Volunteers were really impressed with the ways in which English-only speaking children engaged with stories told in other languages.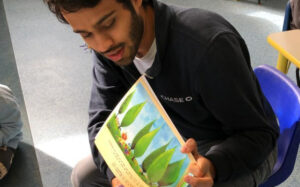 Gemma Stevens, deputy manager of Waingels Gardens Day Nursery, said: "The children were really engaged in the storytelling sessions. They were trying out new words with each other and practised repetition – a key element of pre-school learning. Some of the children understood both books, but those who didn't still participated in the question time. They enjoyed listening to the sounds and engaging with the emotions of the storyteller while they were telling the story."
The project has also encouraged multilingual staff at the pre-school to feel confident reading in their own languages, even when few of the children in the setting speak that specific language.
Gemma continued: "We really appreciated how interactive and engaging it was. Some of our staff have gained a lot of confidence and have begun reading to the children in their language. Seeing that it was something everyone enjoyed really helped us to understand the benefits. I definitely hope we can take part in something like this again, it has had a wonderful impact on the children and staff."
Project resources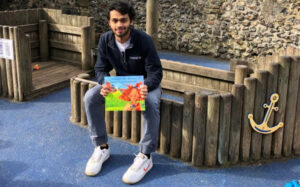 In addition to delivering the reading sessions, the £1,700 donated through the Community Fund enabled the project team to provide eight dual language books to each of the four nurseries, representing a total of 17 community languages. All four nurseries that took part in the project plan to continue using the books to read to children, helping to ensure that the benefits of multilingual storytelling will reach future cohorts of children. 
The team also distributed leaflets to parents and teachers explaining best practice for working with multilingual children and gave advice on how best to support their development by encouraging reading and learning in the home.
Charlotte Dormer said: "We are so grateful to the John Sykes Foundation and the University for enabling us to deliver this project. Reading is host to a vibrant community of people from many countries, and so we know that a high number of pre-school children in the area are multilingual. The feedback we received was amazing and the responses from the children meant so much to us. From the children, the volunteers and the team: thank you!"
Discover how else our University of Reading community is supporting international communities.