The first day of lectures can be daunting for some but not for our alumni couple, Ed Church and Andrée Payne, who proved that arriving early for class can change your life.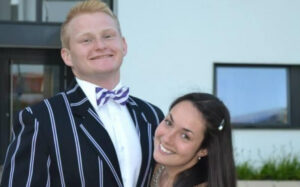 Ed shares with CONNECTED his memories of meeting his now wife, Andrée, on the first day of their MSc in Wildlife Management and Conservation course almost a decade ago.
Ed said: "I met Andrée on our first day back in October 2013. I went to sit on my own, in the middle row of the Harborne Lecture Theatre, behind some other students who had also arrived early.
"Having nervously introduced myself to my new peers, I couldn't help but notice that one had an interesting accent. Upon further chatting, I found out that Andrée was an international student from Canada on a temporary student visa."
Ed admits that he didn't feel as relaxed as he appeared.

He explained: "I was trying to play it cool and act relaxed, but inside I was of course nervous. Looking back, a key thing to remember is that nearly all the people you meet will be in very similar circumstances and plucking up the courage for a friendly introduction and chat can make all the difference on your first day."
A lasting impression
Ed decided to attempt to make an impression on Andrée, but it turned out to be Andrée who made the impression on him.
He said: "Trying to be funny, I asked 'Do you know Justin Bieber?' Without hesitation she clapped back 'Do you know Prince Harry?' giving the other students within earshot a giggle at my expense. She was quick, fiery and intimidatingly beautiful."
Little did Ed know that Andrée was also putting on a cool front.
She said:
"It makes me laugh that Ed thought I was full of confidence on our first day because in reality it was the complete opposite! I was more than a little out of my comfort zone – having recently moved to a new university and country, and not knowing a single person this side of the Atlantic."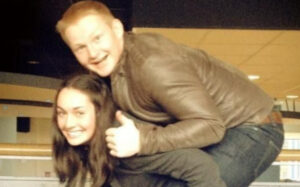 As the weeks went by and the pair continued attending lectures, supporting the finances of the Student's Union and holding intellectual seminars in Park Bar, they got to know each other more. In January 2014 they began 'officially' dating and decided to continue an academic relationship by working on their thesis together over the summer.
Ed said: "It was a truly happy and exciting time, to be young and in love."
Sadly, as the end of the academic year loomed, the couple had to acknowledge Andrée's inevitable departure.
Ed explained: "Her temporary student visa was coming to an end and she wasn't allowed to stay. A long distance relationship was an option, but what was the end game?
"Standing just before security at Heathrow departures, Andrée assured me that she would do all that she could to return to the UK. I was understandably sad when she left. I knew it would be very difficult and costly to secure another UK visa, let alone actually go through the process of picking up and moving one's life to another country. I feared that once home in Canada, the burden of returning to the UK would be too great."
Fast forward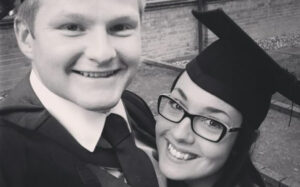 Thankfully their journey did not end there. In December 2014, much to Ed's great happiness, Andrée returned on a new visa with her life packed into two suitcases.

Ed said: "The embrace when we reunited at Heathrow arrivals will stay with me for the rest of my life. Only a few months before I had let go of her hand and expected never to see her again; but now here she was, wrapped tightly in my arms."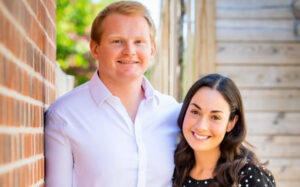 Fast forward to more recent times, the couple married – after multiple COVID related postponements – in 2021. They now have a home in rural Oxfordshire and Andrée has been awarded British citizenship. They are putting their MSc in Wildlife Management and Conservation to good use and both have established careers in the environmental sector. In November 2022 they  welcomed their first daughter, Elodie.
Ed said: "We both look back fondly at our time at the University of Reading and often joke that Andrée's year abroad to study really got out of hand."
Andrée added:
"Thank goodness I chose to study at Reading otherwise this story would have had a very different ending!"
Do you have a memorable experience from your first lecture at the University of Reading or did you find love at Reading? Share your story with us.