Gill Griffin and Liz Vincent became firm friends when they met at Wantage Hall in 1978. They share their memories of what Wantage was like in the 1970s and the importance of friendship in adjusting to living at university.
Life in Wantage
Gill Griffin, née Tinworth, now a retired civil servant, and Liz Vincent, née Spurway, a science teacher, recall what life was like at Wantage Hall when they arrived in 1978 and how they felt adjusting to their new home for three years.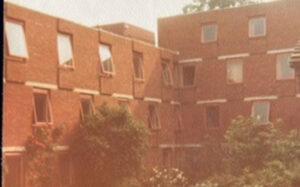 Gill said: "We both arrived at the University of Reading in October 1978 and were assigned to the Wantage 'new block'. To be honest, life there was a real shock. There were no private washing facilities at all and bathrooms at the corner of the corridors were mixed, with little or no privacy. I recall having hand basins in our room in the third year, so there were a lot of strip washes to avoid those dreaded communal bathrooms! There was also a laundry room with a couple of washers and dryers. I don't think either of us ever really came to terms with such communal living."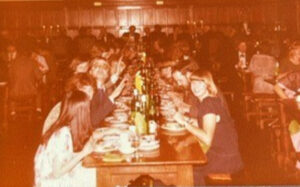 Liz said: "Wantage was fully catered when we lived there and there were formal dinners every term in the lovely dining hall. Although I recall that a group of us used to cook Sunday supper each week – certainly in the third year when we were 'promoted' to the beautiful old part of Wantage.
"Under the dining hall was the JCR [Junior Common Room] and it had one of the first Space Invader machines and a snooker table. Occasional concerts were held there and I remember British rock band, Mungo Jerry, playing there."
Gill added: "Phone calls home were once a week from one of a couple of pay phones. Two and ten pences had to be collected all week to facilitate the calls. How I wish mobile phones had been a thing then. 
"Opposite the porter's lodge was a beautiful old wooden letter rack where we each had our own numbered pigeon hole. Letters from home, from old school friends and university notifications were deposited here.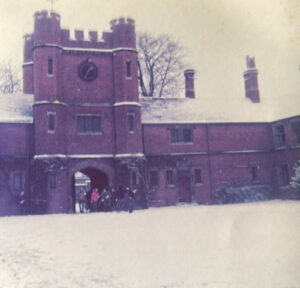 "The main gates were locked at 10.30pm or thereabouts, but a little door within the main door allowed later arrivals and departures. Overnight guests were allowed but names had to be logged with the porters in case of a fire. My fiancé often stayed over and pretty much became an honorary member of Wantage, and Liz met her now husband in her faculty and he obtained his PhD at Reading.
"We could keep our belongings in our rooms over the Christmas break, but for Easter and summer a store room to the right of the main entrance was used for storage as our rooms were used for private functions and conferences."
The importance of a friend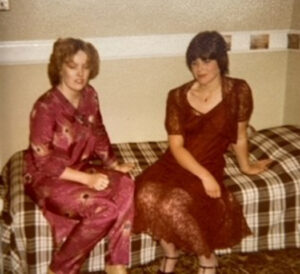 Gill and Liz share how important it was to make friends in the early days of university to help with the adjustment to living in halls.
Gill said: "It took both of us a while to find our feet and life massively improved once we got to know each other. Liz was reading Soil Science and I was reading Combined Social Sciences so were it not for Wantage we wouldn't have met. We have remained close friends ever since, attending each other's weddings and then our daughters' weddings. Our young toddler grandsons, Arthur and Gus, have met a couple of times too."
Liz said: "I think life at university was hard to adjust to at first because Gill and I came from a different world to many of Wantage's other residents. Gill studied at an all girls' state school and I came from a Sixth Form College, whereas Wantage had a lot of students from public school. Despite coming from a very different world from us, they were always friendly and kind. We both remember one of the girls and her gorgeous yellow TR7 – a very coveted sports car back in the day."
Gill added:
"Life wasn't perfect at Wantage but once you made some friends it became home. Liz and I visited it recently and loved seeing it again. On the outside little seemed to have changed and we reverted to feeling like 20 year olds with ease!"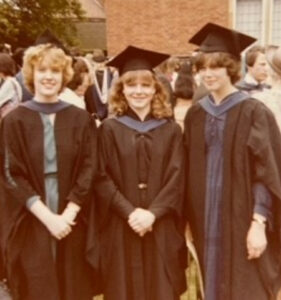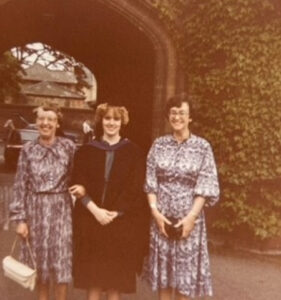 Share your memories
Would you like to share your memories of living in halls or studying at Reading? Please email alumni@reading.ac.uk to share them with us.